NetFlix Releases Mystery Science Theater 3000 Reboot Trailer
---
---
---
Ron Perillo / 6 years ago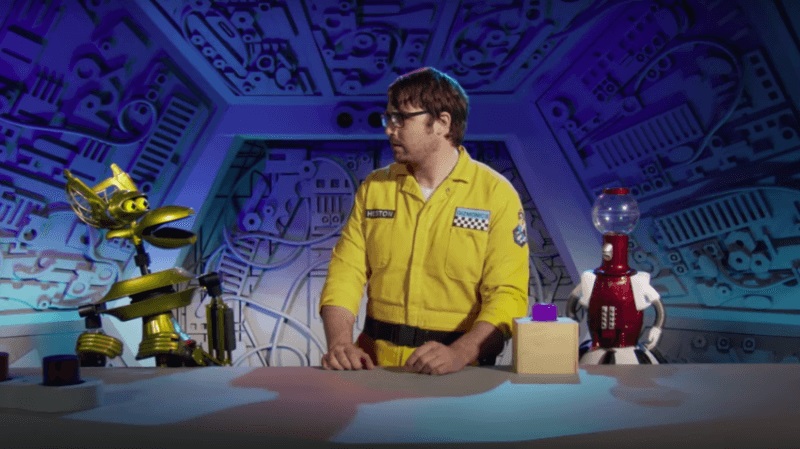 In the not too distant future, April 14 A.D. The Mystery Science Theater 3000 reboot hit NetFlix' online streaming service. For now, a trailer will have to suffice; showing what has changed and what is new, as well as whether having a production budget has affected its trademark tongue-in-cheek camp aesthetics. Thankfully, it looks like the spirit of the show is intact, showing familiar faces in the form of Crow T. Robot and Tom Servo with a new cast of characters including the daughter of Dr. Clayton Forrester, Kinga who assumes control of the Deep13 labs with TV's Frank's son, TV's Son of TV's Frank.
The new mad scientist is played by Felicia Day, and Patton Oswalt plays the TV's Frank junior. The hapless worker subjected to Deep13's experiment is played by Nerdist's Jonah Ray with Hampton Yount doing the voice of Crow T. Robot and Baron Vaughn as Tom Servo. Although Gypsy was not shown in the trailer, she will be voiced by Rebecca Hanson in the reboot.
Mystery Science Theater 3000 was never about the main storyline plot of course as much as it was about making fun of bad movies so there will be plenty of those as shown in the trailer including Danish "monster-piece" Reptilicus (1961), Italian Star Wars rip-off Starcrash (1978), Ib Melchior's 1964 sci-fi "classic" The Time Travelers (It is the one with the hot nude blonde ladies and the weird-head shaped men beating each other in the trailer above) and MORE!
The reboot is season 12 in the series (not counting the KTMA-TV episodes which are technically season 0) and continues the main plot storyline. The trailer also showed briefly who appeared to be Dr. Pearl Forrester (played by Mary Jo Piehl), Dr. Clayton Forrester's mother who at this point in the storyline should actually be dead of old age. But then again, you should take a hint from the original theme song and "just repeat to yourself its just a show, you should really just relax".