Netgear A6200 Dual-Band USB Wireless AC Adaptor Review
---
---
---
Chris Hadley / 7 years ago
Introduction
---

Just over a week ago I took a look at one of Netgear's latest Smart WiFi routers to roll off the production line and into the real-world. The R6250, like many of Netgear's latest routers, offers up the latest in WiFi technology with Gigabit wireless connections and also beamforming+ technology to ensure the connected devices get the fastest and best signal as possible. When we look at the latest wireless standard – 802.11ac – at this moment in time, there isn't actually that many devices on the market that can connect using the AC standard. Whilst a number of devices can 'see' the AC networks (which run at 5GHz), in most instances they will actually be connecting through the 802.11n standard as that is the fastest they can go.
For the most part, running at wireless-n speeds is going to be fast enough for the average household and considering the fact that pretty much everything runs to this standard these days, many people don't feel that there is a need to go that bit further. For those the do want to take things up a notch and push towards the world of Gigabit wireless, the AC standard is where the speed is. As we've seen recently, the routers the support AC are readily available in the market place and now we are starting to see the add-in wireless adaptors crop up too. As a result I have taken the opportunity to start testing routers that we have in for review at the new AC standard, and the A6200 wireless adaptor from Netgear is what I will be using.
When we get on to the testing stage of this review, some will note that the performance results look very similar to those found within the R6250 review and you would be right – they are. The simple reason for this is because of the router that I opted to use for the testing of this adaptor, on both the 5GHz band, but also on the 2.4GHz band. In the same way that I used this adaptor to test the R6250 router, I was also recording down the performance for the A6200 at the same time as this was the only router that I had to hand that would be able to deliver the bandwidth required.
Inside the box and alongside the wireless adaptor, Netgear include a few bits of paperwork including a quick setup guide, along with a CD with the drivers and Netgear Genie software and a USB dock come extension lead.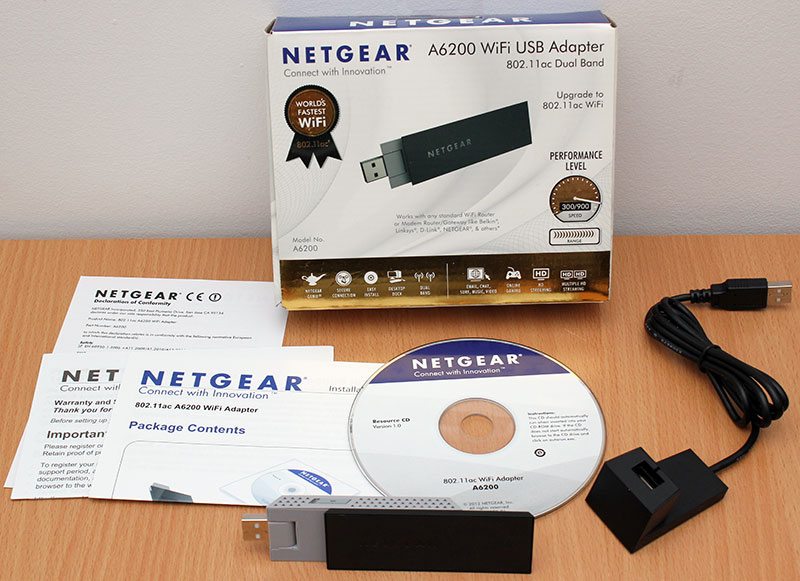 The A6200 is one of Netgear's premium wireless adaptors offering up both the fastest possible speed and features.