NETGEAR Nighthawk Pro Gaming SX10 Switch Review
---
---
---
Bohs Hansen / 6 years ago
Introduction
---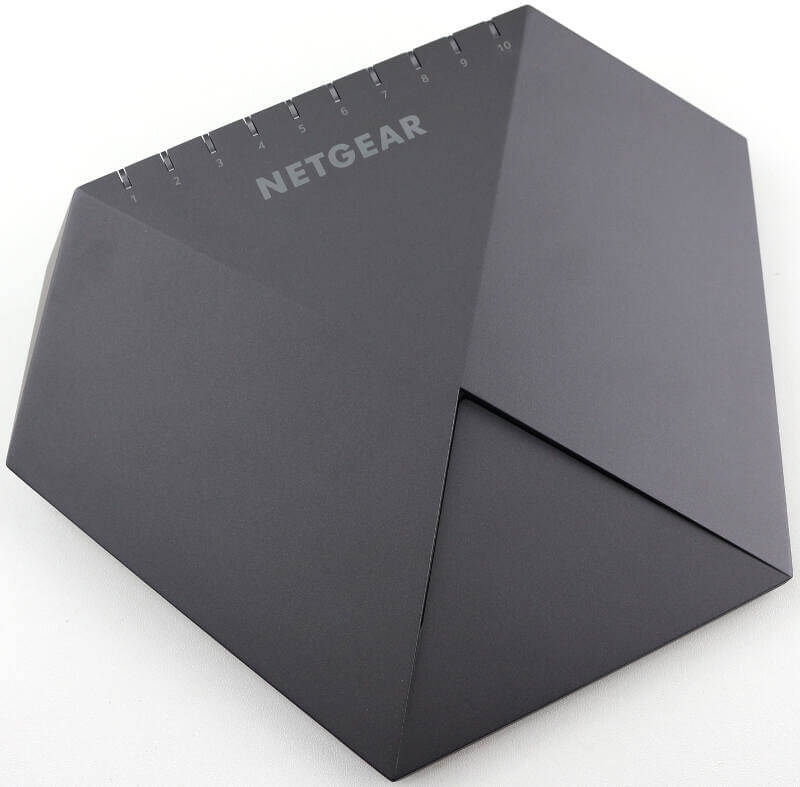 NETGEAR Nighthawk Pro Gaming SX10 Switch Review
Today's review of NETGEAR's Nighthawk Pro Gaming SX10 switch (product link) is a double pleasure for me. First and foremost, it is an epic device, bringing Multi-Gigabit Ethernet into the reach of gamers. But it is also the first NETGEAR review that we've had in a long time. Networking has evolved a lot over the past years, and it will be exciting to see how NETGEAR has evolved too.
The Nighthawk Pro Gaming SX10's Design
While the networking features are the most important thing in a switch, it can't hurt with a good-looking design either. And NETGEAR's Nighthawk Pro Gaming SX10 has both. The aluminium casing doesn't just make it look good; it also gives it a great passive cooling ability.
Most 10GbE capable network switches that we've seen on the market so far have been for businesses and in a 19″ rackmount form factor. While they're great, they aren't pretty to have in your home. Not only that, but they are also very noisy. They sound more like vacuum cleaners than high-end hardware. Since they're built for server rooms, noise isn't an issue for them like it is for a home setup. As such, it's lovely that NETGEAR's SX10 comes without fans and is completely silent. The reason it can come as such, despite being full of high-end hardware, is due to the casing. Aluminium is a great heat-conductor which helps the switch dissipate the generated heat.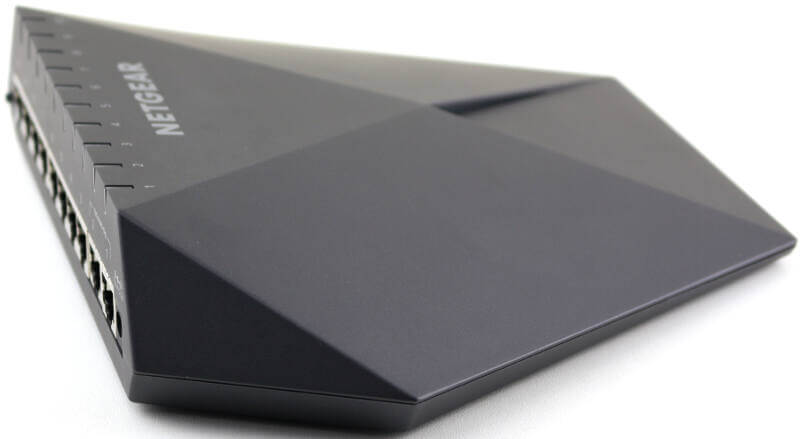 All Things RGB!
Okay, the NETGEAR SX10 doesn't have RGB in the sense of rotating lights, rainbow animations, and similar effects. But it does come with RGB LEDs everywhere. Instead of having fancy effects, the LEDs allow you to customise the look. The large triangle on the top of the router acts as power-LED, and you can change that to suit the rest of your setup. Each port LED can also be customised for the various connectivity speeds, allowing you to set your own colours for each of them. That's a really neat feature.
The rear of the SX10 also has a small switch, which when clicked, allows you to turn the stealth mode on. With this mode turned on, all LEDs are turned off. There can be a lot of setup situations where you don't want flickering lights from data transfers. With the SX10, you don't have to.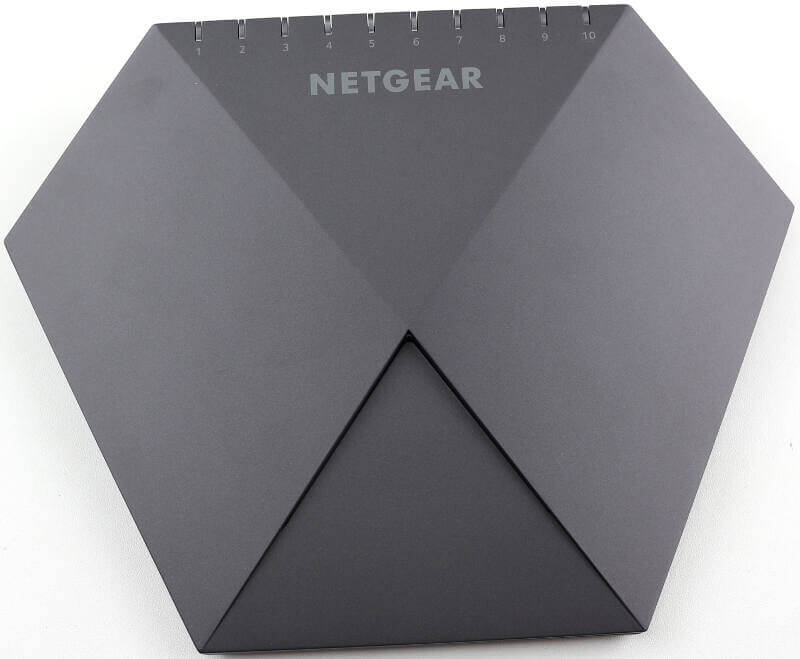 Connectivity
Enough talk about the design aspects, let us talk about the SX10's connectivity. After all, isn't that what a switch is all about? You get two multi-gigabit RJ45 Ethernet ports which can handle up to 10Gbps each. Besides these two high-speed ports, you also get 8 normal 1Gbps RJ45 Ethernet ports.
All port can be linked for increased performance in multi-connection setups, even the 10GbE ports. But there isn't a big point in linking the 10GbE ports from a performance point of view. The rest of the available ports won't exceed a single 10GbE port's throughput. Though, if you only have 5GbE connections through them, it could make sense to link them for a performance gain. However, that said, you will gain the failover protection of linking them. In the event that one port or a cable fails, your connection won't get interrupted.
You can create a total of 4 LAG with a maximum of 8 members in each. The Switch supports LACP with static and dynamic members.
User-Friendly Interface
Most SOHO switches are un-managed, allowing for the easiest plug and play. While that is convenient and most people don't have a lot of knowledge in regards to network configuration, it also limits things. The SX10 is partially managed and comes with a user-interface for this.
Everything works the same way as you're used to from your router. Enter the IP address, log in with your details, and configure what you want. The SX10 can be used as plug-and-play too, right out of the box. It comes pre-configured for your convenience, but it can do so much more. So why would limit yourself to just that?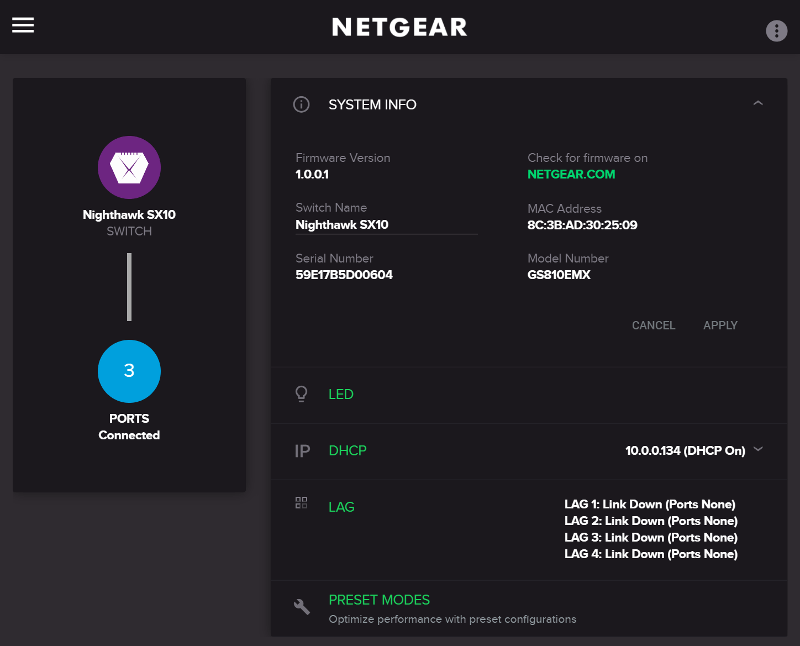 Finding the switch's IP address is an easy task. NETGEAR offers a desktop app for just that. The app is available for Mac OS as well as Windows. If you're a Linux user, then you already know how to find a device's IP, so you won't need a discovery app.

The user interface allows you to change all the important aspects of your switch, without you needing a lot of knowledge in this area. NETGEAR designed it to be easy to use, even for novice users. That means, that while it looks good, you won't have to spend a lot of time with it – unless you want to.
Official Product Video
NETGEAR has a short product video that introduces the switch and its features too. You can see it here and get a quick view of the vital features without having to read a lot.
Feature Highlights
Two 10GbE/Multi-gigabit ports
Eight additional Gigabit Ethernet ports
Customisable LEDs with stealth switch to turn them all off
Up to 64 VLANs
Premium aluminium casing
Port-based/802.Q QoS
Up to four Link Aggregation setups with up to 8 members
Package and Accessories
A gaming product has to come in a beautiful packaging, don't ask me why, it just is that way. The two things match. The SX10 does that and the black and red colour scheme is classic for gaming products. The front of the box shows the device and has the four main features highlighted.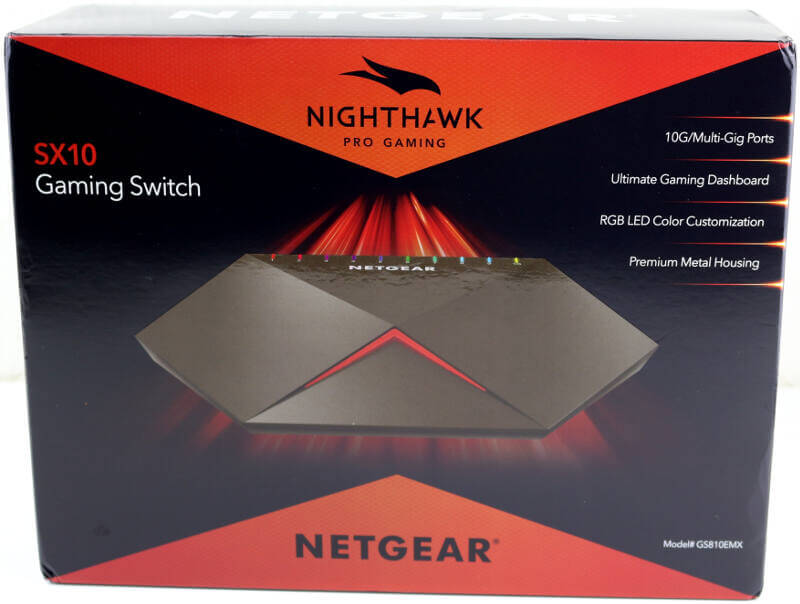 The rear of the box also shows the rear of the NAS along with more of its features.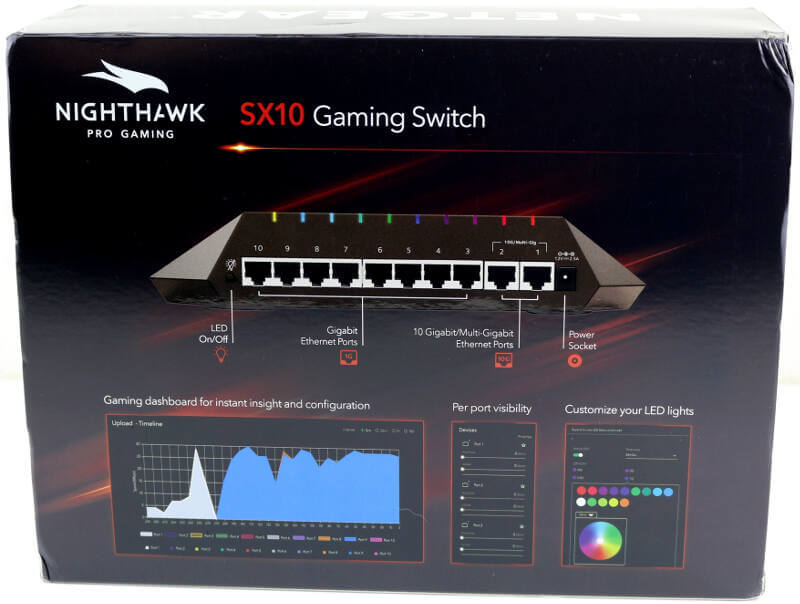 The details are on the sides. Here you'll find the feature list, package content, and technical specifications.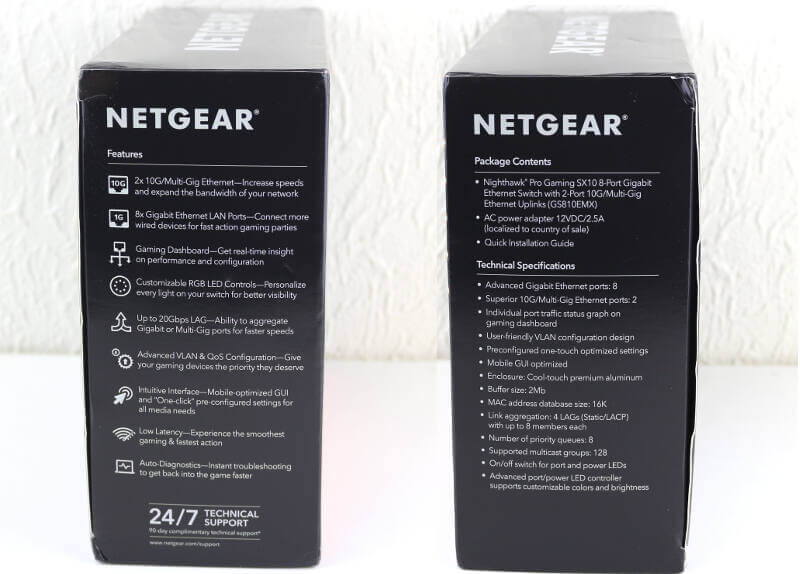 Once you open the inner box, you'll first see the included notes. There is a quick start installation guide, a leaflet for the Netgear Insight mobile app, and the declaration of conformity.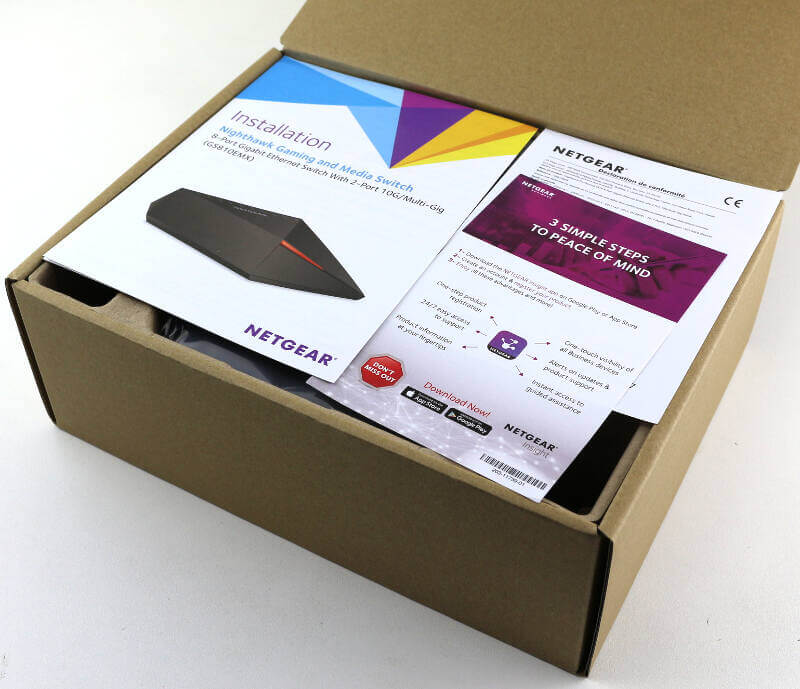 Other than the notes, you'll find the switch and a power supply for it inside the box.