Netgear VueZone VZSX2800 Wireless Camera Kit Review
---
---
---
Chris Hadley / 7 years ago
Introduction
---

If I was to go out onto the street and ask people what they thought surveillance was, I'd imagine a high percentage of those asked would answer with CCTV or constant video recordings for security. Now for the most part, this is what surveillance is however there are other applications for remote cameras, where the surveillance is not necessarily for security. Take lorries and HGV's for example, most of them today have a surveillance system built into the cab with a camera situated on the rear of the vehicle so that the driver can easily see what is behind him, whilst in other situations, cameras are used for monitoring wildlife and animals to save them from the disruption of a person being present in the area.
Another area of use for remote cameras could be for monitoring a baby or young child in their bedroom once they have gone up to bed. Baby monitors are a highly popular product with today's generation of parents with new borns and infants, with the piece of mind factor there for users to see that their child is safe and well. Now whilst there are dozens of applications for cameras and monitoring applications, the biggest use for them is we all know in today's world is security. With dozens of different types of cameras and numerous environments that they are built to work in, choosing a product that is suited for your needs and user level is a somewhat daunting task and consequently home security is a rather empty market in respect to commercial use.
Netgear's VueZone camera system that I'm looking at today is designed specifically for the consumer market. With such a wide variety of situations where cameras could be of an assistance, the totally wire-free system and the ability to record in low light conditions makes this system ideal for the home user, where the speed of installation and simplicity to operate and maintain is far more important than what it is at the commercial level.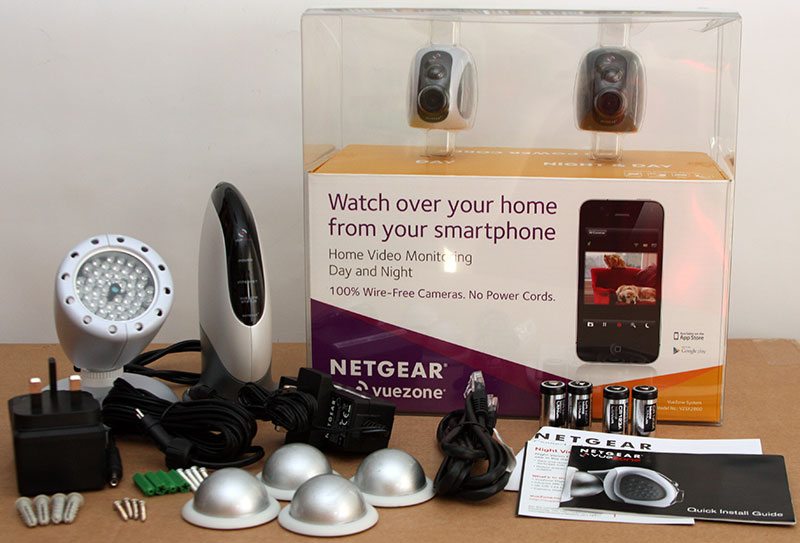 Packed into the box, Netgear have packed in a lot of kit and alongside the key components that the system needs to operate, the VZSX2800 bundle has two cameras, one of which is able to record video at night though the use if an infra-red light. Besides the cameras we get four semi-circular magnetic mounts for the two cameras (to allow quick and simple changes in areas covered), screws and rawlplugs for fitting the camera mounts and infra-red lamp where necessary and a quick setup guide to get you up and running in no time. Netgear quote that this system should take no time at all to get setup and running, so let's have a look and see if things are just as simple as they say they are.