Netis WF2375 AC600 Wireless Outdoor AP Router Review
---
---
---
Bohs Hansen / 6 years ago
Introduction
---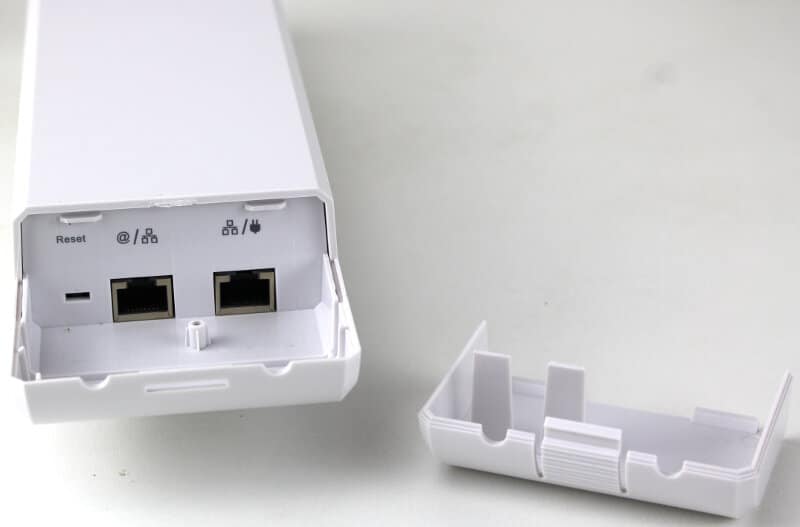 There are times when everyone screws up, and it was me doing so this time. I'm planning a location move during this calendar year and have as such already started sorting things out. While doing so, I discovered a review sample that had fallen behind a shelve, the Netis WF2375 Wireless dual-band outdoor access point router. And it is a shame that it didn't get its review earlier since it is a great product that also goes outside the norm.
While there are many ways to extend your network, not all of them are equally suited for all situations. There are the traditional methods with cables and common access points. But what if you want to connect different buildings with each other? Then you need something else.
Conventional network connections, both wired and wireless, have a range of 100 meters in right conditions, but what if you need more than that. What if you need 1 KM, 2 KM or even 10 KM coverage? Then you'll need something special like this wireless access point router. And yes, you read that right. The WF2375 has been field tested with a connection above 10 KM according to the product specifications.

With high transmission power up to 30dBm/1000mW and built-in dual polarisation directional dual-band antenna, the AC600 Wireless Dual Band High Power Outdoor AP Router WF2375 gets a perfect performance in long-distance wireless connection. It is a concurrent dual-band router, so it works on both the 2.4GHz and 5GHz wireless bands simultaneously.
The 802.11n 2.4GHz band is capable of speeds up to 150Mbps, and the 802.11ac 5GHz band can deliver up to 433Mbps. It could be ideal for long-distance point-to-point connection using the 2GHz band and then use the 5GHz signal for local Wi-Fi coverage, for example.

The Netis WF2375 is an outdoor device, and as such, it needs to be extra rugged and able to withstand the harsher conditions that include rain. The WF2375 has passed the IP55 certification for waterproofness, and it has up to 15KV ESD protection too.
Again considering that it is an outdoor device, we need some indication as to how its working condition is. When you're up on the roof to mount the whole thing or check on it, then you don't have the freedom to use another device to check its status. The WF2375 features a row of LEDs for this on the back of the unit with four LEDs for the signal strength itself and also LEDs for the power status, both wired connectors and the wireless bands combined into one bar where you choose which of the two is displayed.
The rear of the WF2375 access point has a simple mounting mechanism for use on antennas and round poles. You don't need any tools either as its simple secured with the help of the two large zip ties that are included. This might not be the best long-term solution, but it is certainly easy to use. The rear also features a sticker with the default IP, user, and password settings as well as the SSID and password.

The bottom of the access point is removable which exposes the two physical connections, WAN for the uplink and LAN for further connections to the access point itself. The two RJ45 ports only support 100Mbit, but considering that an access point like this usually will be used to share an internet connection over long-distance, you most likely won't need more anyway. You can still use the wireless signals directly for better possible transfer rates between the connected devices.
I've referred to the WF2375 as an access point most of the times, and that will also be its main usage scenario. However, it does have more operating modes than just that. The WF2375 can also work as an access point router and as wireless Internet service provider (WISP).
Feature Highlights
High transmission power up to 30dBm/1000mW
Built-in dual polarisation directional dual-band antenna
Field-tested for long-distance wireless connection over 10 KM
Dual-Band up to 150Mbps at 802.11N 2.4GHz and 433Mbps at 802.11AC 5GHz
Supports AP, AP Router, WISP operation modes
IP55 waterproof function and up to 15KV ESD protection
PoE powered
Package and Accessories
The package is a classic Netis design which showcases both features and the device itself on the black 'n' blue box.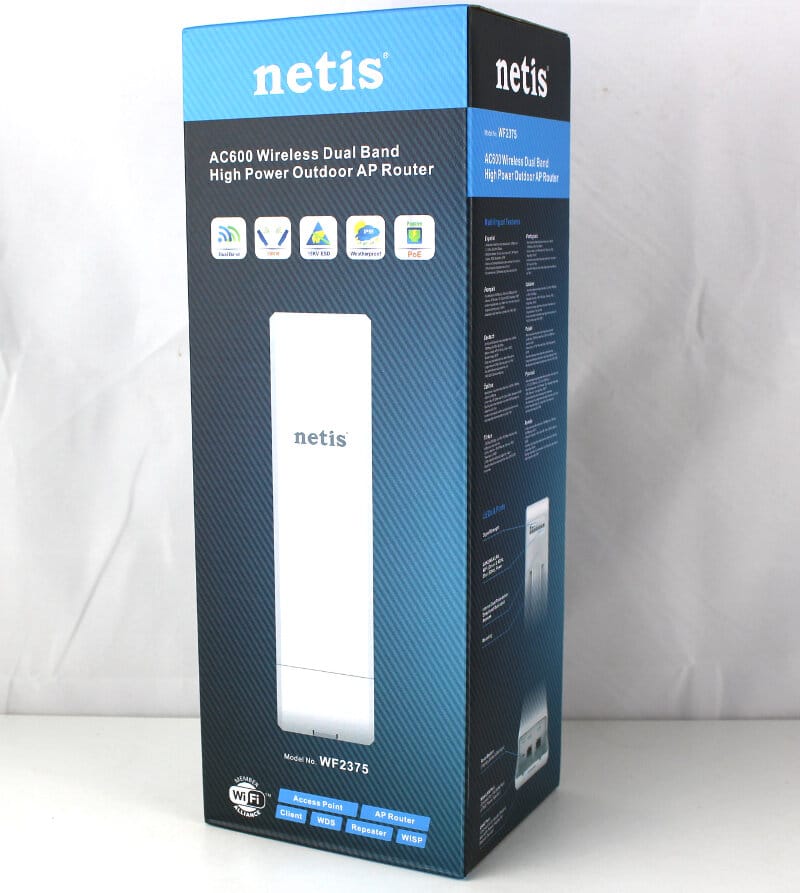 The rear and sides go into more detail than the front on both specifications and setup scenarios.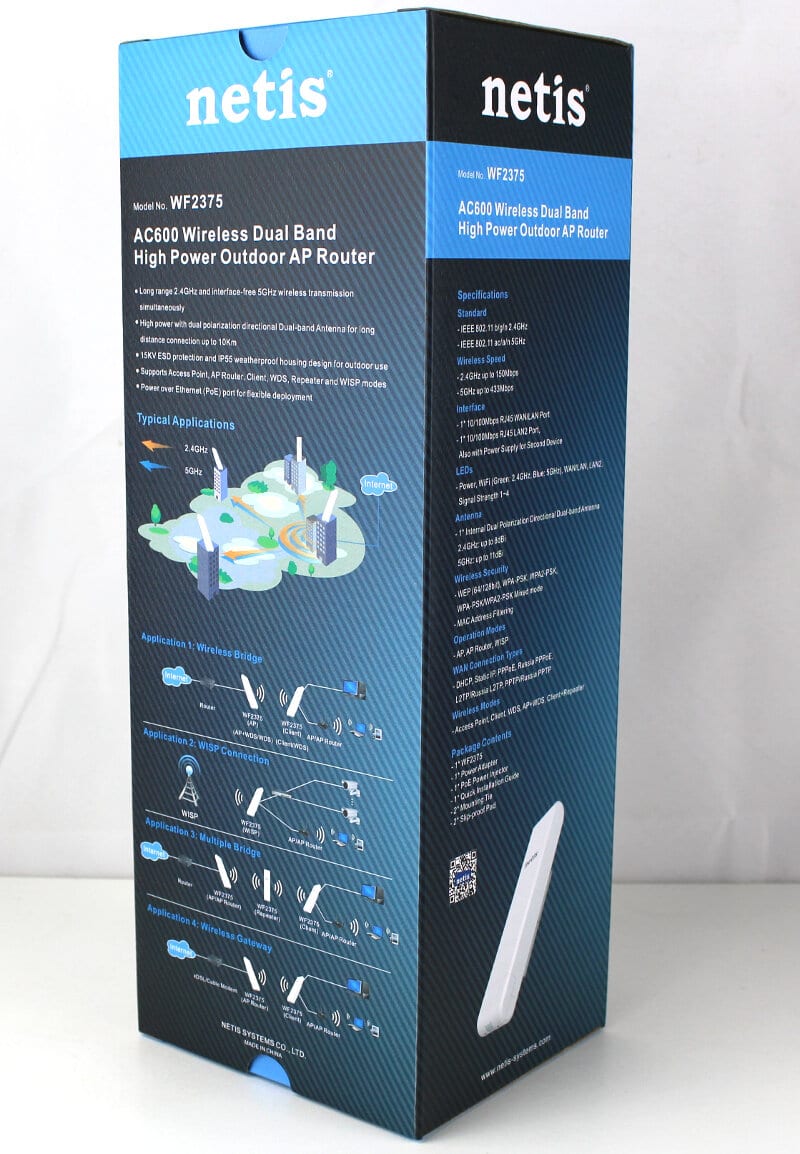 Inside the box are two long cable strips for the mounting, a quick start manual, a power supply, and a PoE infuser in case your setup isn't a PoE one.