New AMD Graphics Card Details Emerge
---
---
---
Mike Sanders / 3 years ago
New AMD Graphics Card Details Emerge
Rumours are growing more and more that AMD plans to release a new graphics card before the end of the year. I am, however, getting more and more a feeling of deja vu. You may recall how the first half of the year was (pretty much) spent entirely revolving around the speculation of Nvidia's new graphics cards. Specifically, if they would be called the 11XX or the 20XX. Well, we're kinda in a similar boat now with AMD.
With the chances looking very strong that AMD plans to release a new graphics card next month, we don't actually know what the name will be. Either way though, be it the 590 or 680, in a report via Videocardz, benchmarks have leaked that would appear to confirm that, at the very least, the graphics card does indeed exist!
What Do We Know About It?
We understand that the new card will continue to be based on AMD's Polaris architecture. As such, we shouldn't expect anything groundbreaking. At the same time though, it is also believed that AMD will switch to a 12nm development. As such, we should expect better clock speeds and temperature regulation.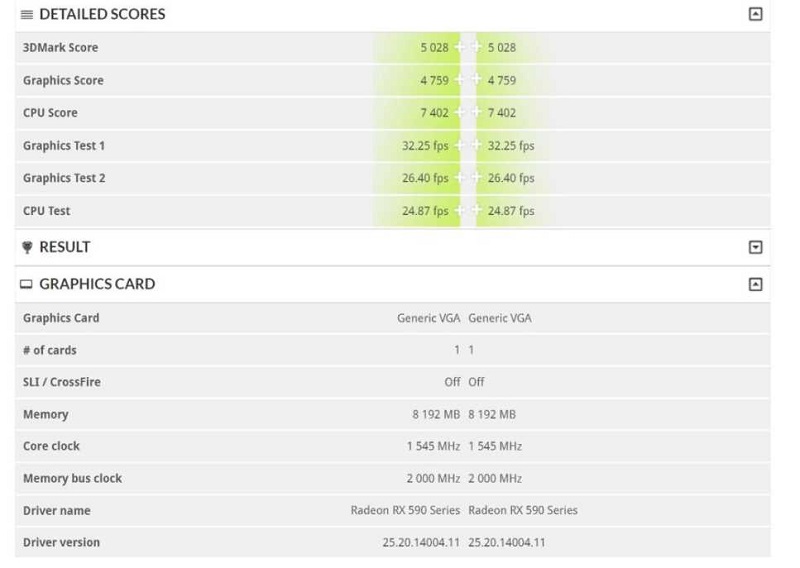 Where Do We Expect It To Compete?
That is certainly a tricky question to answer. In comparative terms, AMD graphics cards (while largely excellent) are still quite a notable way behind Nvidia. In addition, while it will feature some upgrades, on the whole, we're not expecting anything much better than an 'improved' version of the 580. Hence, why the 590 naming might make a little more sense. If this card was, however, capable of performing something around a Nvidia 1070/1080, but for half the price, I honestly think I could be tempted here.
I am, like many, still waiting to see just how good the Nvidia 2070 will be. Both in terms of price and performance. It seems though that AMD could have one final trick up their sleeve it seems.
What do you think? – Let us know in the comments!