New Enermax D.F. Storm Fan is Self-Cleaning and Runs Up to 3,500 RPM
---
---
---
Ron Perillo / 6 years ago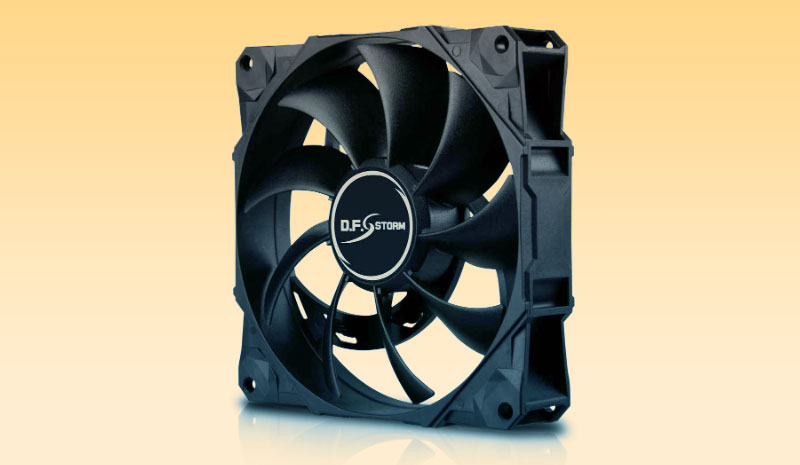 ENERMAX has added a new fan series to their line-up called the D.F. Storm that can run up to 3,500 RPM and has the ability to self-clean. The D.F. stands for dust-free since the fan's main feature is its DFR self-cleaning technology. It essentially counter-rotates for the first 10 seconds upon initial start up at full speed, after which it will operate in its normal rotation. This shakes off excess dust that might have accumulated during its idle period and ensures the fan blade is always operating in optimal condition.
Just like the ENERMAX Twister Storm series, the D.F. Storm series has three adjustable max RPM presets switchable at the rear of the motor. ENERMAX calls this the Adjustable Peak Speed (APM) and it allows the user to set the max speed of the D.F. Storm fan to either 2200 RPM, 2800 RPM or the maximum 3500 RPM. Otherwise, it is a 4-pin PWM fan that can be controlled automatically via the motherboard. At its maximum 3500 RPM, it is capable of delivering 11.131 static pressure although it is quite a bit loud at 38 dBA.
The D.F. Storm fan uses patented twister bearing which has a MTBF of 160,000 hours and the blades are mounted for easy detaching so users can easily mod, repaint or simply just clean the fan once in a while. The fan will be launched in late December 2017.
Specifications:
Model

UCDFS12P

Dimension (mm)

120(W) x 120(H) x 25(D)

Speed Mode

Performance

Overclocking

Turbo

Speed (RPM)

1500 ~ 2200
1500 ~ 2800
1500 ~ 3500

Air Flow (CFM)

72.47 ~ 100.23
72.47 ~ 130.23
72.47 ~ 155.08
Air Flow (m3/h)
123.12 ~ 170.29
123.12 ~ 221.26
123.12 ~ 263.48
Static Pressure (mm-H2O)
2.514 ~ 4.348
2.514 ~ 7.972
2.514 ~ 11.131

Minimal Noise (dBA)

23 ~ 28
23 ~ 32
23 ~ 38

Rated Voltage (V)

12

Input Current (A)

0.40
0.70
1.10

Input Power (W)

4.8
8.4
13.2

MTBF (hrs)

≧160,000 hours @ 25oC

Connector

1 x 4 pin PWM connector , 1 x 4 pin fan power adaptor

Accessory

8 x screws , 4 x isolator-mounts
1 x adhesive tape