New MGS 5 Patch Makes Quiet A Playable Character
---
---
---
Mike Sanders / 5 years ago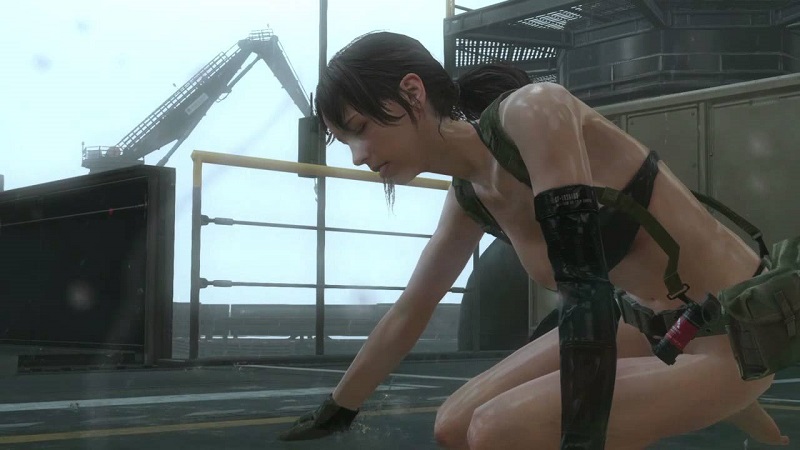 New MGS 5 Patch Makes Quiet A Playable Character
Quiet was quite possibly one of the stand-out characters from MGS 5. No, not just because she had quite prominent boobies either. As a companion, she was definitely one of the best in the game and quite effective at doing all your hard work for you. It seems, however, that Konami isn't quite finished with her or indeed MGS 5 yet.
In a report via DSOGaming, Konami has surprised everyone by releasing a new patch that makes Quiet a playable character.
FOB Online Mode
With MGS 5 being 3 years old now, many suspected that we had seen the last of it. An online failure for people to voluntarily disarm their nuclear bases online led to Konami releasing a hidden cutscene in February and many thought that was that. It seems though that they are still working on it and in the FOB online mode, Quiet is now a playable character. In fairness, this isn't the first update that has featured Quiet. A prior update allowed her to return to the game following her narrative exit.
It is, of course, a surprising release. No one was expecting it and I daresay that not many people are still playing MGS 5. You never know though. With the complete failure of MGS Survive, perhaps people went back to the 5th instalment of the game for their online tactical action. Quiet's inclusion, however, isn't the only new thing in the patch.
The patch notes include the following changes.
Quiet is now playable in FOB Online Mode
Difficulty levels EASY and HARD have been added to Event FOBs
New weapons to develop in Grades 7,8,9,10 and 11 have been added
Some issues have been fixed
Is Metal Gear Solid 5 Worth Playing?
I must admit that I bought MGS 5 on launch, played it for about 8 hours then put it down for around 2 years. I did eventually go back to it and in the space of a couple weeks completed the game. Three years later though, is it still worth playing? The short answer is yes. It didn't please all fans, but the open-world was a joy to behold. Part of the fun was being able to just randomly go off on a side tangent.
The base building was ok and thankfully not a necessary part of the game.
If you were planning on giving Metal Gear Solid 5 though, this new patch should make it even more interesting for you.
What do you think? – Let us know in the comments! Hey! Eyes up here, please!