New Nvidia Shield TV Now Available!
---
---
---
Peter Donnell / 7 years ago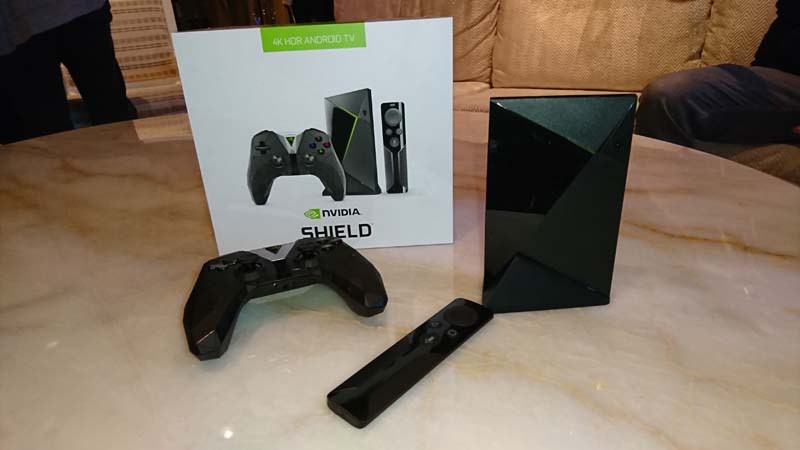 Good news everyone! The new Nvidia Shield TV is here at last, and it's never looked so good! Many here in the UK have been having trouble buying the Shield TV due to limited stock and often jacked up prices, but now it seems we know why stock was limited… they were making a new one!
The unit is now 40% smaller than the original, and now comes bundled with the remote and a new controller design for even better value for money. At just £189.99 you'll not find a more feature-packed system on the market for this kind of money, and you certainly won't find anything that comes close in terms of performance.
We actually got hands on with the new system at CES 2017 right here.
Highest Performance, 4K HDR Media Streamer
The new SHIELD TV delivers the richest visual experience with support for 4K HDR and 3x the performance of any other streamer on the market. With the addition of Amazon Video in 4K HDR, SHIELD TV offers the largest, most open catalogue of media in stunning 4K – also supporting Netflix, YouTube and Google Play Movies(1).
YouTube's flagship TV app will also be available for SHIELD TV in the coming months, delivering immersive, 360-degree viewing experiences.
Amazing Games
SHIELD TV stands alone among media streamers, with the widest range of gaming capabilities and richest assortment of game content. Its library of games has been expanded to thousands of titles, with the ability coming soon to stream Ubisoft's catalog of hits, including The Division, FarCry Primal, Watch Dogs 2, Assassin's Creed Syndicate, For Honor and countless others. New Ubisoft games will also be available, simultaneous with their PC release.
NVIDIA is expanding the GeForce NOW constantly with new releases nearly every week. Today we are also No Man's Sky by Hello Games to the Cloud Gaming platform.
SHIELD TV also continues to add hit franchises to the platform natively. Upcoming games include, Tomb Raider, Shadowgun Legends and The Witness. The latter is available today on the Google PlayStore.
AI in the Home
In the coming months, SHIELD TV will be expanded with a series of AI capabilities that transforms home entertainment:
First hands-free Google Assistant integration on TV. Google has optimized the Assistant experience on TV by having the home's largest screen show visual answers in addition to an audio reply. Use voice commands to replace clicking a remote for finding content, pausing, fast-forwarding or rewinding. Plus, Google Assistant can help better find content and answer questions.
SmartThings Hub technology integration, instantly turning SHIELD into a smart home hub that can connect to hundreds of smart home devices.
NVIDIA SPOT™, an AI mic accessory that makes SHIELD the central backbone of the AI home, extending intelligent control throughout the house. Coming later this year.
Pricing and Availability
SHIELD TV is available now and will ship in the UK as well as other select European countries, the United States and Canada for £189.99, including controller and remote. SHIELD Pro will also be available later this month with controller, remote with headset jack and 500GB of storage. The new controller is also sold separately for £59.99. SHIELD TV is available on the NVIDIA store as well as select retailers:
Features(2) announced for the new SHIELD TV will come to current SHIELD TV devices through an over-the-air software upgrade in the coming days.
(1) Google Play Movies available in coming months.
(2) Hands-free commands require the new SHIELD TV controller, bundled with next-generation SHIELD TV and sold separately.