Nexus XiR-2300 Aluminium Edition Real Silent CPU Cooler Review
---
---
---
Andy Ruffell / 11 years ago

In current times when thinking about all things Nexus your thoughts might first turn to a particular search engines series of mobile phones. Needless to say Nexus Technology have nothing to do with these phones but are instead experts in heat conductivity and noise reduction within the computer industry. During the last several years they have been working closely with large pc manufactures, their goal is to build a strong and reliable trademark for silent computing.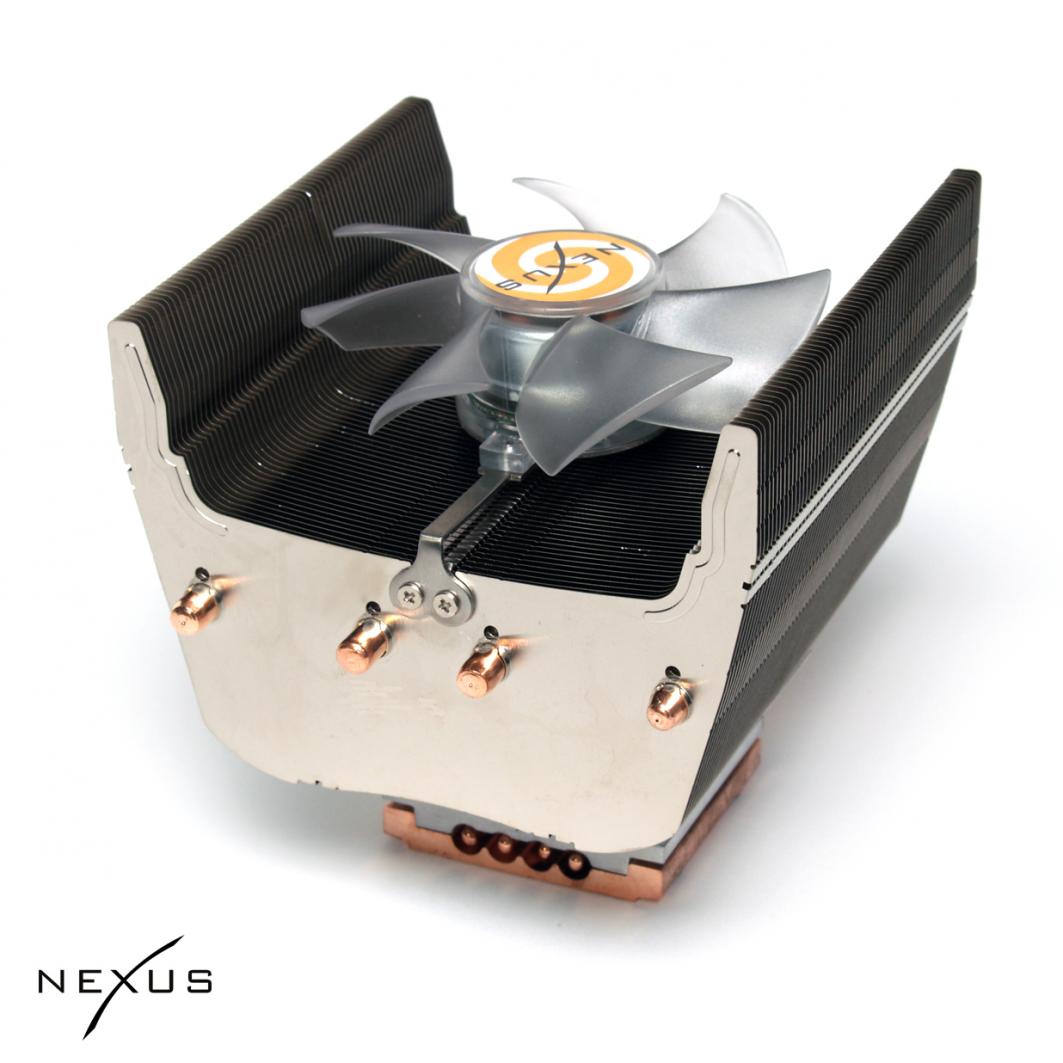 With multi core processors having becoming standard over the last few year and eight core processors on the horizon it places an increased importance on which CPU Cooler to choose. This becomes all the more important when overclocking or silencing your PC. Today we look at the XiR-2300 CPU Cooler from Nexus which uses an Aluminium heat sink design with cooper heat pipes.
Taken from the Nexus website:
The Nexus XiR coolers combine some of the most advanced technologies in the market used for CPU coolers. Heat pipes, SkiveTek and ultra-thin fins combined with a real silent temperature controlled fan delivers ultimate performance which has never been this quiet before.

XiR coolers are crafted out of the purest aluminum and copper materials. The heat sink covering the heat pipes and the copper base is made using SkiveTek technology. We have managed to apply the best technologies at the best position on the cooler. And the result is astonishing…

The temperature sensor on the fan makes sure the fan speed is always at an optimal lowest speed. The speed can vary between 1200 and 2500 RPM creating a noise-output of an inaudible 15 dB(A) up till a still truly quiet 24 dB(A).

You should really experience it yourselves; high-end performance and low-noise combined. The XiR cooler range is your best choice!

ohh…before we forget. We put two orange LED in the fans center core…just for fun.
Cooler Specifications
[HR][/HR][TABLE=class: grid, width: 450, align: center]
[TR]
[TD=align: center]Universal application[/TD]
[TD=align: center] Intel 775 1366, AMD AM2 754 939 940[/TD]
[/TR]
[TR]
[TD=align: center]Dimensions[/TD]
[TD=align: center]106x122x111 mm[/TD]
[/TR]
[TR]
[TD=align: center] [LxWxH][/TD]
[TD=align: center]4.17×4.80×4.37 inch[/TD]
[/TR]
[TR]
[TD=align: center]Materials[/TD]
[TD=align: center]Pure copper base[/TD]
[/TR]
[TR]
[TD=align: center][/TD]
[TD=align: center]Pure copper heat pipe
[/TD]
[/TR]
[TR]
[TD=align: center][/TD]
[TD=align: center]Pure aluminum heat sink[/TD]
[/TR]
[TR]
[TD=align: center][/TD]
[TD=align: center]Pure aluminum fins[/TD]
[/TR]
[TR]
[TD=align: center]Weight[/TD]
[TD=align: center]382 gr / 13.5 oz[/TD]
[/TR]
[TR]
[TD=align: center]Heat pipe[/TD]
[TD=align: center]4 heat pipes of 6 mm / 0.236 inch[/TD]
[/TR]
[TR]
[TD=align: center][/TD]
[TD=align: center]diameter[/TD]
[/TR]
[/TABLE]

[SIZE=3] [SIZE=2]Fan Specifications[/SIZE][/SIZE]
[HR][/HR][TABLE=class: grid, width: 450, align: center]
[TR]
[TD=align: center]Fan size[/TD]
[TD=align: center]92 x 25 mm / 3.6 x 0.9 inch[/TD]
[/TR]
[TR]
[TD=align: center]Fan voltage[/TD]
[TD=align: center]12V[/TD]
[/TR]
[TR]
[TD=align: center]Fan function[/TD]
[TD=align: center]temperature controlled by fan sensor[/TD]
[/TR]
[TR]
[TD=align: center]Fan speed[/TD]
[TD=align: center]1200 to 2500 RPM (+/- 10%)[/TD]
[/TR]
[TR]
[TD=align: center]Fan connector[/TD]
[TD=align: center]4-pin[/TD]
[/TR]
[TR]
[TD=align: center]LED's[/TD]
[TD=align: center]2 x orange LED in fan center core[/TD]
[/TR]
[TR]
[TD=align: center]Noise level[/TD]
[TD=align: center]15 ~ 24 dB(A)*[/TD]
[/TR]
[/TABLE]