Nintendo Launching Labo Vehicle Kit on September 14
---
---
---
Ron Perillo / 5 years ago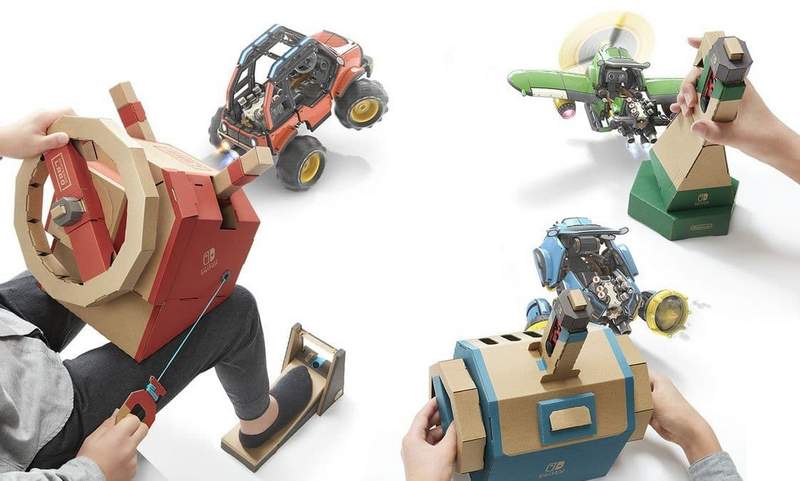 Versatile Nintendo Labo Kit for Vehicles
Nintendo has announced a new Vehicle Kit for their Nintendo Labo. The flat-pack add-on includes a steering wheel, flight stick, sub-control as well as Toy-Con key which activate different vehicles. Users can create three new Toy-Con projects, including car, plane and submarine. The inclusion of a pedal is particularly satisfying as well, which users can step on for vehicle acceleration.
As the trailer shows, the game on screen seamlessly switches between vehicles just by placing the Toy-Con key to the right controller. Simply lift it up and place it in when necessary.
https://www.youtube.com/watch?v=vI6QzU8NXFI
Each kit comes with 25 pieces of cardboard sheets, which includes extra sheets for customization. There is also a string, sponge sticker, reflective sticker, and four sets of grommets in two different colours. To handle the mechanics, there are also three pieces of large rubber bands and twelve pieces of smaller rubber bands. As usual, Nintendo also provides spares just in case the builders lose a few. The physical version of the Labo Vehicle Kit software for the Nintendo Switch is also included.
When is the Nintendo Labo Vehicle Kit Coming Out?
The Vehicle Kit is arriving on September 14 with an MSRP of $69.99 USD. Two other kits are currently available: variety kit ($69.99) and robot kit ($79.99).