noblechairs ICON Black/Platinum White Gaming Chair Review
---
---
---
Peter Donnell / 5 years ago
---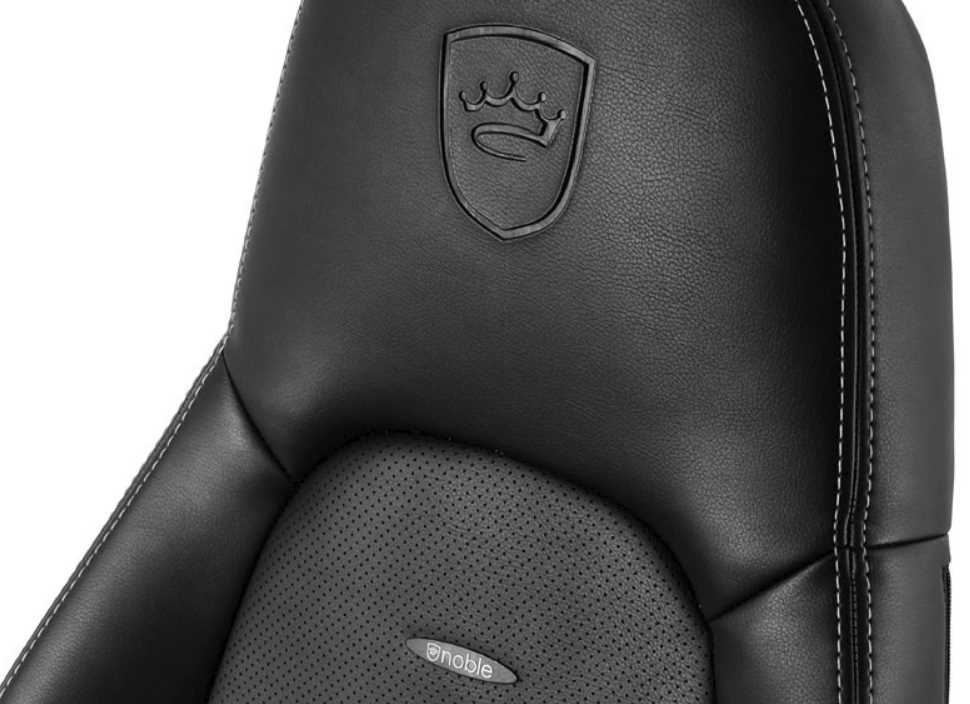 noblechairs ICON
It's that incredible time of year again, as the noblechairs fairy has brought us a mighty gift. I am, of course, talking about their new ICON gaming chair, one of the most popular high-end gaming chairs on the market today. I must admit I'm a little more excited than most in the office, but that's because my daily desktop driving seat is the noblechairs EPIC, which I've been happily using day to day, night to night, at my own desk. The ICON is the latest take on this popular range and promises to make some nice improvements to the overall design.
Check out our review of the noblechairs EPIC here, it's a great product and looks very different to the ICON.
What noblechairs Had to Say
"While some colours never go out of fashion, and black is surely one of them, platinum white adds a certain frisson of visual contrast. For those desiring a balance between the tuxedo-and-tie timelessness of black and a brilliant flash of platinum white, this is for you. The Black/Platinum White PU leather model maintains the material quality and attention-to-detail of its fellow noblechairs while adding an extra layer of texture and detail. It is in this spirit that we also include a discrete black-on-silver aluminium badge, effortlessly blending into the chair's tasteful interplay of platinum white and black."

"No mere gaming chair, the interplay of 100% vegan PU imitation leather and precision manufacturing is what drives the ICON forwards. That's why we rely on supple and durable PU leather and an intelligent blend of perforation and diamond pattern stitching across the contact area to maximise comfort and breathability, allowing you to stay ahead of the competition without breaking a sweat." – noblechairs
Features and Specifications
We have the black-white platinum white stitching model for review today, although there's a nice selection of colour combinations to pick from, so don't worry if that's not to your taste. The chair offers up a full-height backrest, a deep and wide seat, and plenty of adjustments. You can angle the back, move the arms on their X, Y and Z axis, adjust the rocker, and height of the chair. There's even a couple of lovely cushions thrown in for good measure.
Appearance
Main colour: Black
Side strip colour: Black
Stitchings colour: Platinum White
Pillow colour: Black with Platinum White embroidery
Measurements
Total height (with base): ca. 1280 – 1380 cm
Height adjustability: ca. 480 – 580 mm
Width backrest (shoulder level): ca. 390 mm
Width backrest (pelvis level): ca. 520 mm
Width backrest (point of contact): ca. 295 mm
Length backrest: ca. 860 mm
Backrest adjustability (static): 90° – 135°
Width seat (total): ca. 515 mm
Width seat (point of contact): ca. 340 mm
Depth seat (total): ca. 570 mm
Depth seat (point of contact): ca. 490 mm
Width armrests: ca. 100 mm
Depth armrests: ca. 245 mm
Rocking mechanism: max. 11°
Armrests adjustable: Yes (four-dimensional)
Maximum weight (user): 180 kg
Net weight (chair): ca. 28 kg
Gross weight (chair): ca. 30 kg
Package dimensions: ca. 87 * 37 * 70 cm
UK Fire safety compliance: BS 5852
Manufacturer warranty: 2 years