Noctua NF-P14 FLX Fan
---
---
---
Andy Ruffell / 12 years ago

Case or chassis fans are of the upmost importance to overclockers who are trying to squeeze every last MHz out of their machines. If however you are a more humble gamer you will still want your computer to remain cool under intense gaming conditions which could last several hours. Then of course there are the computer users who would prefer to have a quiet machine over having any ultra fast performance components. They may for instance be working in an office environment whether at home or at a workplace and with a machine that is on for 8+ hours a day, this would require decent cooling to make sure all the heat is removed from the computer case but at the same time wanting to reduce the background noise or hum always associated with computers.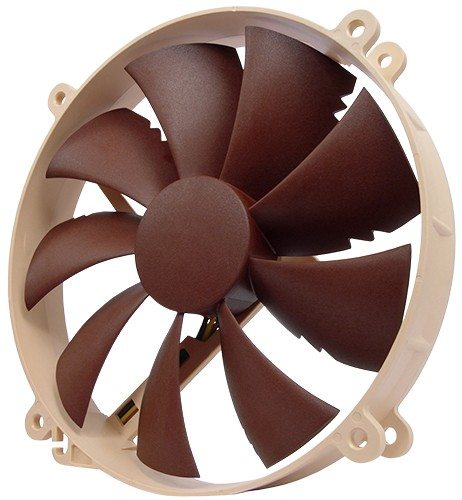 Case fans used to all be a standard size and to a large extent exactly the same from whichever manufacturer you purchased it from. This size was of course the 80mm fan which is still the dominant size in today's market, but with a much smaller share. As you are probably aware fan sizes have increased dramatically and the fan we are looking at today is a whopping 140mm fan, nearly twice the diameter of its predecessors.
120mm fans have become all the range with gaming cases, with most cases being able to incorporate at least 2 of these already quite large fans, but recently with the introduction of turbine cases we have seen sizes up to 220mm fans. While positioned on top of the computer this size fan may lead to it hovering above the floor if it were to be turned up to a high enough speed. Joking aside, larger fans of course have huge advantages as they are able to shift more air at a lower rpm (revolutions per minute). The scale is also not linear and as such a 120mm fan is usually agreed to be well over 2* more efficient than an 80mm fan. This of course leads to quieter motors and less air noise. So a 140mm fan ought to have the capacity for huge air flow at a nearly inaudible volume.
Noctua are an Austrian based premium cooling manufacturer, concentrating primarily on quietness while giving exceptional performance. Their products range from CPU Coolers for both retails and servers to case fans and thermal compounds – they are not the most diverse of companies but have concentrated their expertise to a very small range with usually very impressive results.
Specifications
Size 140x140x25 mm
Bearing SSO-Bearing
Blade Geometry NF-P14 Blade Design with VCN
Rotational Speed (+/- 10%) 1200 RPM
Rotational Speed with L.N.A. (+/- 10%) 900 RPM
Rotational Speed with U.L.N.A. (+/- 10%) 750 RPM
Airflow 110,3 m³/h
Airflow with L.N.A. 83,7 m³/h
Airflow with U.L.N.A. 71,2 m³/h
Acoustical Noise 19,6 dB(A)
Acoustical Noise with L.N.A. 13,2 dB(A)
Acoustical Noise with U.L.N.A. 10,1 dB(A)
Static Pressure 1,29 mm H2O
Static Pressure with L.N.A. 0,77 mm H2O
Static Pressure with U.L.N.A. 0,53 mm H2O
Input Power 1,2 W
Input Current 0,1 A
Voltage Range 12 V
MTBF > 150.000 h
Scope of Delivery
Ultra-Low-Noise Adaptor (U.L.N.A.)
Low-Noise Adaptor (L.N.A.)
Adaptors for 140mm mounting
4 Vibration Compensators
3:4-Pin Adaptor
4 Fan Screws
Warranty 6 years