Noctua NF-S12B FLX Fan
---
---
---
Andy Ruffell / 11 years ago

The Noctua NF-S12B FLX 120mm Fan is the latest release in a series of popular fans designed for the noise conscious system builder from the Austrian specialist company Noctua. A previously small niche company synonymous with low noise fans has recently grown to prominence due to their high performance NH-D14 dual radiator heatsink which took the market by storm. This single product has given the company exposure to the performance enthusiast market that Noctua was never really targeted in the past.

Going back to their roots of low noise fans Noctua have released the Noctua NF-S12B FLX, this new FLX (Flexibility) version of Noctua latest generation 120mm case fan which allows you to control the fan speed using the provided adapters. Putting the FLX system aside the design of the NF-S12B is very interesting with a unique propeller design featuring straighter more extremely pitched blades and tweaks such as bevelled blade tips. This fan is backed up with a 6 year warranty showing Noctua's confidence in the build quality, bearing and system. However does it provide enough refinement, silence and performance to make the high price tag worth paying?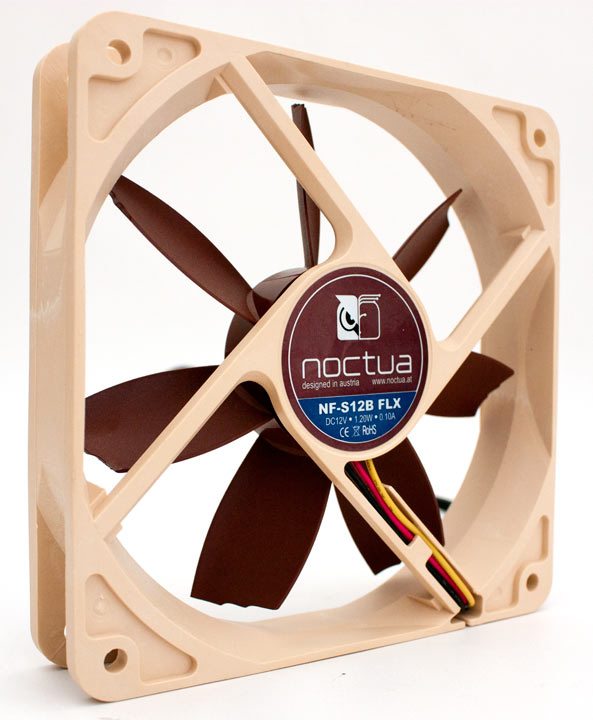 Specifications
Product Description: Noctua NF-S12B FLX 120mm Fan
Best Price from Reputable Retailer at Time of Review: £15.95 (Scan Computers)
Product Type: Case Fan
Dimensions: 120x120x25mm
Rotation Speed: 1200/900/600 RPM
Air Flow: 59.2/44.6/28.9 CFM (Converted from quoted m3/h)
Noise Level: 18.1/10.6/6.2* dBA (* extrapolated value from Noctua)
Power Connector: Standard 3 Pin Fan Header Plug
Features: Variable fan speed through included adapters
It is worth taking the quoted dBA and CFM from all manufacturers with a large pinch of salt as they are generally either recorded under ideal conditions or simply calculations based on the specifications and design of the fan with no actual testing taking place.