Noctua NH-U12S Air CPU Cooler Review
---
---
---
Mike Sanders / 3 years ago
---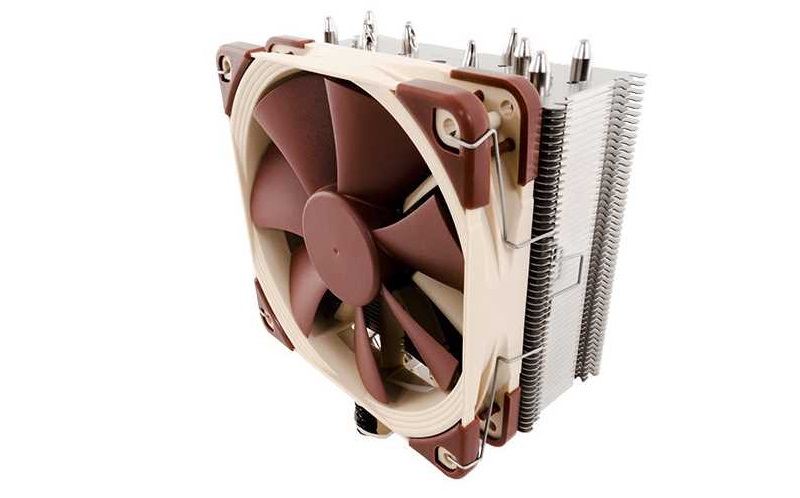 Noctua NH-U12S Air CPU Cooler
We make very little lie here at eTeknix that we are massive fans (no pun intended) of Noctua products. In terms of the consumer reception though, they are a bit of a marmite product. Some people simply can't get over the aesthetics of Noctua's distinctive design or just the fact that it's an air cooler. We here, however, have no such reservations. We love them. Many of our own systems are cooled by Noctua products and we largely consider their NH-D15S as one of the best go-to products for cooling.
Noctua is, largely, considered to be the king of air coolers and we would struggle to disagree.
In this instance, however, we take a look at their NH-U12S cooler. This is the smaller alternative to their massive NH-D15S, but don't let that fool you. While it might be more compact, this still has all of Noctua's fantastic engineering and design behind it. For many, this particular model is more preferable as it is smaller and as such you don't have such concerns in regards to space.
In truth, we have already technically reviewed this product before. You may, therefore, ask why we are reviewing it again. In brief, there are two reasons. The prior review was conducted under our old methodology, hence, why you will not see it (until now) in our comparison charts. Secondly, since the original release, Noctua has updated their fan design which, as a result, should provide far more efficient cooling.
Let's, therefore, revisit one of our favorite brand's most popular models and see how much better this has gotten.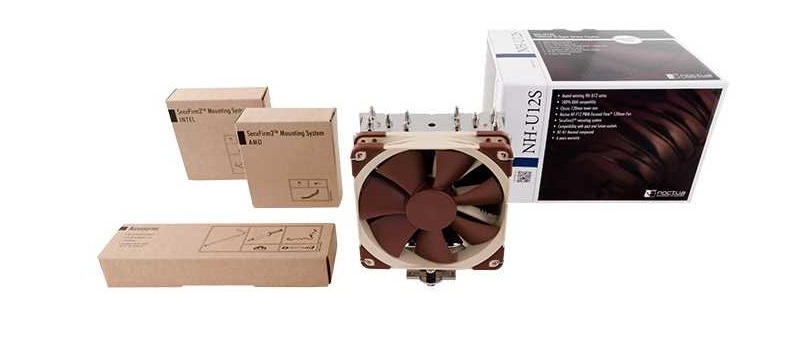 Features
You can check out the full features of this product below, but there are some points we would like to highlight. Firstly, as this is the smaller alternative to Noctua's CPU cooler, this has 100% RAM compatibility. The larger models can sometimes cause 'fouling' issues. Particularly if you wish to install both fans. With the Noctua NH-U12S though, this is no issue.
In addition to this, the overall excellent design of the cooler itself means that getting this into your system should be no problem at all.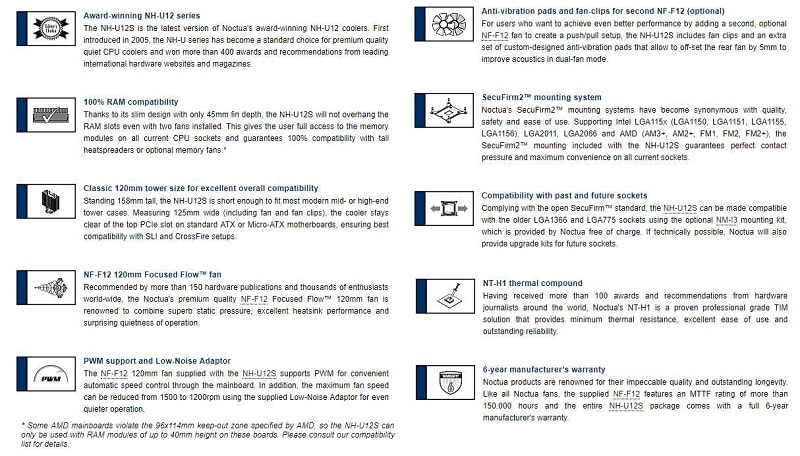 Specifications
For in-depth specifications, please visit the official Noctua product page here.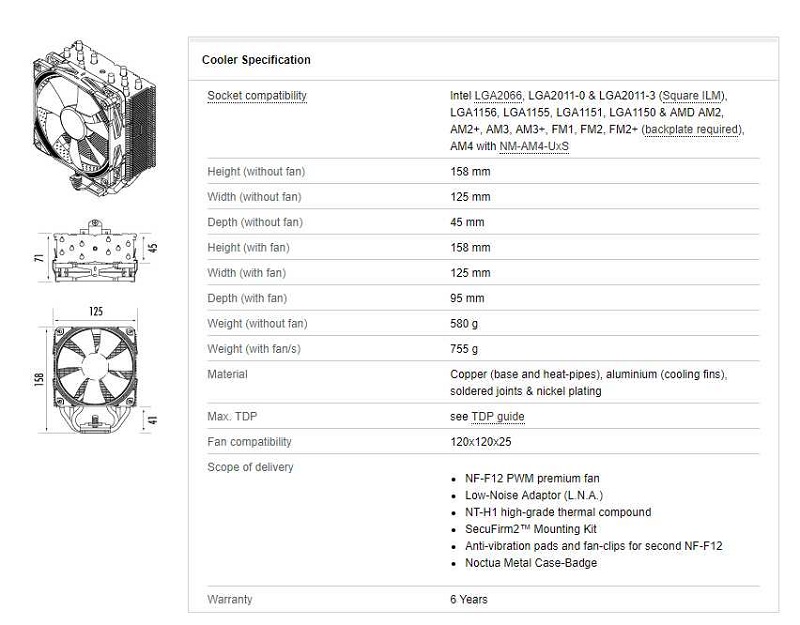 What Noctua Had to Say
The NH-U12S is the latest 12cm model of Noctua's classic U-series single tower CPU coolers, which have received more than 400 awards and recommendations from the international press. The S-version's 45mm slim shape guarantees 100% compatibility with tall RAM modules and at the same time, its fine-tuned design and the class-leading NF-F12 FocusedFlow™ fan with PWM support for fully automatic speed control allow it to further improve its predecessor's renowned quiet cooling performance. Topped off with the trusted, pro-grade SecuFirm2™ multi-socket mounting system, Noctua's proven NT-H1 thermal compound and full 6 years manufacturer's warranty, the NH-U12S is a complete premium quality solution that combines outstanding performance, quiet operation and excellent compatibility. – Noctua
Packaging and Accessories
Noctua has quite a distinctive style in not only their coolers and fans but also their packaging. The design is nice, clear and bold. The efficiency on the box speaks volumes as to the product itself. You are told everything you could need to know and in terms of presentation looks exceptionally professional.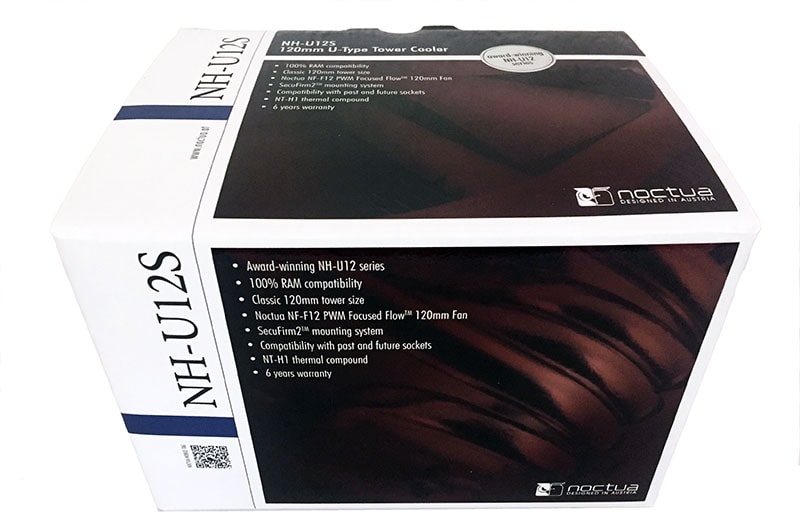 The side of the box gives you details on all of the key features that come with the Noctua NH-U12S. These are nice and clear, but also surprisingly detailed. This should assure anyone reading the packaging that they are getting exactly what they want from this cooler.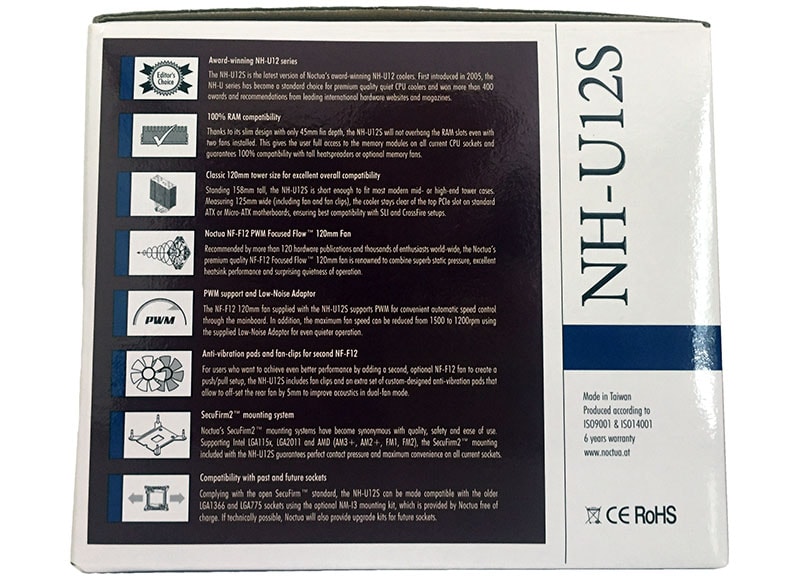 The rear of the packaging gives you further technical details on the cooler. This includes; the fan parameters; the heatsink specifications, the socket compatibility as well as a small technical diagram of the full product dimensions.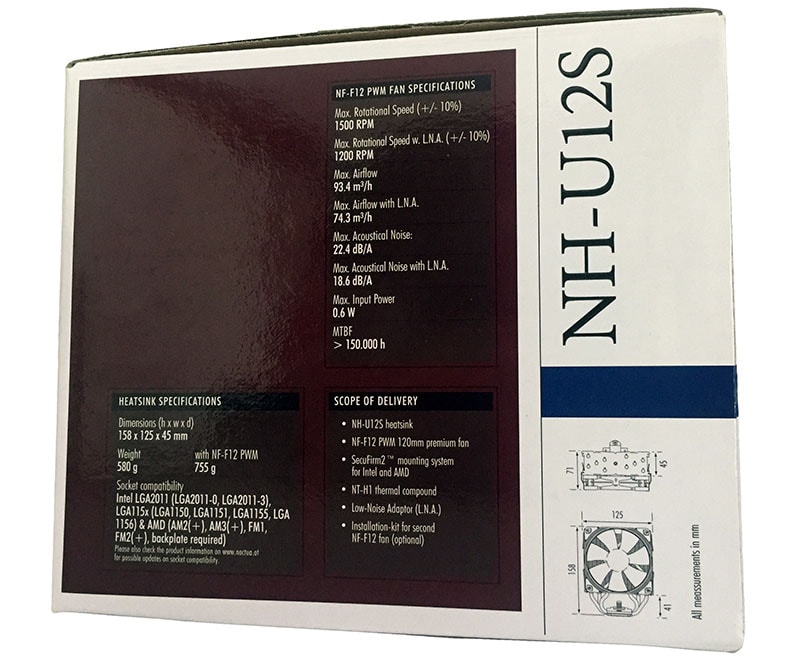 Parts and Accessories
As you would expect with a Noctua product, everything within the box is exceptionally well organized. The cooler itself is already supplied with the fan fitted and all other parts are nearly contained within a separate box. This box contains everything you need to install the cooler as well as the individually packaged socket adaptors/attachments.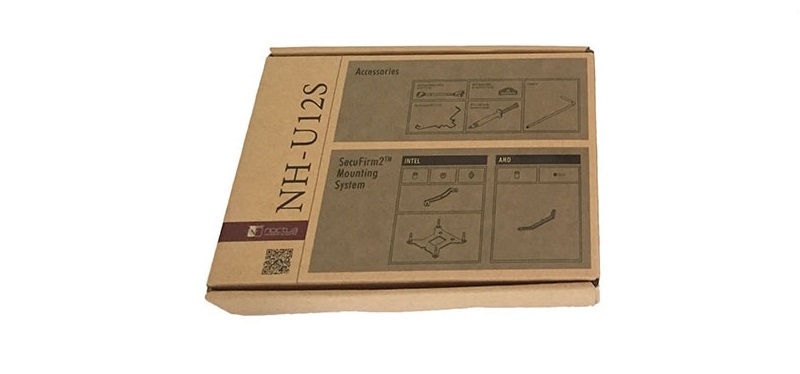 In terms of parts, you really are spoilt by Noctua. Everything is well organized including a fantastic backplate. In addition, the instruction manual provided is amongst the best in terms of clarity of information and details provided.