Noctua NH-U14S CPU Cooler Review
---
---
---
Ryan Martin / 8 years ago

Noctua's NH-U14S will cost €69.90/$74.90/£61.99 in the UK and you should be able to buy it at all the usual good UK etailers like Scan, Overclockers UK, SpecialTech, Quiet PC and so on. It is also worth reminding you that this is only the recommended RRP, it is possible that you will be able to acquire it for a little bit less if websites compete to drive the prices down. That said we are looking at around £60 for this bad boy from Noctua. I'm truly impressed with this because it is a really good price given the kind of performance numbers we've just seen. Some of you may be saying "but I can get a Noctua NH-D14 for the same price". Yes you'd be correct but there is a slight market differentiation between the two in that one is designed to give you maximum performance (the NH-D14) and the other is designed for maximum performance with maximum RAM compatibility in mind (the NH-U14S). It is also unfortunate that I have not had a chance to review the Noctua NH-D14 for a comparative result but I am sure you can imagine roughly the region where its performance might lay – around the 39-42 delta region on our overclocked performance graph.

The Noctua NH-U14S hasn't bowled me over as much as the Noctua NH-U12S did, although that's not necessarily through any fault of the product because once you start encroaching on this high-end air heatsink territory you get diminishing returns of "price to performance" or "bang for buck". That said it still ticks all the boxes in the same way. We've got consistently strong acoustic performance and cooling performance – an absolute must for a heatsink at this price point. Noctua's trademark levels of quality have been strictly maintained with the NH-U14S, the quality construction is shown in the fact that the fins show very little flex and do not bend at all. The accessory pack, mounting kit and overall presentation of the product was exemplary and it really makes you feel like you are getting your value for money – even from such a premium product. Again I want to stress how great it is to have an entire tube of Noctua NT-H1 thermal paste included, it is high quality thermal paste and it has a £9.99 RRP on its own – so it is a generous inclusion.

With regards to push-pull we saw some pretty good scaling by adding a second NF-A15 PWM fan. However, the NF-A15 PWM fans from Noctua are some of the most expensive fans on the market coming in at about £19.99 a piece. At that price you are looking at £80~ to get a push-pull NH-U14S up and running so for most people I'd say it isn't really worth it on a cost and performance basis, you get a heck of a lot of performance with just the single fan and unless you desperately want a couple of extra degrees in performance then your £20 could be better spent elsewhere.

The design of the NH-U14S is less "everyone-friendly", like the NH-U12S was, as it is 165mm high which means a lot of mid towers won't be able to support it. However, we saw 100% RAM compatibility on our LGA 1155 motherboard and we know it supports the same on all LGA 2011 so that is a huge plus since most people will use this product on those sockets. Noctua have informed us that not all LGA 1155 motherboards will have 100% RAM compatibility with this cooler, for example Mini-ITX LGA 1155 motherboards probably won't, however the vast majority of them will so that is what counts. Just make sure you double check your motherboard and RAM before buying. The worst case scenario is this CPU cooler will overhang onto the first DIMM slot only.

As with all my newer reviews I want to go over the general pros and cons quickly before giving my judgement.

Pros
Premium Build Quality – fins do not bend
Excellent Acoustic Performance
Best In Class Cooling Performance (for a single fan tower cooler)
Strong, Simple and Effective Mounting Kit
Quality Accessory Package – includes extra fan clips and thermal paste
Good RAM compatibility
Good price relative to what you get
Push-Pull scaling is strong
6 Year Warranty
High Airflow NF-A15 PWM fan
Cons
"Marmite-style" (either love it or hate it) Noctua colour scheme
165mm High – midtower compatibility will be hit and miss – check case compatibility before buying
Expensive to add another NF-A15 PWM fan
I have struggled to find (m)any flaws in this product from Noctua. If you are looking for an Air CPU cooler that can offer you 100% RAM compatibility (with the vast majority of enthusiast motherboards), best-in-class performance, silence, top-of-the-line build quality and a relatively affordable price point then you can't really go wrong with the Noctua NH-U14S. Any PC enthusiast would be over the moon to be able to put this CPU cooler in their rig, and understandably so.
With all that said Noctua's NH-U14S is an eTeknix Editor's Choice award winner.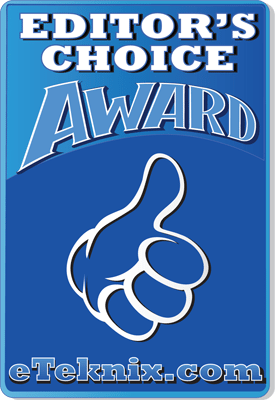 Thank you to Noctua for providing this review sample.