Noctua NH-U9S U-Type Tower CPU Cooler Review
---
---
---
Peter Donnell / 6 years ago
Introduction
---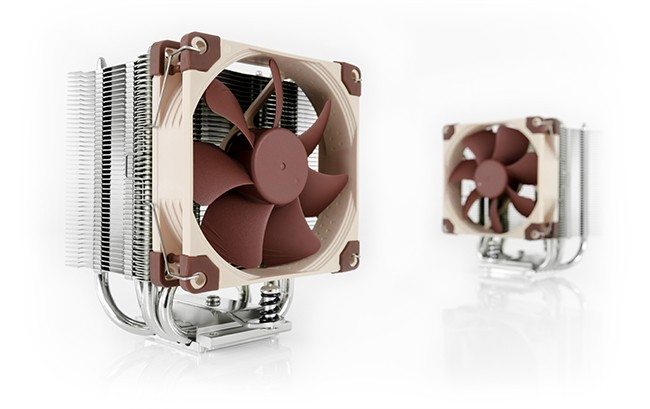 Noctua is one of the most recognisable cooling brands around and for those who don't recognise the name, you will most likely recognise the colours. Noctua are famous for two things, extremely high-quality products and that beige/brown colour scheme; love it or hate it, you can always pick a Noctua out of a crowd.
"Continuing the renowned legacy of Noctua's award-winning NH-U9 series, the NH-U9S is a premium quality quiet CPU cooler in classic 9cm size. Its asymmetrical design with 5 heatpipes not only provides even better cooling performance than the previous generation but also improves compatibility: Thanks to its 95x95mm footprint, the NH-U9S clears the RAM and PCIe slots on all Intel and most AMD based mainboards, including µATX and ITX. Combined with its 125mm height, this makes the NH-U9S a highly versatile solution with excellent case, RAM and PCIe compatibility. The included NF-A9 premium fan supports automatic speed control via PWM for outstanding quietness of operation and a second, optional NF-A9 fan can be added for further improved performance in dual fan mode. Topped off with the trusted, pro-grade SecuFirm2™ multi-socket mounting system, Noctua's proven NT-H1 thermal compound and full 6 years manufacturer's warranty, the NH-U9S is a deluxe choice through and through." – Noctua
It's no secret that Noctua has made some truly amazing coolers over the years, offering products that are virtually as good as you can get before taking the leap up to a water-cooled solution; which isn't ideal for every kind of build anyway. Their latest cooler certainly is set to take on the world of water cooling, but it does promise to be a premium quality solution for those who need a more compact cooler. Equipped with a 95mm fan, a compact cooling tower and a tight bundle of heat pipes, I'm eager to see how this little cooler performs!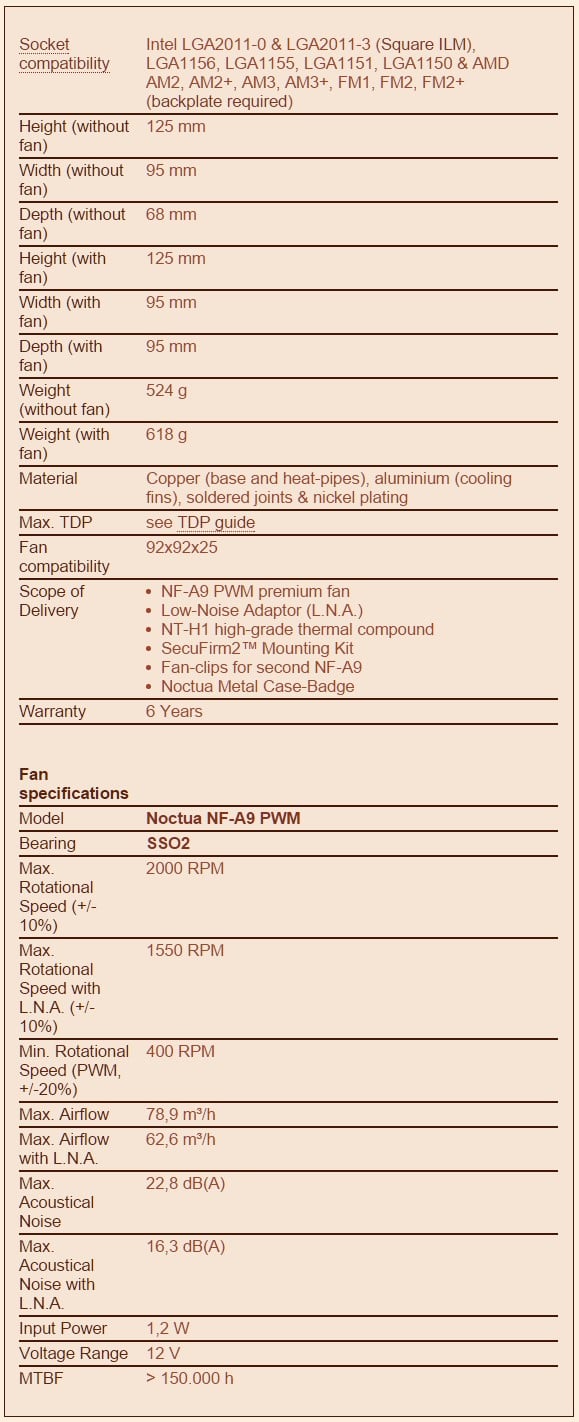 Nicely designed packaging with all the major specifications you'll need to know clearly labeled.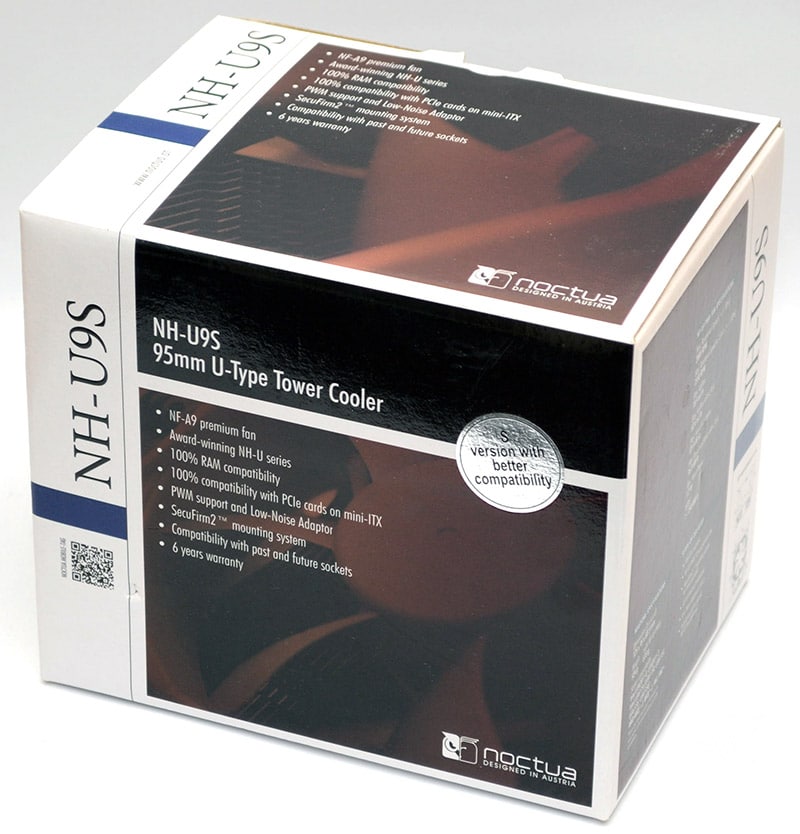 In the box, you'll find everything comes meticulously packaged, with separate pouches for both Intel and AMD mounting kits, as well as the general components, extra fan clips and a syringe of Noctua's award-winning thermal paste.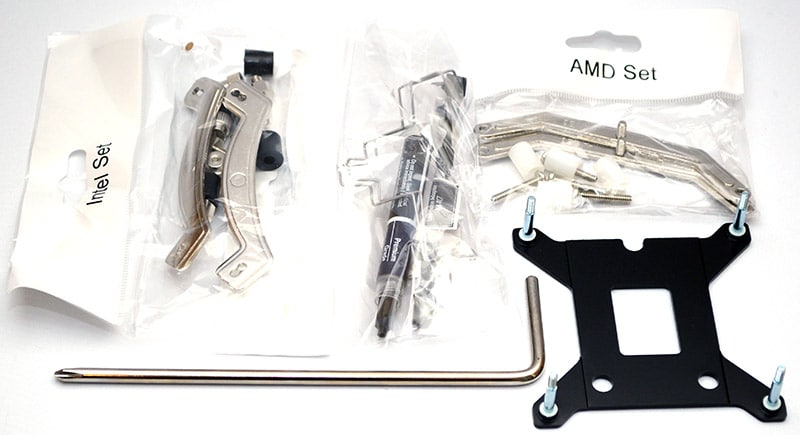 You'll also find some nicely formatted and easy to follow instruction booklets for each socket type.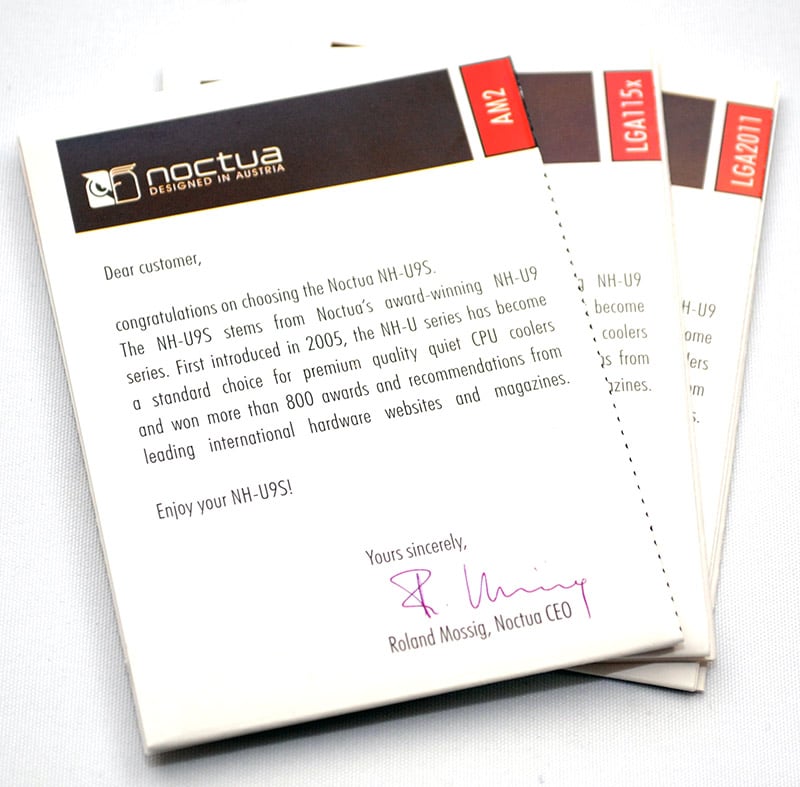 The cooler is very compact, yet surprisingly heavy; it may be small, but there's a lot of metal here.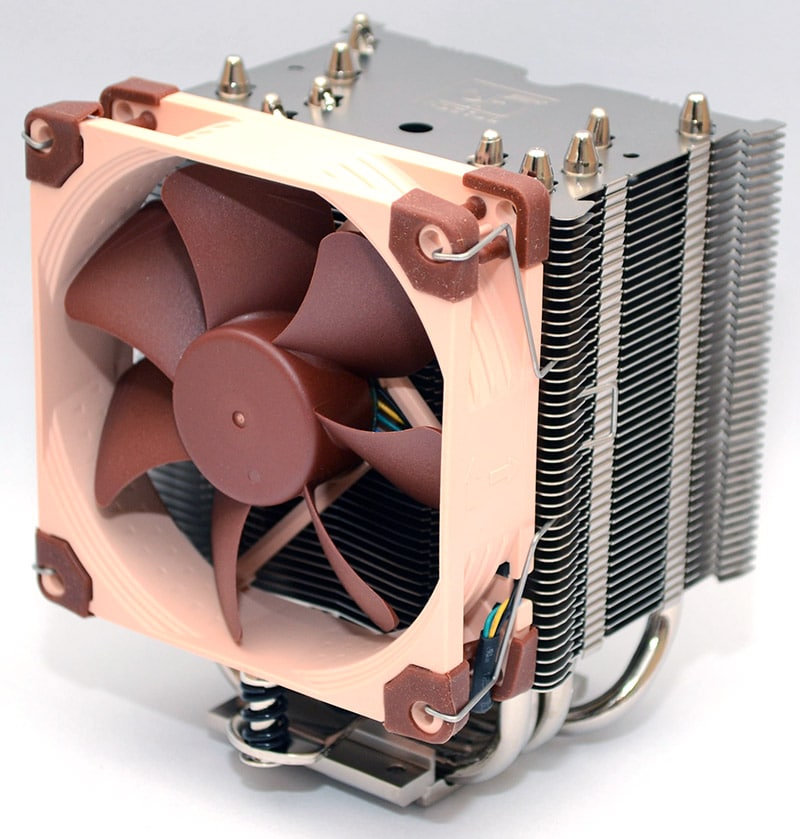 There's a single 95mm Noctua fan included with the cooler, which comes pre-installed, although you will have to remove it to install the cooler. It's a fairly typical Noctua fan in terms of design and naturally, it's of a very high quality.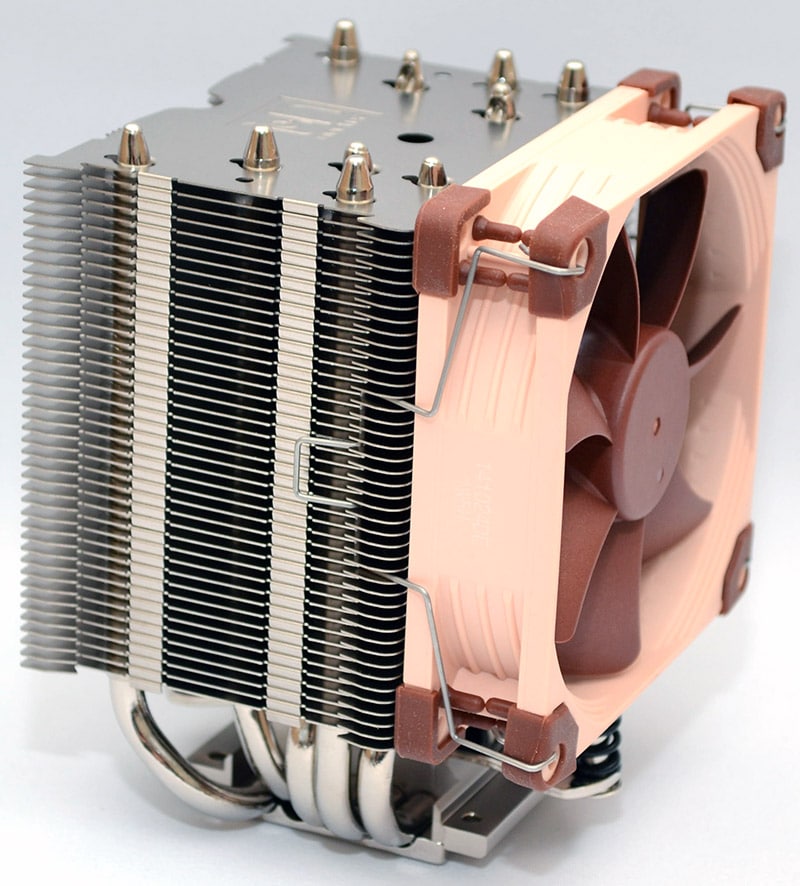 The 95mm fan mounts using two simple metal clips and comes with rubber coated corners to help reduce any vibrations.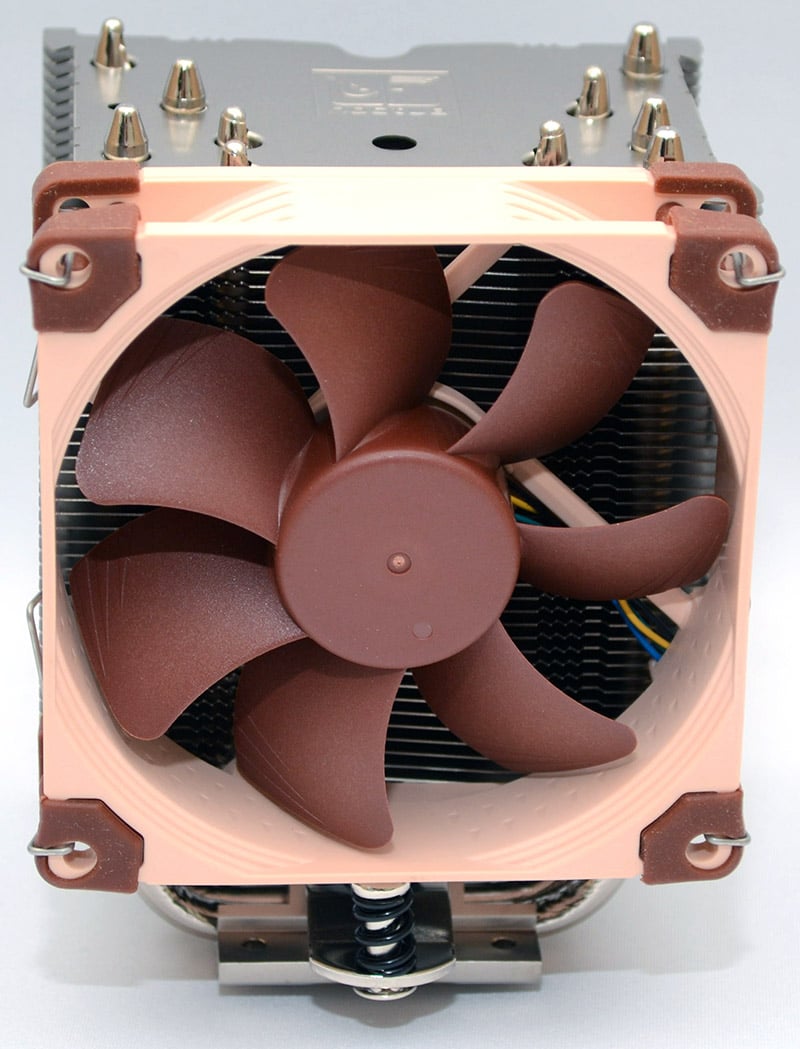 The fin stack is tightly packed and the individual fins are quite thick and strong compared to most coolers. Since this is the "S" version, it clocks in with 95mm dimensions, compared to the "B" model, which is 120mm, this means that it'll provide you with improved compatibility with chassis, motherboards and other components.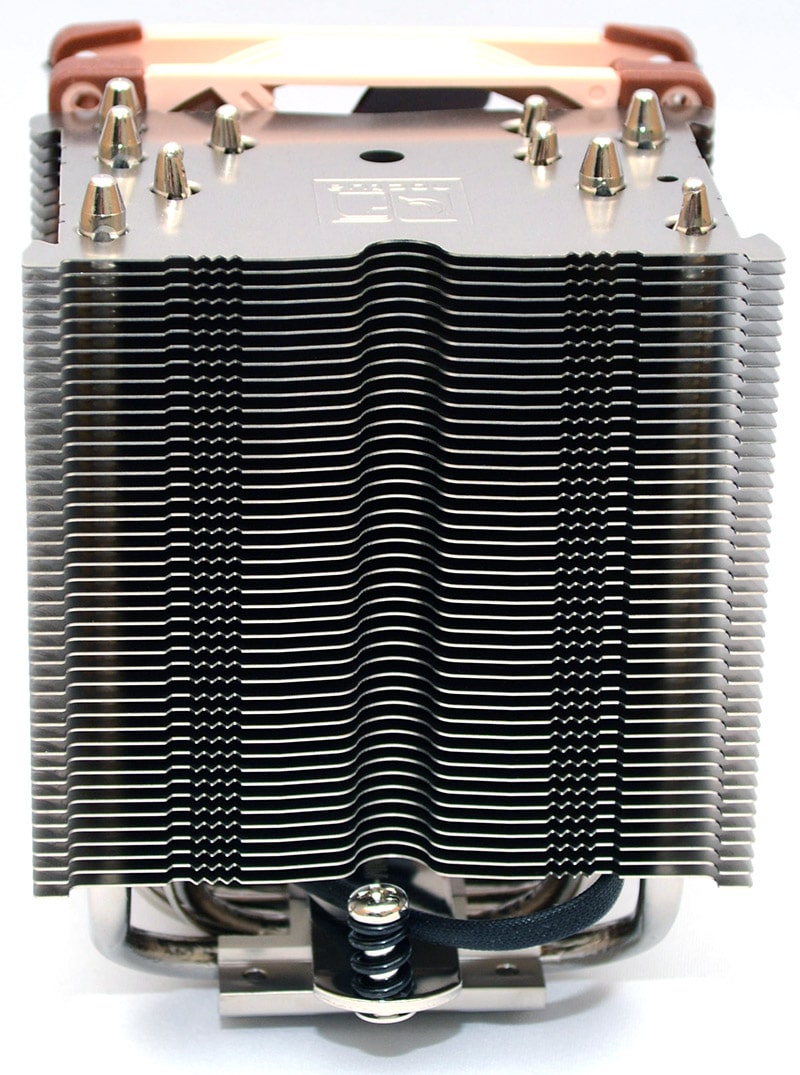 Despite its tiny size, the NH-U9S packs five copper heat-pipes to help move heat through to the aluminium cooling fins.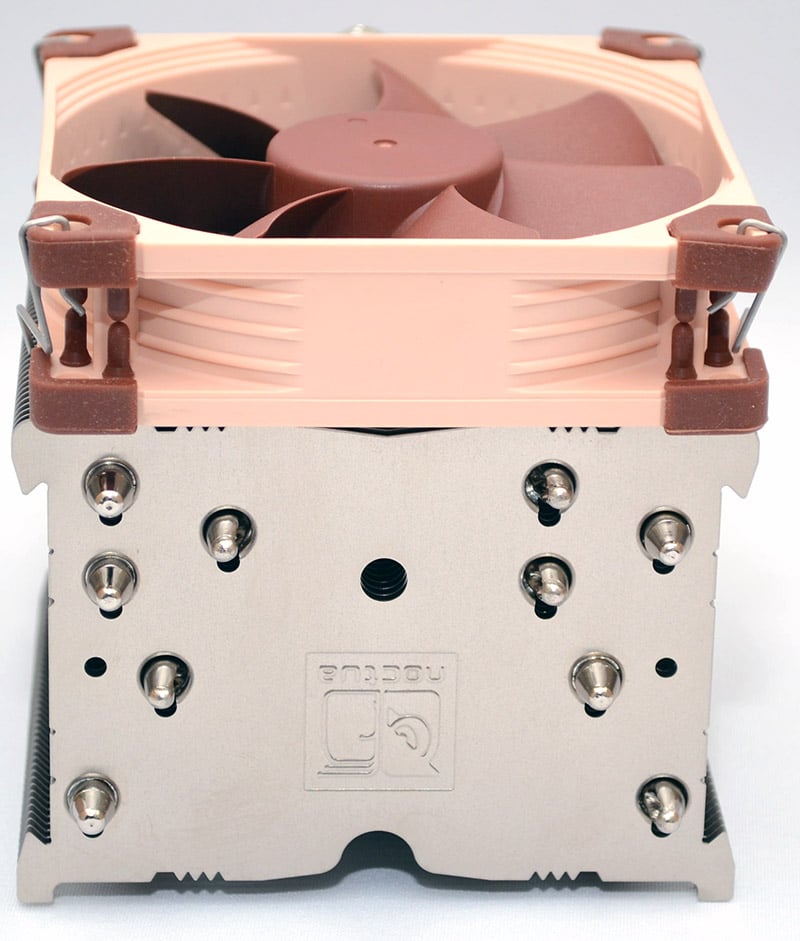 The copper base plate and the heat pipes come with a gorgeous nickel playing and the CPU contact plate is polished to a mirror shine.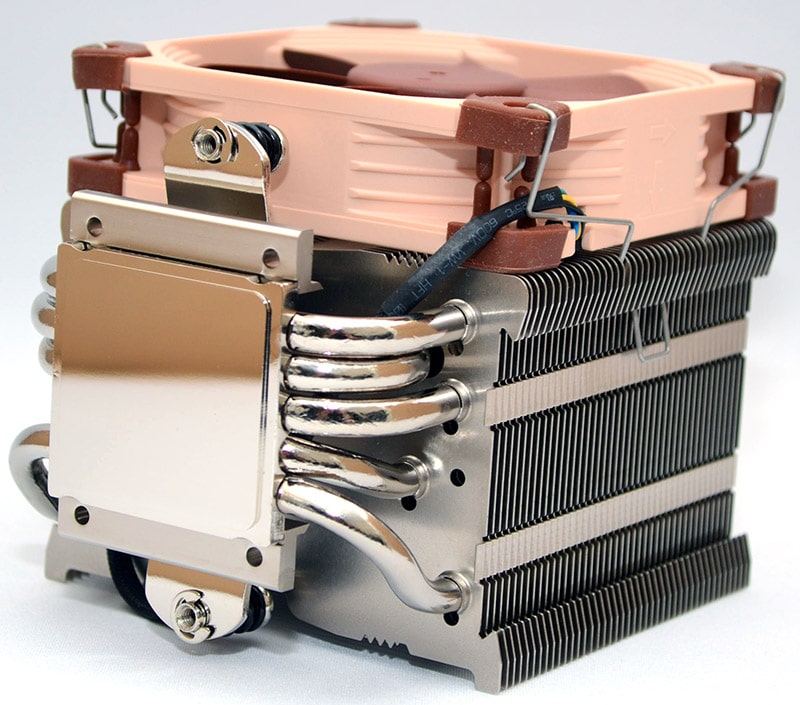 ———————–
Installation
---
Mounting the NH-U9s is incredibly easy, party due to the very high quality of the components. The back plate comes with the pins pre-mounted and it's simply a case of popping it on the back of the motherboard.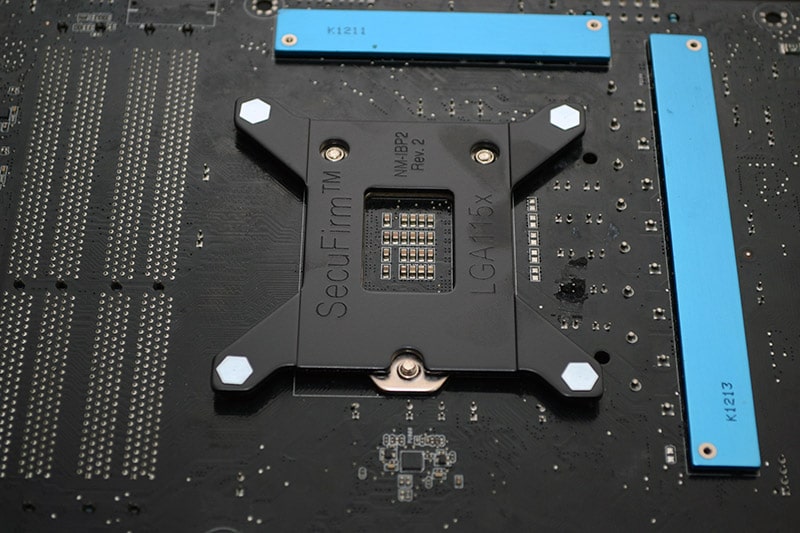 On the other side, you'll add four plastic spacers, then fit the two mounting bars with the handy thumb screws; this is a very easy process.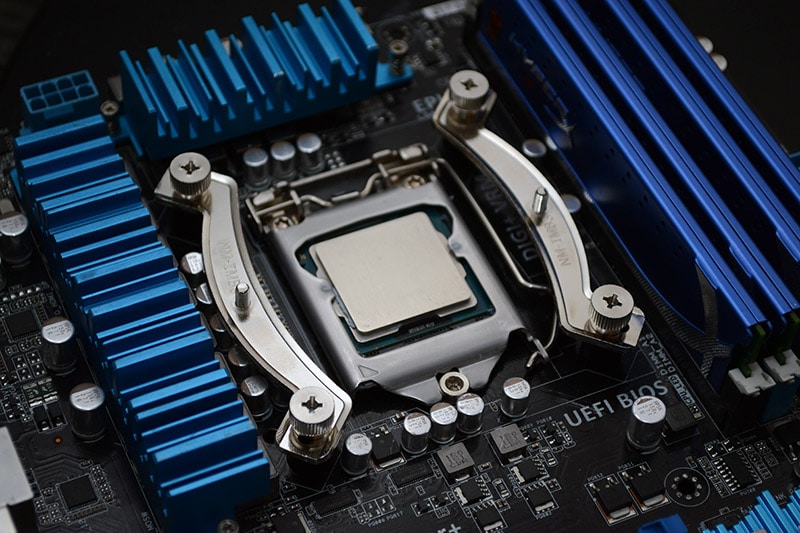 The mounting bracket is pre-installed to the cooler with sprung screws already in place. Just pop the cooler between the two mounting brackets you previously fitted (above).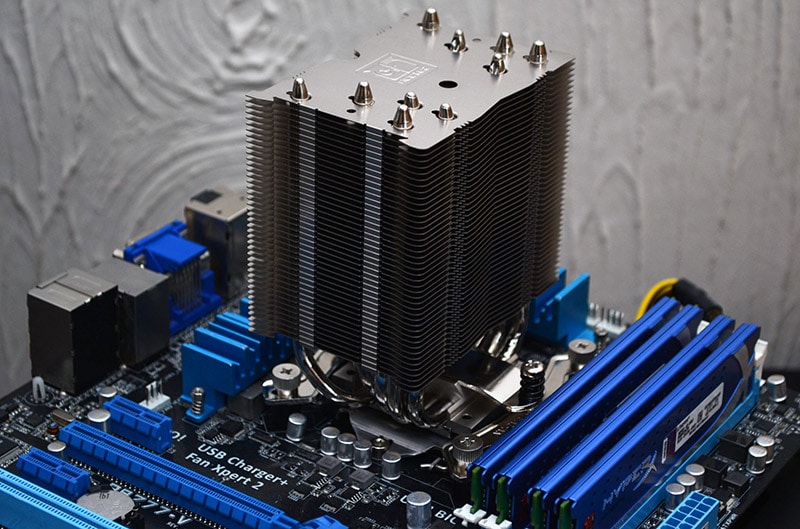 Don't reach for your toolbox, the Noctua cooler comes with everything you need, including this perfectly handy L-shaped screwdriver that makes easy work of the two screws.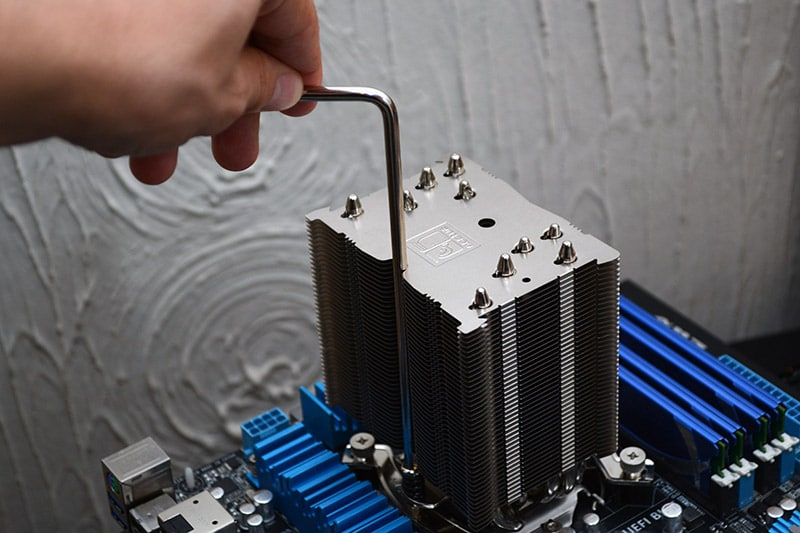 Pop the fan back on and you're good to go. Also, notice the perfect RAM clearance, good news for those with huge memory modules.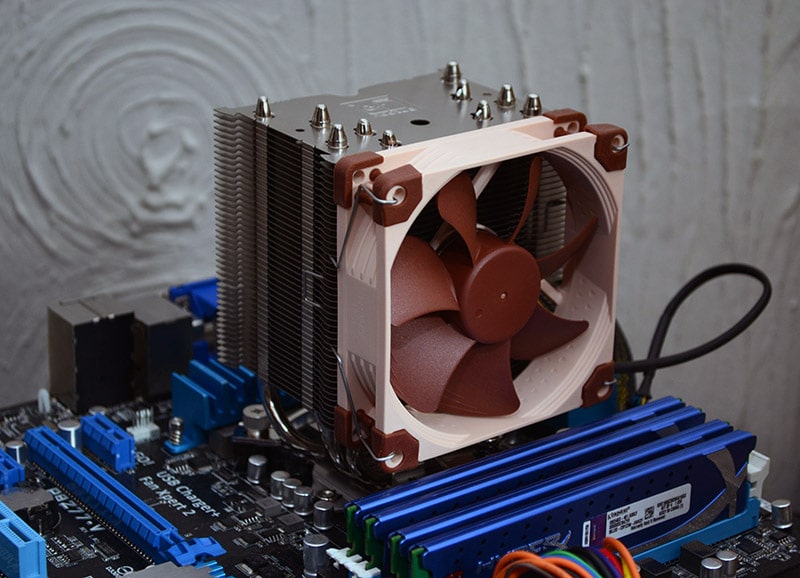 ———————–
Test System and Methodology
---
We always use the same test system and tests with CPU coolers that we compare against each other. The full specifications of our test system are as follows:
Test system:
ASUS P8Z77-V, LGA 1155 socket, Z77 chipset
Intel Core i5 3570K with Gelid GC Extreme under the IHS
16GB Kingston 1866Mhz DDR3
128GB Kingston HyperX SSD
Antec High Current Gamer 620W
Cooler Master Test Bench v1.0
We'd like to say a big thank you to ASUS, Antec, Kingston, Cooler Master and Intel for providing components that makes this testing possible.
Testing Methodology:
We always use Gelid GC Extreme thermal paste to make sure testing reveals the efficiency of the tested coolers not the efficiency of the bundled thermal paste.
Prime 95 is run for 10 minutes and then the average maximum temperatures as recorded by CPUID HWMonitor are noted
The average temperature across the four cores is taken on our quad-core processor
Fans are mostly left to operate at default PWM profile speeds and with maximum fan speed for reference.If PWM functions are not supported then fixed fan speeds are used and sometimes a low noise adapter if appropriate/provided. If fixed fan speeds or low noise adapters are used it will be clearly pointed out either on the graphs or in the write-up.
All default result entries on graphs are for PWM performance unless otherwise specified. A variety of fan speed results are done for a particular product review and then removed from the graphs in future reviews of other products to avoid clutter. If you would like to see more fan speed results for a particular product please check its individual review.
For watercooling tests all pumps have been operated at 12 volts directly from the power supply
Delta temperatures are always used (Observed temperature minus ambient temperature) and we keep the ambient at 22 (+/- 1) degrees for all testing . Delta temperatures should correct for any marginal ambient differences between 21-23 degrees.
Acoustic measurements are taken 10cm horizontally away from the CPU cooler with the VGA fan disabled, hard drive in idle and power supply isolated. These are taken at desktop idle and Prime95 load.
The cooling performance tests are run at stock 3.4GHz (with Intel Turbo up to 3.8GHz) and overclocked 4.5GHz (1.35v) settings. Voltages are fixed to prevent inaccuracy between comparisons.
All other coolers in the graphs have been tested under identical settings so are fully comparable.
Each test is repeated 3 times with 3 remounts for consistency of results
There is approximately a 1 degree celsius margin of error in our temperature recording software CPUID HW Monitor
There is approximately a 1.5dBA margin of error with our Benetech GM1351 decibel meter
Software Used
In all these graphs we may have a few "reference" results of particular products that do not fit within that category for comparative purposes.
———————–
Performance
---
The N NH-U9S performed reasonably well here, it kept out cooler well within a safe margin, as does every other cooler on our chart. It's certainly not the coolest, but there's no cause for concern either.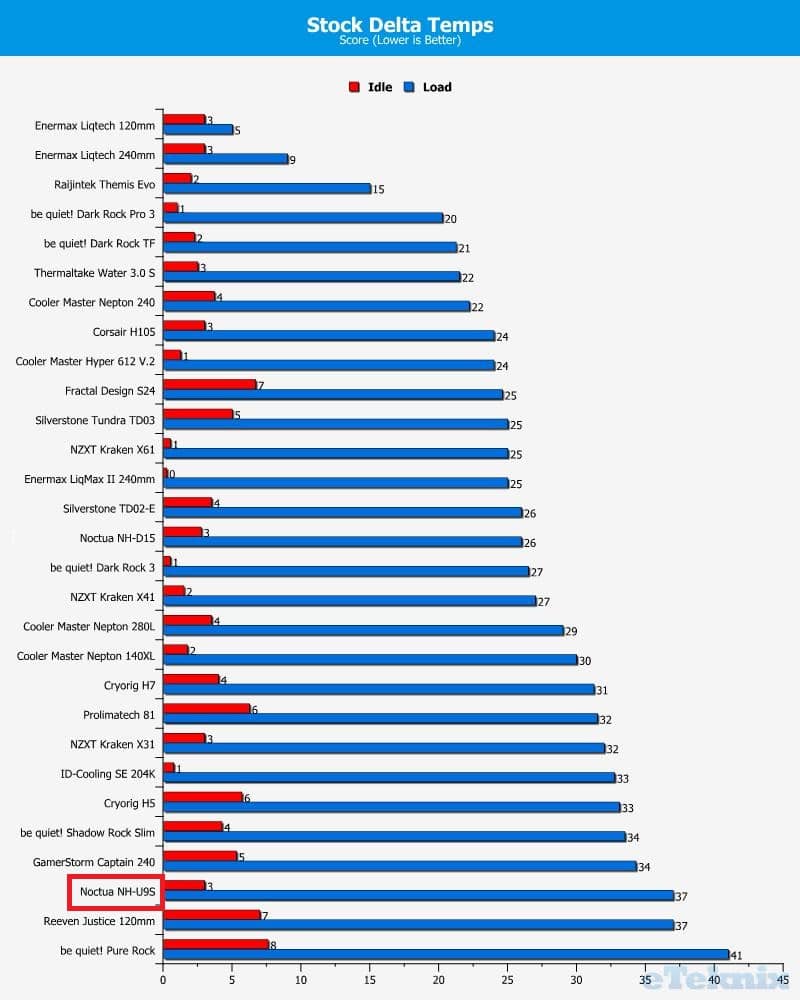 Overclocking on this cooler? Boost clocks perhaps, but 4.5GHz @ 1.35v is a tough cookie to handle and the NH-U9S isn't suitable for anything that high-end.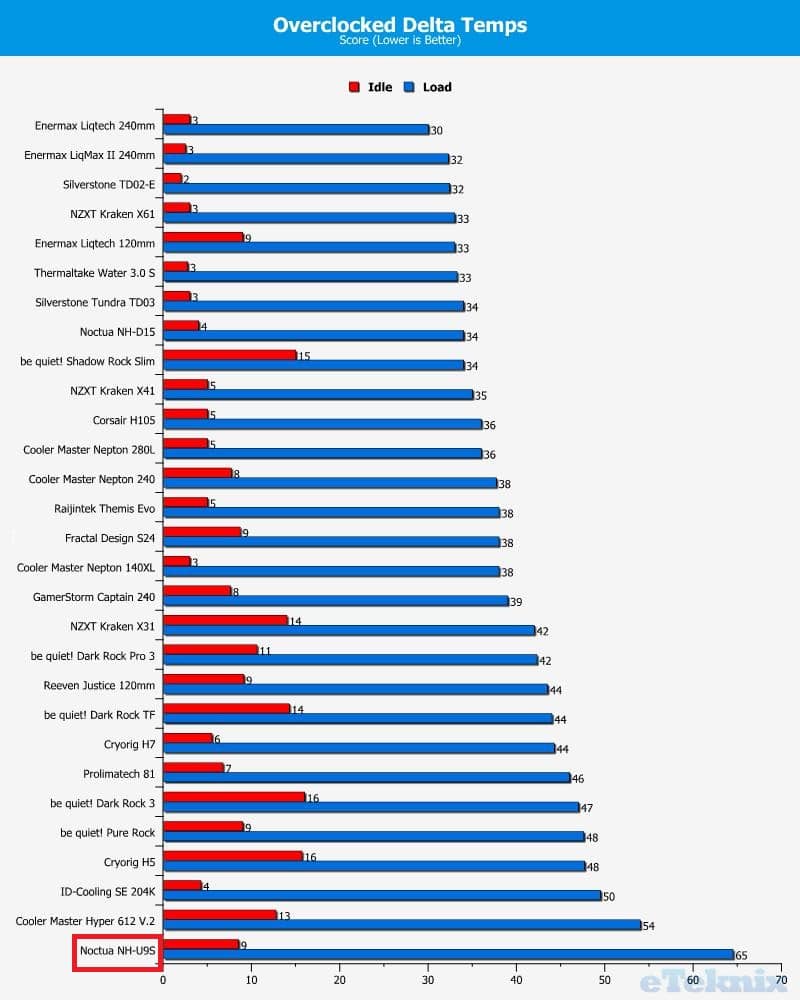 My jaw hit the floor when I saw this. I put my ear right to the side of the cooler, to the point where the fan blades were almost touching my ear; I couldn't hear a damn thing! Whatever magic Noctua are using here, it's virtually silent and nothing comes even close.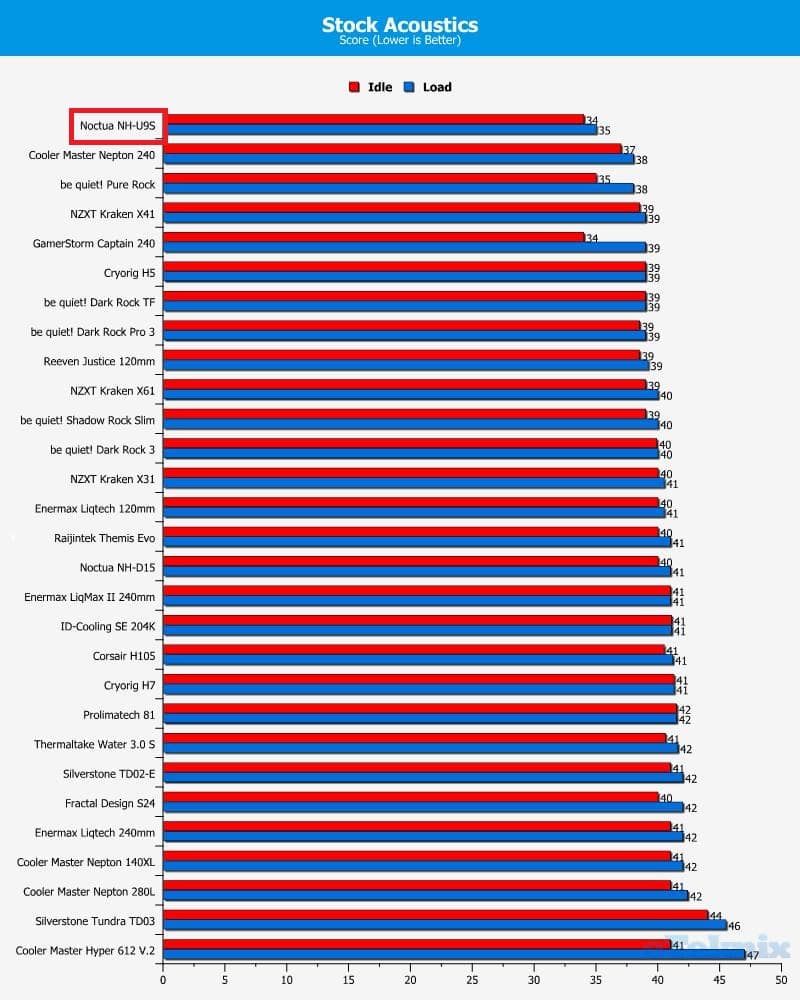 Even overclocked it remains respectably quiet, especially given the fan dimensions. There were a couple of spikes up to 44, but they were very short (less than 1 second) and infrequent (Less than once per minute).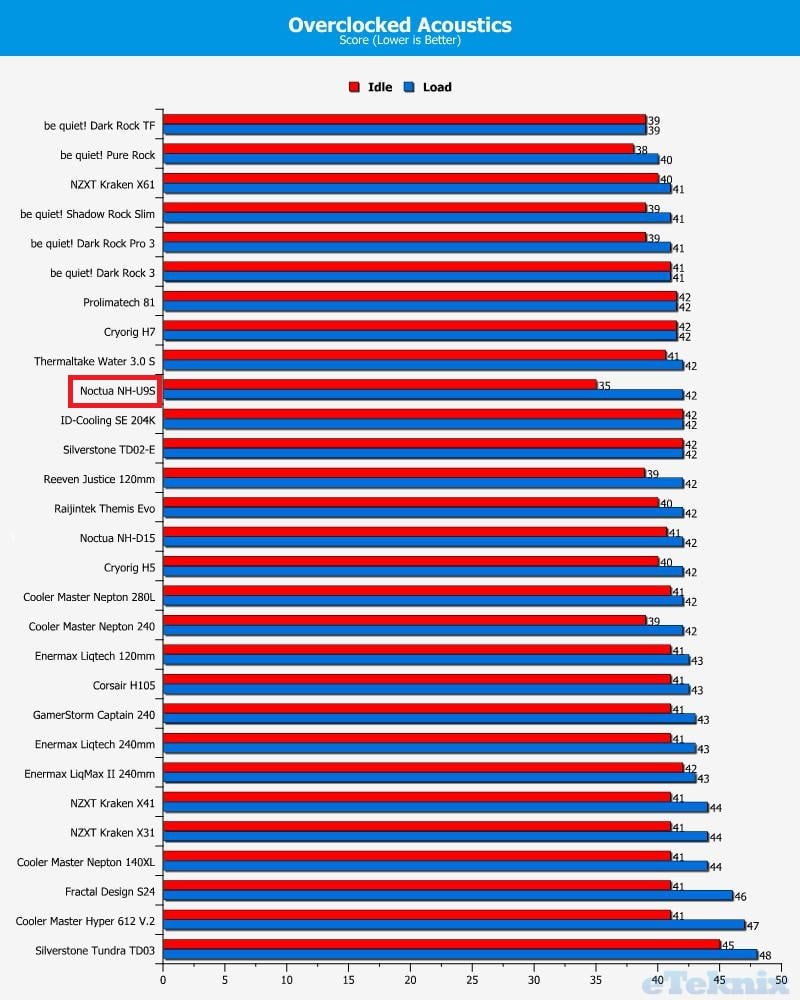 ———————–
Final Thoughts
---
Price
The Noctua NH-U9S CPU cooler is available from Overclockers UK for around £45, while readers in the US can find it at Newegg for around $58.
Overview
There's no surprise here in that the Noctua NH-U9S isn't the most powerful CPU cooler in the world, but given its relative cooler size and fan size, it was never really designed to be. What we have here is a compact cooler, that designed to be compatible with a wide range of systems, chassis and RAM configurations. It does so by keeping the design low and relatively slim, with a smaller fan, although there is room to mount an extra fan for push-pull should you need it (sold separately).
The NH-U9S is a little more expensive that some other coolers in its class, especially in terms of cooling performance. While that seems like a bad deal to some, I'd bet that the NH-U9S will outlive many of its rivals due to its exceptional build quality; you're really not going to find better quality for this kind of money. The build quality is stunning, but the real star of the show is one of the things that makes Noctua famous, their fans! Unless you're going crazy and driving thundering overclocks through your system, this cooler runs virtually silent, despite not being passive. I've never heard a cooler this quiet and due to the limits of human hearing or without an acoustically silent room, I'll likely never find one quieter than wasn't passive.
If I'm building a compact HTPC, workstation or office rig, this will be the cooler I choose. It looks great, it's easy to install, it's got exceptional build quality and it's quieter than a mouse. Those wanting to overclock their gaming rigs would likely need to look a little further up the range.
Pros
Good stock performance
Incredibly quiet
Class-leading build quality
Nice aesthetics (subjective if you don't like the brown fan)
Extremely easy to install
High-quality fitting components and tools included
Cons
Not ideal for overclocking
"It's not cheap, nor is it the coolest, but when you want a premium quality cooler to cool a non-overclocked rig and keep it quieter than a whisper, the NH-U9S is the way to go!"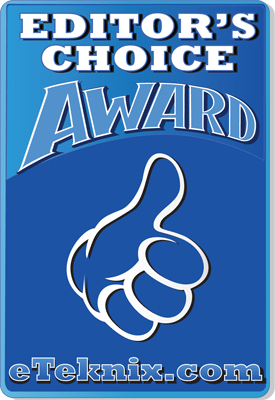 Thank you Noctua for providing us with this sample.