Notch Funding Psychonauts 2 a 'Semi-Joke'
---
---
---
Laurence Howe / 11 years ago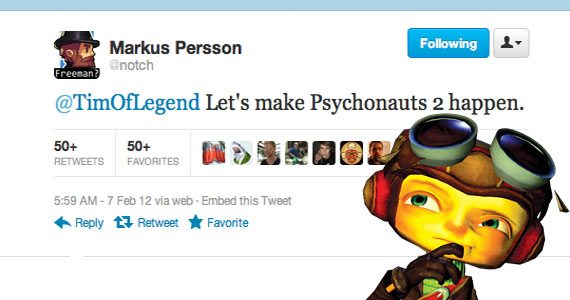 Markus 'Notch' Persson has offered his own perspective on potentially funding Psychonauts 2.
Posting on his personal blog, the Minecraft creator said he hasn't spoken with Psychonauts creator Tim Schafer "much at all other than a couple of emails". Initially, he said, he had "semi-jokingly" Tweeted his willingness to get behind a sequel.
He went on to say the duo "mentioned meeting at GDC" but rightly points out that "Double Fine will be very busy for many months with the Kickstarter project".
As a result he has "NO idea if this is actually going to happen" but adds: "IF the numbers work out and IF they still want to do it and IF they don't decide to self fund a sequel by doing more crowd funding (which is honestly what I would've done if I were them)", he would be "most interested in doing this type of investment".According to Schafer, Persson had said he could match the $13 million budget necessary to fund Psychonauts 2, but in his blog post he said the budget was "three times higher" than his initial estimate. Fortunately the Minecraft creator revealed that a "couple of other parties have mentioned also being interested in investing in it".
Why is Notch telling us all this? Because he's a little scared of the hype around the whole thing.
"Point is, stop hyping over this, internet! You're going to scare me into doing things secretly instead of being open and transparent via twitter. I am incredibly scared of the very real risk of people feeling let down just because I took a chance at something that doesn't end up panning out.
"Also, I realize you won't stop hyping, so I'll just go into hiding for a few years if it falls through."
Alright guys and girls, tone it down a bit.
Source: CVG