Nvidia Asks Retailers to Prioritize Gamers over Miners
---
---
---
Cernescu Andrei / 3 years ago

Graphics card prices are high, Nvidia tries to fix things.
With cryptocurrency miners buying every decent graphics card in sight, prices are at an all-time high. Moreover, in certain areas, graphics cards are becoming incredibly scarce. We're talking about both Nvidia and AMD products, particularly the medium to high-end ones. Now, Nvidia has decided to tackle the issue by asking retailers to limit the amount of GPU sales to just two per person. Despite suffering a recent crash, cryptocurrency mining is still quite popular nowadays. This causes some graphics cards to sell for more than double their MSRP. Moreover, some retailers are trying to take advantage of the situation by offering certain bundles. Overall, regular gamers are affected the most.
Some examples.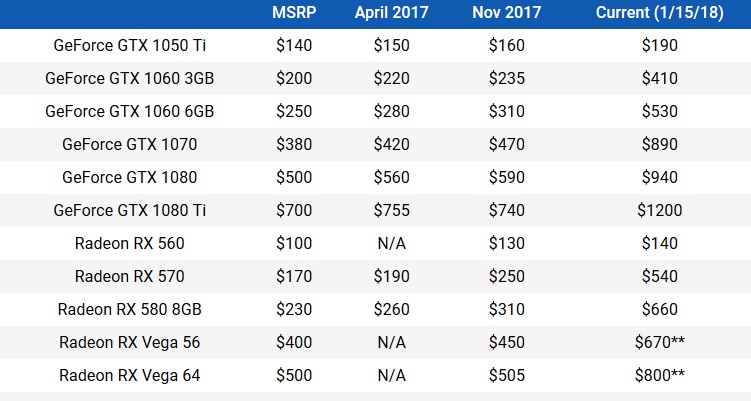 A great example is the highly popular GTX 1060 6GB, which now has an average price of $530, up from $250. In addition, you can get a GTX 1070 for about $890 while its MSRP is $380. One of Nvidia's representatives recently issued a statement on the matter:
"For NVIDIA, gamers come first. All activities related to our GeForce product line are targeted at our main audience. To ensure that GeForce gamers continue to have good GeForce graphics card availability in the current situation, we recommend that our trading partners make the appropriate arrangements to meet gamers' needs as usual."
Of course, Nvidia can't force retailers to sell just two cards per person. This is more of a suggestion, but the company also tries to help gamers by selling cards directly from its own website. We'll just have to wait and see how things progress, and hopefully, everything will return to normal soon.