NVIDIA Claims RTX 2080 Outperforms GTX 1080 by 1.5x to 2x
---
---
---
Ron Perillo / 5 years ago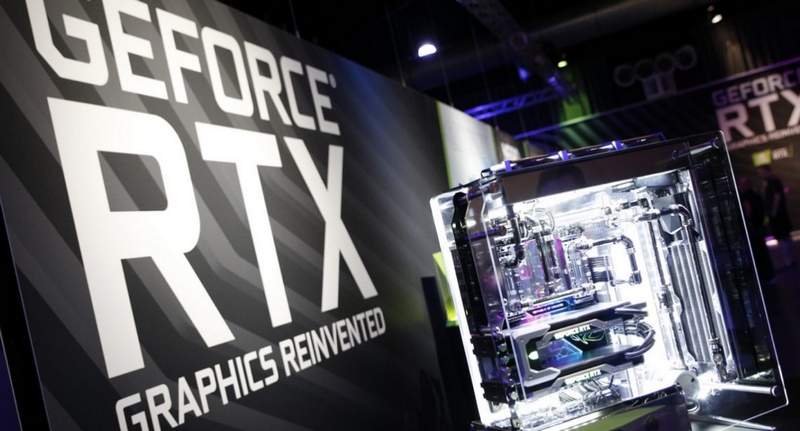 Claims 50 to 100% Performance Improvement
After fans voiced concerns about the lack of benchmarks, NVIDIA has now released their first set of benchmarks for the RTX series. Considering how much CEO Jensen Huang mentioned the word "Giga Rays" during his Gamescom keynote, many fans assumed that these new cards will most likely just outperform cleanly with Ray Tracing enabled. Assuming instead that the RTX series only offers a modest improvement within 5 to 15% range when it comes to pure frames-per-second output.
However, NVIDIA is dispelling this on their latest blog post. They have laid out a simple graph showing 10 different titles in 4K resolution.
This compares the previous generation GTX 1080 with the new RTX 2080. Furthermore, NVIDIA also includes the RTX 2080 performance with Deep Learning Super Samplig (DLSS) on supported games. The result is nonetheless surprising as it goes well beyond the expected range. The grap uses the GTX 1080 as the baseline number. Beside it is the RTX 2080 number in dark green, with the additional DLSS improvement in bright green on top.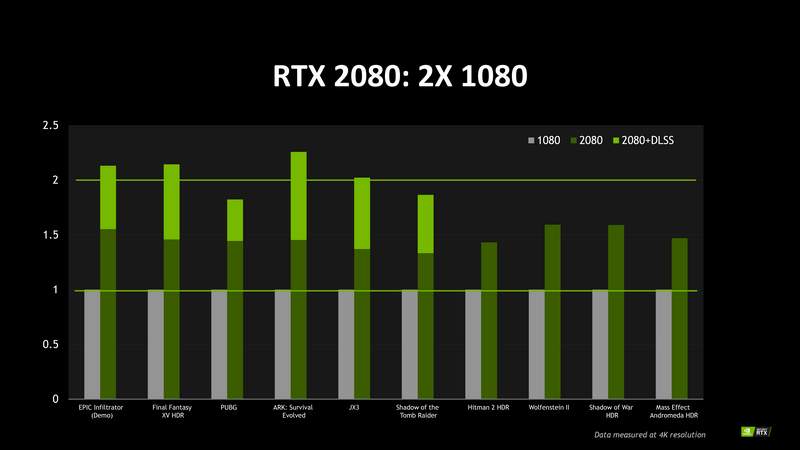 In five of the titles with DLSS enabled, the performance goes well beyond 1.5x the GTX 1080 performance. Epic Infiltrator, Final Fantasy XV HDR and ARK: Survival Evolved even goes beyond 2x as much. Even in titles such as Hitman 2 HDR, Wolfenstein II, Shadow of War HDR and Mass Effect Andromeda HDR, the performance improvement hovers close or just above 1.5x.
All these benchmarks are for 4K as well, with HDR enabled for the games supporting it. Needless to say, this is quite a comfortable jump in performance.
How Much Actual Framerates is the RTX 2080 Getting in 4K HDR?
Interesting comparison, what about actual frame rates? NVIDIA provided that too, stating that it can comfortably run 4K HDR in 10 titles. That means running it at 60fps average and beyond. In fact, the lowest seems to be Final Fantasy XV at 60FPS, while Call of Duty: WW2 runs at 93 fps.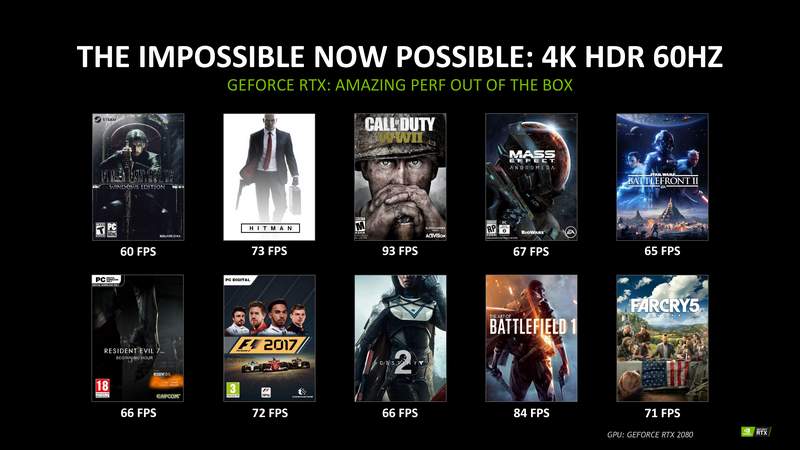 As for actual 3rd party reviews, we would all just have to wait until next month. The cards themselves will be out on September 20, 2018, and are now available for pre-order.