Nvidia GeForce GTX 950 Listed and Pictured
---
---
---
Samuel Wan / 7 years ago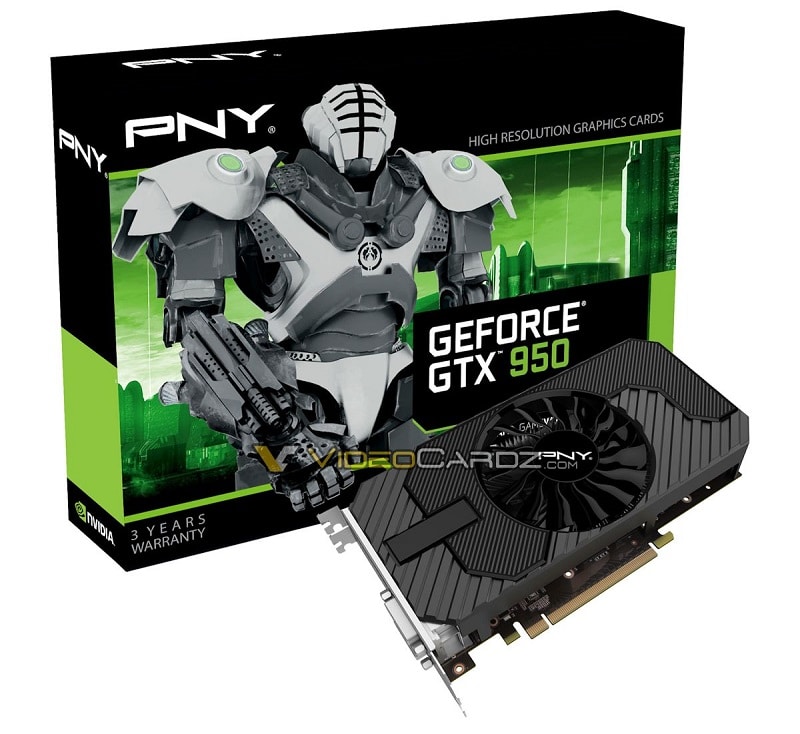 With Nvidia's GTX 950 expected later this month, it's not surprising to see that some listings and pictures of the card have started to emerge. Today we bring you the first listing for a GTX950, the ASUS STRIX GTX 950 DC2OC. As expected from the model name, the card should be quite similar to the GTX 960 Strix with an oversize DirectCUII cooler on a small PCB. There are multiple listings out now at about €240+, but we can expect the launch price to be closer to €150 to replace the 750Ti as the currently listed prices surpass those of the 960.
More interesting is the first glimpse of the GTX 950 from PNY. From the packaging, we get the usual 3 years PNY warranty along with "High-Resolution Graphics Cards" which probably means it can support 4K output. The cooler is relatively simple and we can see that the PCB is larger than that of the 750Ti and closer to the 960 though we don't know if it's a custom PCB. The low power nature of the 950 does betray itself as we can see that the cooler is a simple radial aluminum heatsink, likely without any heatpipes. Given that the 960 has a much beefier heatsink, the extra PCB is probably there to support more power delivery components and support the larger heatsink.
The GTX 950 is based on the GM206 with 768 Maxwell shaders on a 128bit bus with 64 TMUs and likely 32 ROPs. With performance likely to fall around the R7 370, we can expect pricing to be about the same as well. Nvidia has already cut the price on the 750Ti so the 950 should be arriving imminently.
Thank you Videocardz for providing us with this information