Nvidia Grid – Is It The Future Of High Performance Computing?
---
---
---
Peter Donnell / 7 years ago

When the eTeknix team visited CES 2014, there was one word that we heard more than any other, one big focus that it seems many big tech companies – especially gaming tech companies – are trying to promote, "cloud". Now I'm sure many of you will agree that saying something is in the cloud is just a bit of clever marketing.By any definition, the whole internet is in the cloud and we've been using its features for a very long time. The concept of remotely accessing powerful computers via a virtual data centre from say… your home, is nothing strange either, and it's the very basis of the technology that is used to run everything from Facebook to YouTube. On the professional side, we have industries such as science, oil & gas and construction, to name a few, that require high performance computing to drastically reduce the time required to perform large complex calculations or to generate 3D computational models.
Gaming could offer one of the biggest changes in the industry of cloud computing, at least as far as your average consumer is concerned, but could cloud computing give us all access to superior gaming by offloading the processing to the cloud? As well as offloading rendering and other graphics intensive applications for businesses? Nvidia certainly think so.
"Streaming video and music to TVs, PCs and tablets using cloud services like Netflix, YouTube, Pandora and Spotify has become the predominant way to enjoy content for connected devices. The convenience of large cloud-managed libraries of content with stream-anywhere capability is impossible to resist. Now with revolutionary NVIDIA GRID cloud gaming technology, you'll soon be able to stream video games from the web just like any other streaming media. GRID renders 3D games in cloud servers, encodes each frame instantly and streams the result to any device with a wired or wireless broadband connection." – say Nvidia on their Grid website.
Streaming video to various devices is pretty commonplace these days, so why aren't we doing the same with games? Services, such as NetFlix and LoveFilm, are household names offering a subscription based model that allows you to stream  virtually unlimited amount of video content directly to your TV, notebook, tablet, smartphone or desktop PC, over a cellular or WiFi network,from pretty much anywhere in the world. Yet when it comes to high-end PC gaming, or any format of gaming for that matter, processing is done on the hardware we want to play on, often requiring powerful graphics processors. With NVIDIA's GRID gaming, its hoping to build what is known as on-demand Gaming as a Service, also known as GaaS.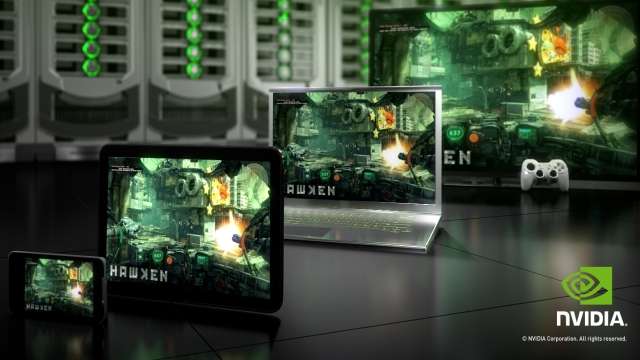 GaaS aims to offload almost all of the processing to the cloud, allowing any-device gaming. That means high-quality, low-latency, multi device gaming for any PC, Mac, tablet, smartphone, TV or similar smart device. Pretty much anything with a screen, some form of input and an internet connection, and it wants to make picking a game and playing no different than searching for a video on YouTube and clicking play. That means the end user will typically already have the hardware required to play, given that most of us at least have a PC, notebook or smartphone. It gets rid of any difficult setup issues, you don't need a disc, you don't need to wait for the game to download – you just play.
The concept sounds too good to be true, and in reality it already exists and has done for some time. Unfortunately, the solution so far hasn't been perfect and companies like Gaikai and Onlive took their shot at cloud based gaming around two years ago. OnLine fell into obscurity and Gaikai got snapped up by Sony, who is currently planning to re-launch the service to stream PlayStation titles. One of the biggest factors for this kind of service is latency, and as any serious gamer will tell you, latency is a big deal. The delay from your button press to the action happening on screen can have a big impact on how well a game plays and your overall experience, something of which is especially true in competitive online multi-player titles, where every millisecond can mean the difference between life and death.
It is this issue with latency that NVIDIA has addressed more than anything else. As a company, its no stranger to powerful graphics technology, so that part is relatively easy. Yet getting those graphics streamed to the end user in the blink of an eye is far from simple.
Testing for input lag – the time it takes for a signal from the controller to cause an on screen response – gets unplayable at around 200 ms, or at least it becomes noticeable to some extent. Most games, especially on consoles such as the Xbox and PlayStation, exhibit around 133 ms average response time for most games, but faster paced shooting games and rhythm games are often optimised to respond in 60-70 ms as it's vital to get that headshot, or music note as close to when you see a visual cue on screen as possible, and that is before you factor in any lag introduced by your individual display or network by playing online.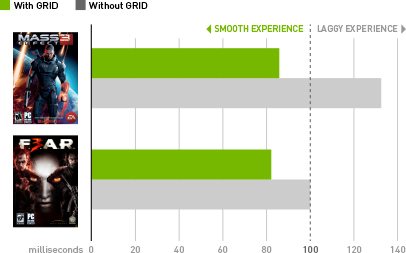 As you can see from the graph above, NVIDIA isn't mucking about with its latency times. The joys of using scalable hardware at the server side means that you can reap the benefits of a significantly more powerful system for rendering the graphics. Combined with powerful video streaming and compression hardware, it means that when the end user pushes a button on their controller, there is less delay in getting the visual output back to the users system. Of course NVIDIA isn't leasing full servers to each gamer, instead it'll be providing its GRID Software Development Kit (SDK) which will allow service and middleware providers a format to push content out via the cloud.
For each server, it is now possible to have up to 48 HD quality game streams thanks to NVIDIA's new on-chip video encoder technology, which is the same technology that is used to cut latency by doing it within the graphics hardware, not by offloading it to a separate rendering engine. It does this by capturing the output of multiple rendered games for the entire operating system desktop instantly, using the Nvidia Fast Capture API. This API sends the images directly to the GPUs' build-in H.264 encoder, cutting latency over a standard graphics card by a staggering 30 ms.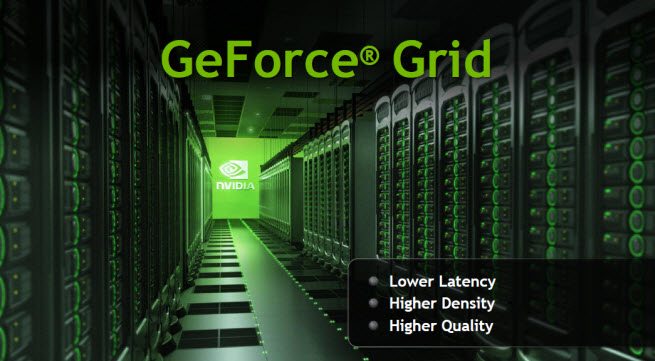 Of course all this hardware is useless without software, and NVIDIA says it's been working closely with developers for over a decade to ensure that hundreds of titles will be (and are) ready for its GRID service. Unlike the launch of a new console format, GRID is effectively a collection of very powerful PC components, so its capable of running just about any software you wish to throw at it. Anyone who is familiar with remote desktop access will know this. For those who don't fully understand the concept yet, you plug your keyboard, mouse or controller into your computer as normal and when you hit a button, the signal transmits to NVIDIA's GRID servers where it is processed and then the output is streamed back to you as a video – effectively like having your computer a few hundred miles away from your input devices and monitor.
The underlying hardware is the stuff of super computers – custom build hardware to render games in such a high fidelity that would make most end user consumer graphics cards blush, and to do it faster and more efficiently than virtually anything else on the market. Just take a look at the specifications below of some of the server hardware that NVIDIA has to  offer through both middleware partners (companies who work with NVIDIA to provide services) and OEM hardware partners (companies who will sell you the hardware).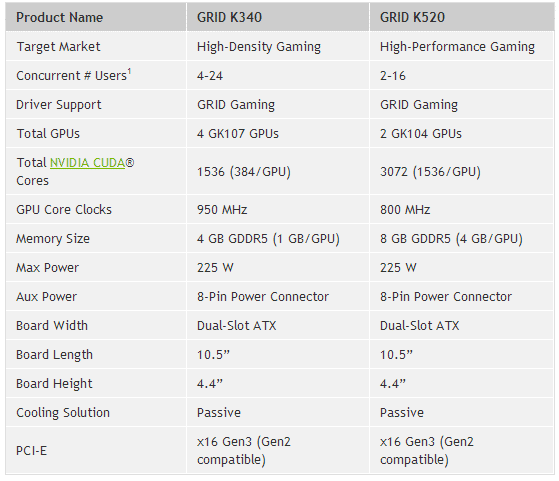 It certainly sounds like a promising deal and it's one that's already been put into action by a few companies with more signing up, or at least working on a project of their own using the hardware. Playcasts and Bouygues Telecom already offer cloud gaming services in an "A la carte" rental service. You can stream games like Assassin's Creed Revelations, Mafia II, Street Fighter Vs. Tekken and much more directly to your TV. They charge around 12.90 Euro a month for their premium package, which is obviously a lot cheaper than buying a single gaming title at retail. The only downside is that you don't really own the games – you are effectively renting and streaming just like you do on NetFlix. Stop paying the subscription and the games are no longer available to play, not to mention there is obviously no option to play off-line with this kind of service.
What I do like to see is that some streaming services such as Bouygues allow you to rent the games individually. For a few Euros you can unlock the game for streaming for a period of 48 hours, so there's no need to go to your nearest rental store to pick up the title, no need to use a mailout service, you just unlock and play immediately, reaping the rewards of maxed out PC graphics and low latency.
There is just one major, and pretty obvious issue with the whole thing; cloud gaming requires a rock solid internet connection and it needs to be on at all times while gaming, or else your game stream will simply be gone. Of course there will be error correcting systems, as well as safe guards in place that pause your game should you drop a connection and resume when you're back, but it's one problem we don't have to deal with when gaming on a local system.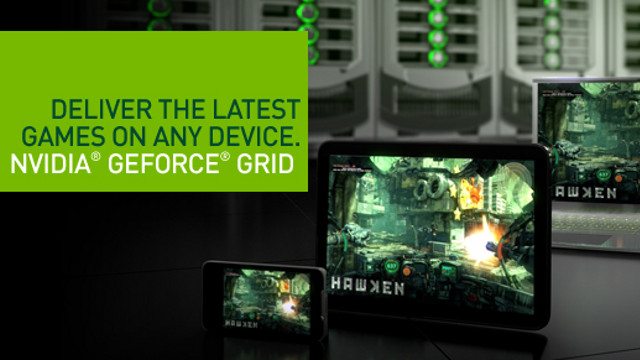 Here in the UK we are finally getting on board with fiber broadband speeds, with much of the country still lagging behind, literally. With NVIDIA already running betas for its gaming service, users are advised that they'll need a minimum of 10 Mbps download speed, and a ping time of no more than 40 ms for optimum experience. Anything less and your 1080p stream may not look so great and the input lag could become a problem for fast paced games. The first beta users to test this service are doing so using the NVIDIA SHIELD handheld gaming device in Northern California, as NVIDIA is currently testing out the service using its San Jose servers. These users also need to have a GameStream-ready 5GHz WiFi router, which will obviously help with lag and stream quality to the device. When your gaming on the cloud, every millisecond matters.
It's also worth pointing out that remote gaming is no stranger to NVIDIA SHIELD owners, as the hardware already allows you to use NVIDIA GameStream to render your favourite game and stream it back to the handheld device using a GeForce-powered PC – much in the same way that GRID remotely renders its content.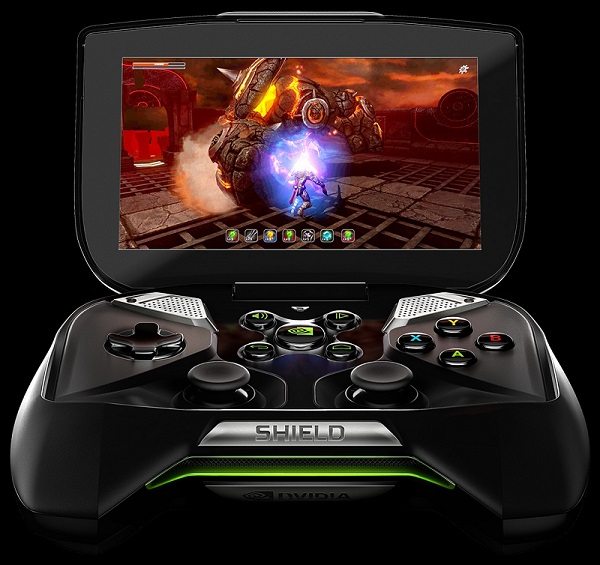 The whole thing sounds pretty robust and it's clear that NVIDIA has invested heavily in the product. However, the game streaming aspect is a nice sideline for NVIDIA given that it's a graphics company first and foremost, but its GRID products go way beyond streaming the latest gaming titles to home users and their smart devices. Smaller installations, like GRDI VCA, can be purchased for businesses that run Quadro K5000-class graphics, allowing streaming to up to eight users. This can be used for anything from film production to graphics design- anything that typically relies on GPU rendering, while also reducing the cost of installing and maintaining eight individual high-end workstations capable of doing the same job.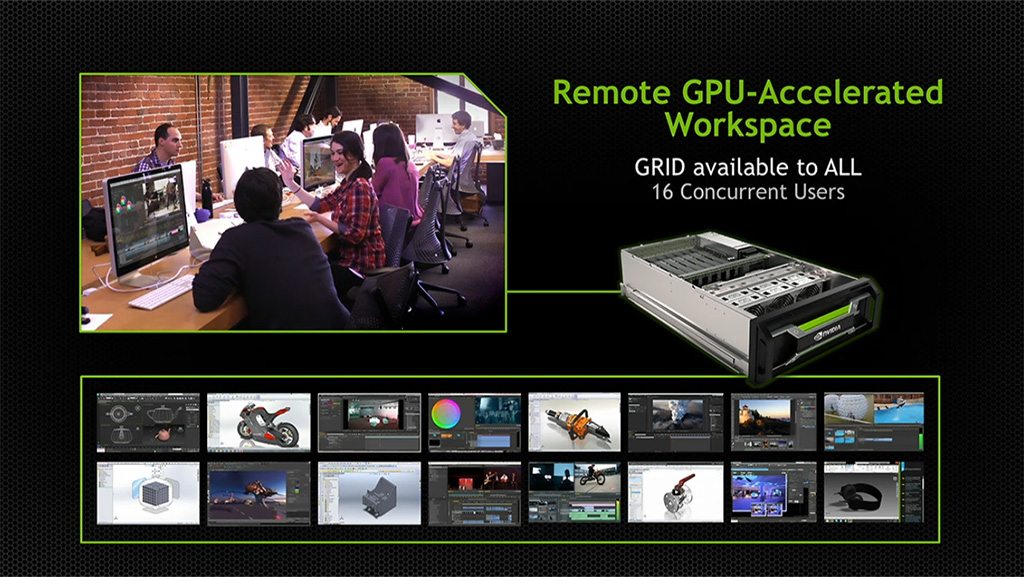 So is GRID the future of computing? Absolutely. However, it remains to be seen how successful it will be with consumers and many parts of the world still need to catch up in terms of internet speeds to really reap the rewards. We are confident that the business world will love the streaming technology for rendering and other tasks, but there is still a lot of work for NVIDIA to do until its gaming services are available on a larger scale.