Nvidia Offers Witcher 3 for Free to Titan X Owners
---
---
---
Pratyush Shrivastava / 7 years ago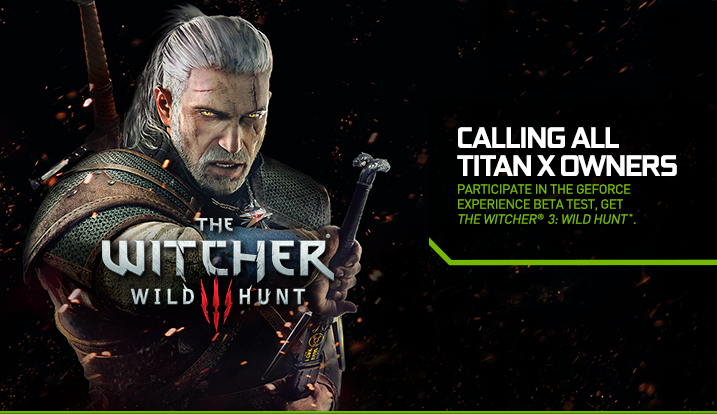 Nvidia is offering the Witcher 3, an action role-playing, story-driven, video game for free to all the owners of their flagship graphics card, Titan X, who are willing to utilize their application called "Nvidia Geforce Experience". Titan Graphics Card haven't witnessed any free bundled game since launch in spite of their price tag (over $1000), but things are bit changed now. Nvidia has been bundling the games with the high-end Graphic card offerings such as GTX 980, GTX 970, GTX 960 are enjoying the freebies like Witcher 3 and Batman: Arkham City from a long a time, but this time they have changed the way these games were delivered to the end customers.
Fret not, even if you have already purchased the graphics card, you can still claim it using the Geforce Experience (or GFE in short). Unlike previous method of distributing bundled games in form of vouchers which can be resold in market and sometimes the end customer gets disappointed due to these issues, the bundled game can be redeemed by all the Titan X owners and they just need to follow pretty straightforward instruction to get the game running. The instructions posted by Nvidia can be found right here. You will need a GOG.com account and grant Nvidia permission access to your email address, avatar, and username. This GFE Beta test end on June 19.
This change will alter the future of the distribution of the bundled games and finally it should have done long ago. This is an essential step towards the prevention of the sales of the free bundled games. What do you think about it? Let us know in the comment section.
Thank you Nvidia for providing us with this information.