NZXT HUE RGB LED Controller Review
---
---
---
Peter Donnell / 9 years ago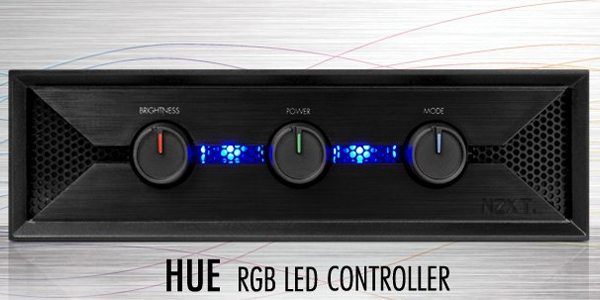 Today I will be taking a look at the NZXT HUE RGB LED Controller, a case lighting system that is pegged as an all in one solution to case lighting. Now as many of you will know there are no shortages of options when it comes to chassis modification, especially when it comes to lighting, so why should you bother even looking at this one and does NZXT have something new to offer to the market in terms of case lighting? well if the specifications are anything to go by, then the answer is definitely yes.
The HUE is designed to take case lighting to the next level, both in terms of customisation options and simplicity and with the promise of infinite colour options through the use of three simple dials it certainly sounds like NZXT have delivered on both front here, but today we'll be taking a look at exactly what you get for your money when the HUE. The product is marketed at $32 US, which is a little over £20 here in the UK, so its not exactly expensive, given that NZXT have a good reputation for being a premium manufacturer.
"NZXT, a company built upon gamer's dreams, hopes to create products that put consumers first. With the objective of designing unique products catered for hardware enthusiasts and gamers, NZXT has grown into a globally renowned brand recognized for dedication towards creating the next great gaming product. NZXT has won numerous awards from media and publications from across the globe with a product line spanning from gaming chassis, power, and gaming input devices. As a corporation formed by gamers, NZXT continues to expand into new horizons and push the limits further with each product unveiling." – NZXT.com
So today I will be taking a look at the HUE in the stunning NZXT 810 Switch (special edition), which as some of you will now is a very large PC case, so even though both the HUE and the 810 are NZXT products, it will be interesting to see how well the lights fill such a large system, not only that but the 810 Switch features a huge crystal clear side panel window that will be perfect for seeing the effects of the lights in the system, so come and take a look at the next few pages to find out how well the HUE got along in my tests.