NZXT Kraken X73 RGB AIO Liquid Cooler Review
---
---
---
Mike Sanders / 7 months ago
A Closer Look
Out of the box, although some assembly is required (and entirely expected) the NZXT Kraken X73 RGB presents itself well with a sleek black design. As this is an AIO cooler, however, there are clearly more than a few individual components that go into the overall design.
Let's, therefore, take a closer look at some of them!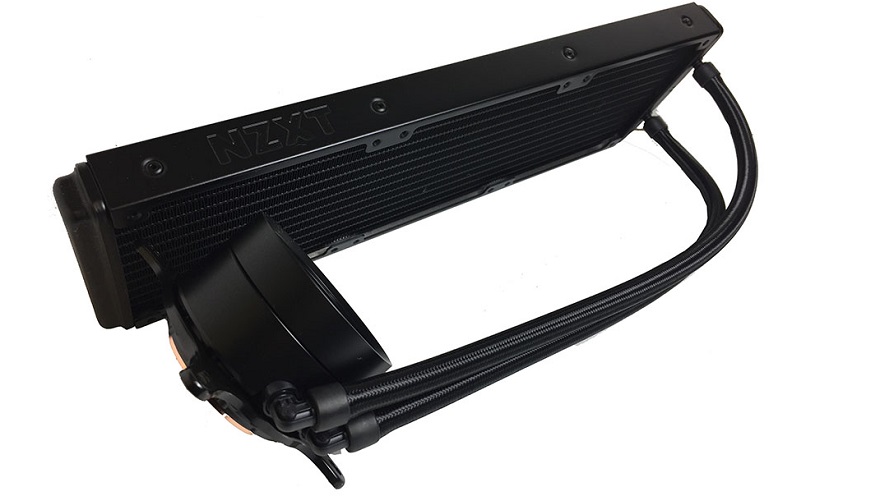 Pump Head
The pump head carries a fairly standard circular design with a highly-reflective surface to the top. Out of the box, this is pre-supplied with the Intel mounting bracket attached and although we will discuss this later in the review, it's removal and replacement (should you be using AMD's AM4 socket) is fantastically easy!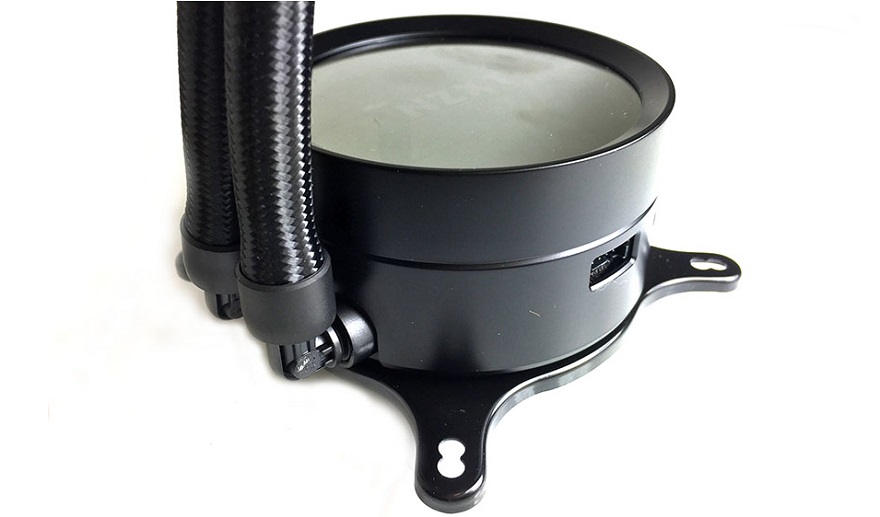 The side of the pump head has two input ports. One of these is for the RGB lighting effects while the other provides the power to the pump controller.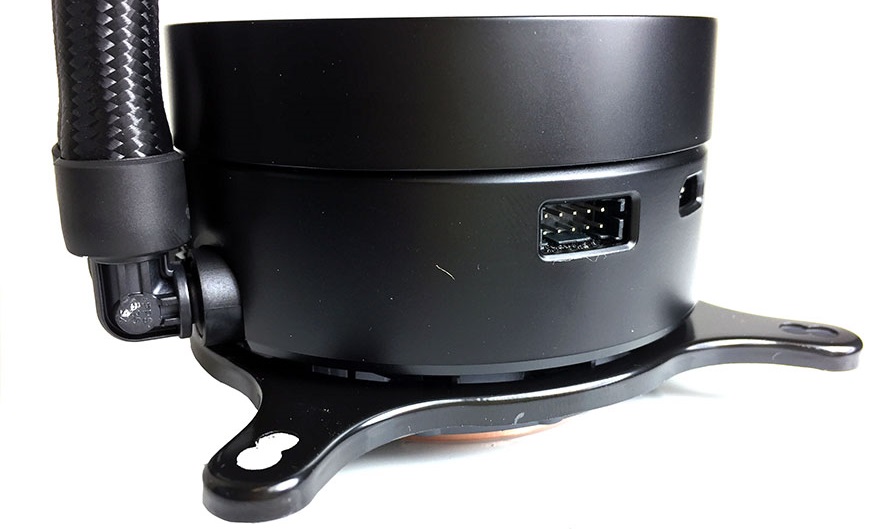 Although the top of the pump head is clearly where some of those RGB lighting effects will pop, a look at it from the right angle does give you something of a moderate teaser with the NZXT logo just visible.
We should also note that like many prior NZXT pump head designs, the top can be easily rotated by hand to ensure you get the logo placement exactly the way up you want it! – Something Henry Cavill clearly didn't know about!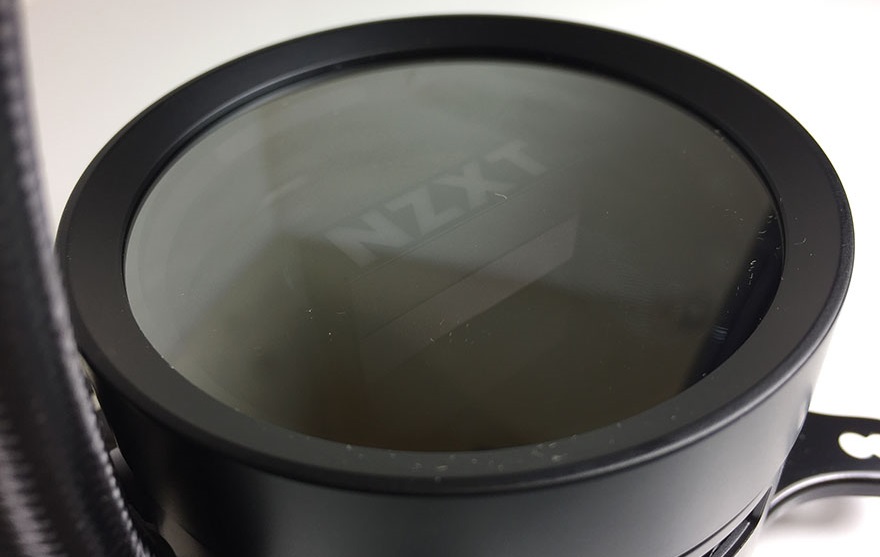 Contact Plate
The contact plate is provided with thermal paste pre-applied which isn't uncommon for AIO coolers and, for inexperienced users, certainly removes one of the more challenging aspects of its installation.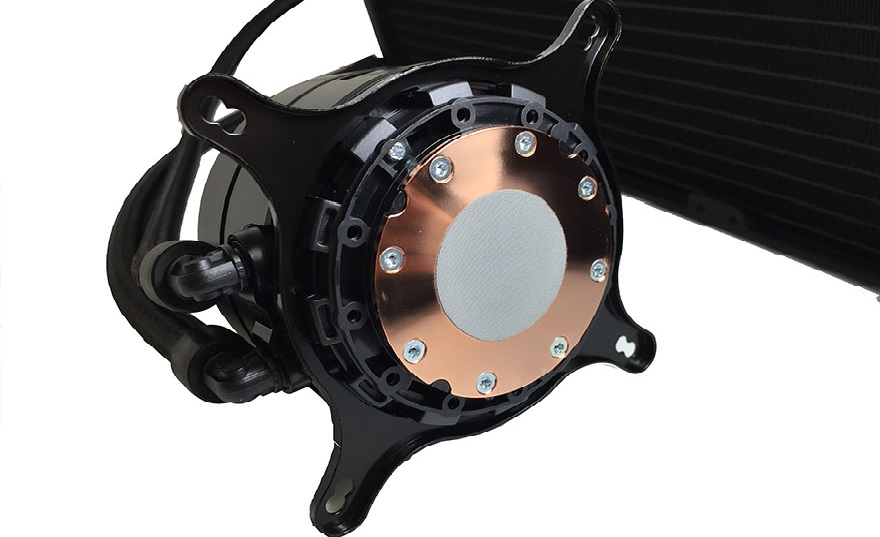 Removing this thermal compound as part of our testing methodology, however, we can confirm that the contact plate is fantastically huge and, as such, whether you use an Intel or AMD CPU, the coverage provided should be entirely more than adequate.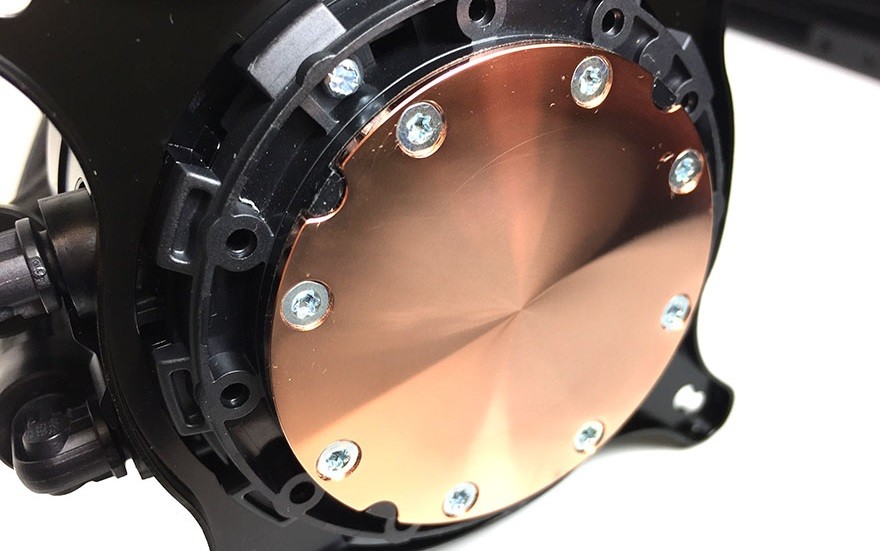 Radiator
The fan itself comes with a sleek black presentation that, if you've never encountered a 360mm design before, certainly grabs your attention. Being reasonably slim as well, as long as your chassis offers compatibility for a cooler this size, installation shouldn't be a problem.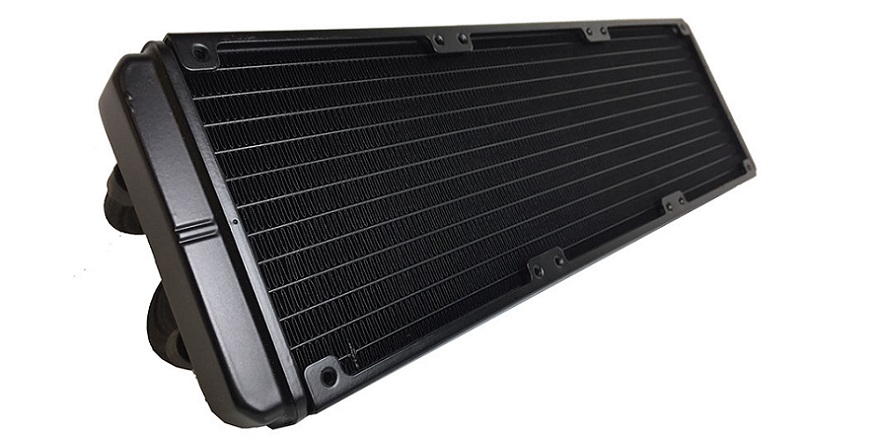 In terms of aesthetics, while NZXT has chosen a minimalist approach, you can find their logo embossed into the metal on each side of the radiator. It's a small, but very slick touch that, despite it's reasonably benign nature, fits in exceptionally well with the overall design.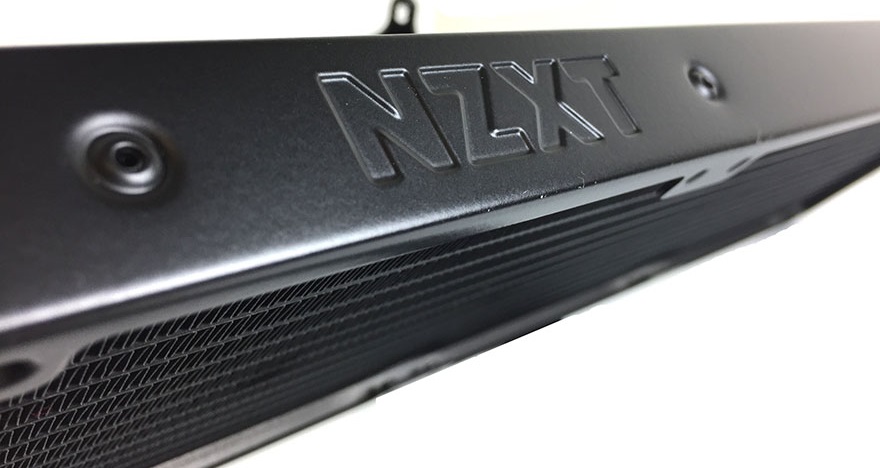 Fans
As this is a 360mm AIO liquid cooler, it should come as no surprise to hear that the NZXT Kraken X73 RGB is provided with three cooling fans. Featuring a highly attractive design, with cut-outs to each side allowing that RGB to really shine, they look like a fantastic choice!

The slightly raised, but individual, aspects of the mounting points on each corner offer some really nice aesthetics and, being provided with cushioning points, this should help reduce the acoustic level by preventing any nasty and unwanted vibrations.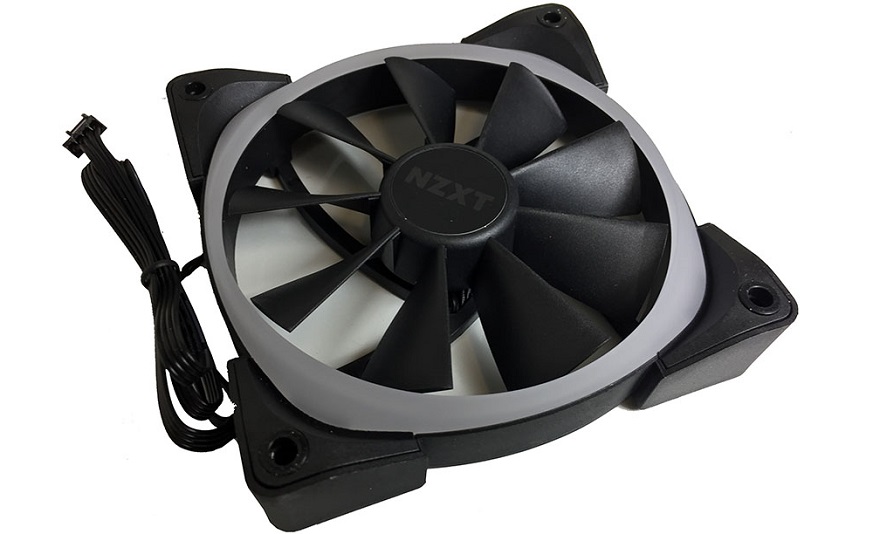 A closer look at the fan blades throw up something a little curious and certainly interesting. Specifically, the 'angle of attack' for each blade is notably sharper than we usually expect to see. They almost look like something you'd see on a propeller and, as such, it would appear that these fans have all the potential to shift some serious amount of air. Albeit, we concede that this may have been a design choice that compliments the RGB more than the airflow.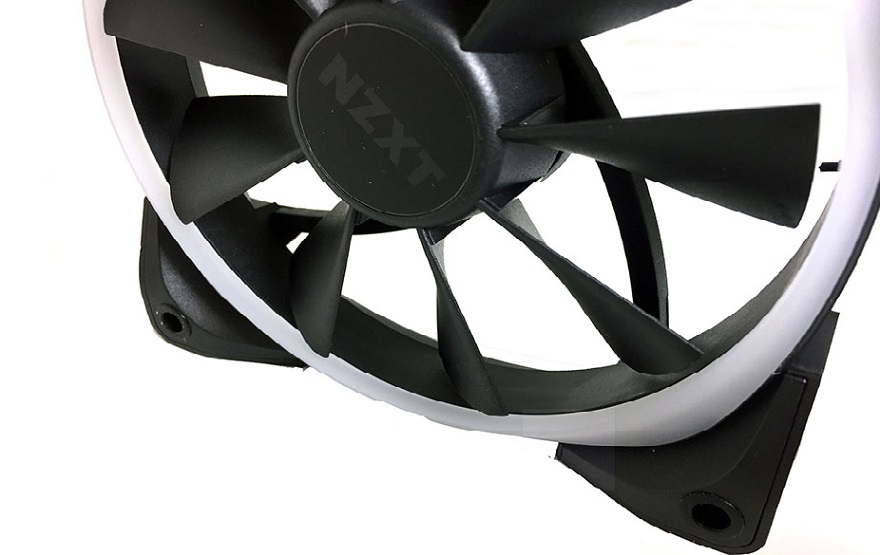 A look at the manufacturers mark on the fans confirm them to be an NZXT own design. Not, incidentally, that we expected anything different. With the details confirming that these have a fluid dynamic bearing, this is excellent news for consumers as these designs are often well associated with low-noise output and exceptionally long-lengths of durability.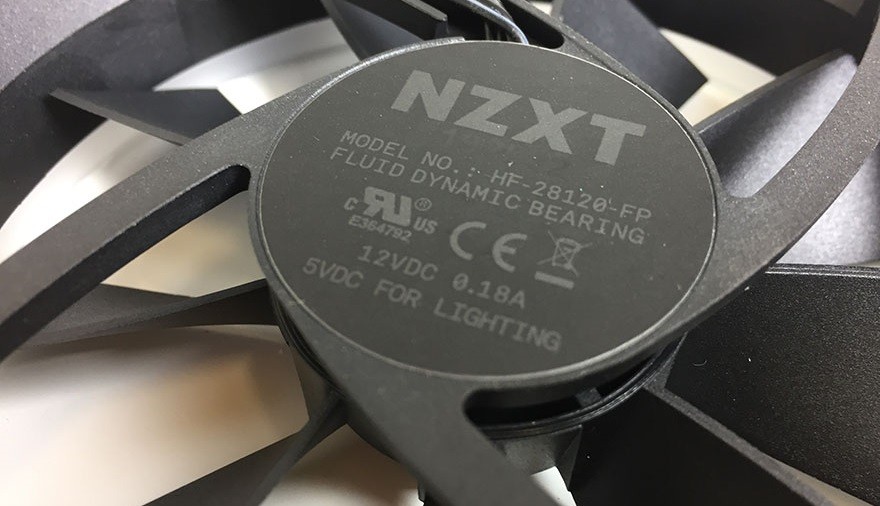 In regards to the fans, it would be remiss of us if we did not point out one of the most interest aspects of their design. Namely, that in terms of the RGB lighting, rather than having masses of individual cables, NZXT has designed them so that they can be 'daisy chained'. In other words, with 1 main cable going to your RGB controller, only 2 further smaller cables (roughly 2″ in length) are necessary to successfully hook-up all three fans!
I love when I see fan/cooler manufacturers do this!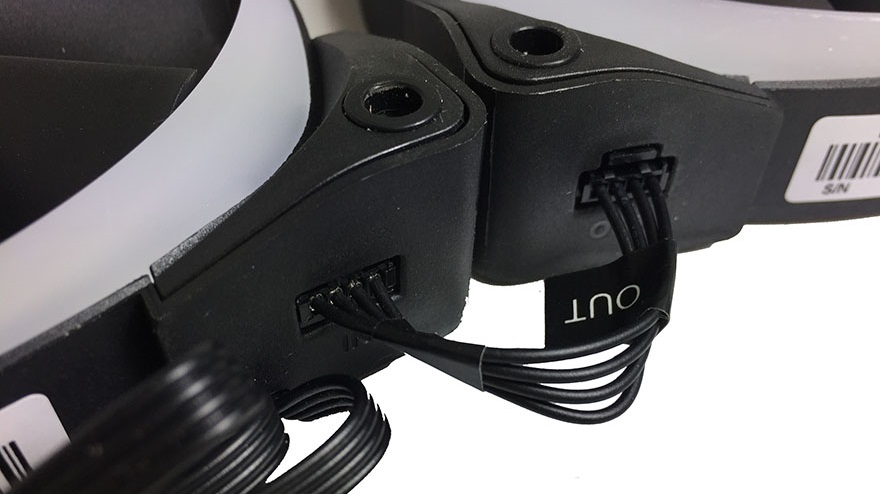 Overall
As an assembled unit, the NZXT Kraken X73 RGB looks like a very potent AIO cooler and certainly seems to tick all of the right boxes in terms of presentation, aesthetics, and build-quality.
Put simply, this looks pretty amazing even before we've switched the RGB lighting on!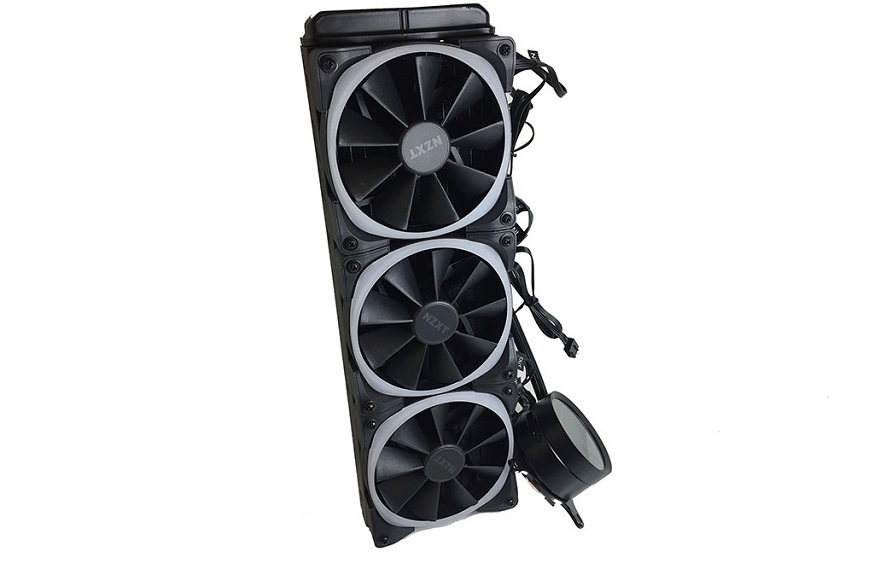 We should again re-emphasize build-quality as the NZXT Kraken X73 RGB looks like an exceptionally well put together design in which no expense has been spared in bringing a product to the market that should easily manage to rub shoulders with the best!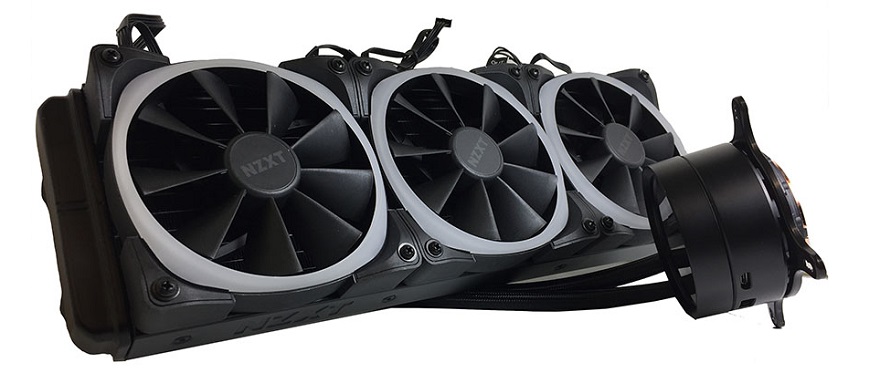 How it looks, however, is only one aspect of this review. How easy is this to actually install onto a system? – Well, there's only one way to find out!