NZXT N7 Z590 Motherboard Review
---
---
---
Ben Enos / 1 year ago
A Closer Look
Getting our first proper look at the N7 Z590 board looks almost identical to every other NZXT N7 board we have reviewed, except this one is black. That's right, this is our first black one, but aside from that, everything else looks very familiar. As you can see, the armour covers a very good portion of the board, leaving very little of the PCB on show. In fact, once you have a CPU cooler on, you will hardly see any of the PCB as the top and bottom of the board are full of different connections headers.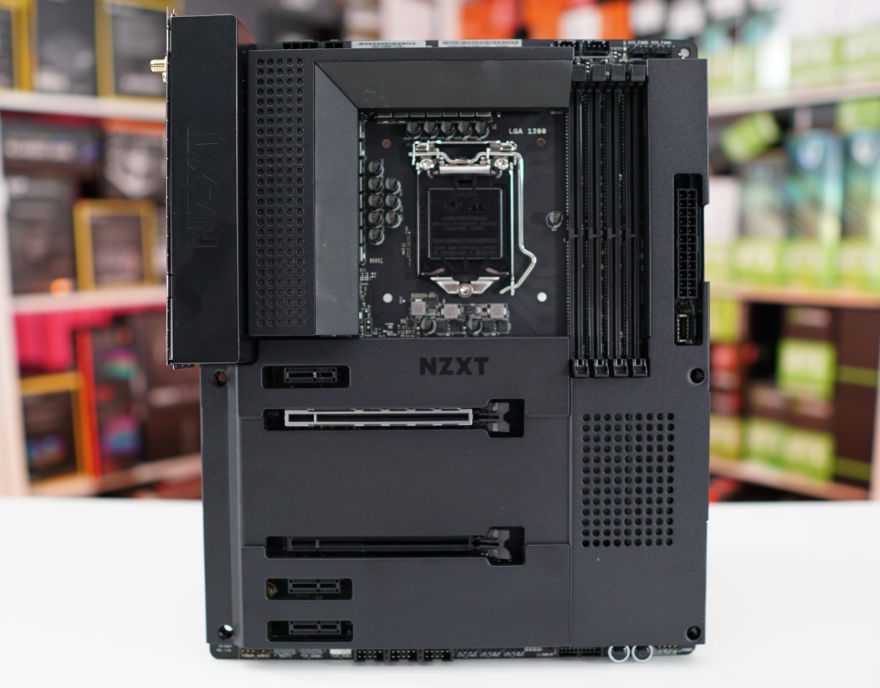 NZXT has gone with 8+4 pin EPS power connectors. This will be more than enough to deliver stable and efficient power to the CPU and even allow for some modest overclocking potential. There are other factors to consider when overclocking, but at least we know the power side of things will be covered. Just to the right of our EPS connectors is our main CPU fan header.

Working our way across the board and we have the AIO pump header, a pair of NZXT RGB headers and a pair of system fan headers! So far, we have a decent amount of fan headers so let's just hope there are a couple more at the bottom of the board and we will be all good to go.

NZXT has gone with a 12+2 Power Phase approach. While this may not be as much as others, it will be enough to deliver the power needed. We can also confirm that the four RAM slots can take up to 128GB of RAM, so that is 32GB per slot. Unfortunately, NZXT states that maximum memory speeds support when overclocked is 4600MHz, which is a bit disappointing, if I am honest. Most other manufacturers are offering support for RAM speeds over 5066MHz+, so seems NZXT is a little behind the pack with this one.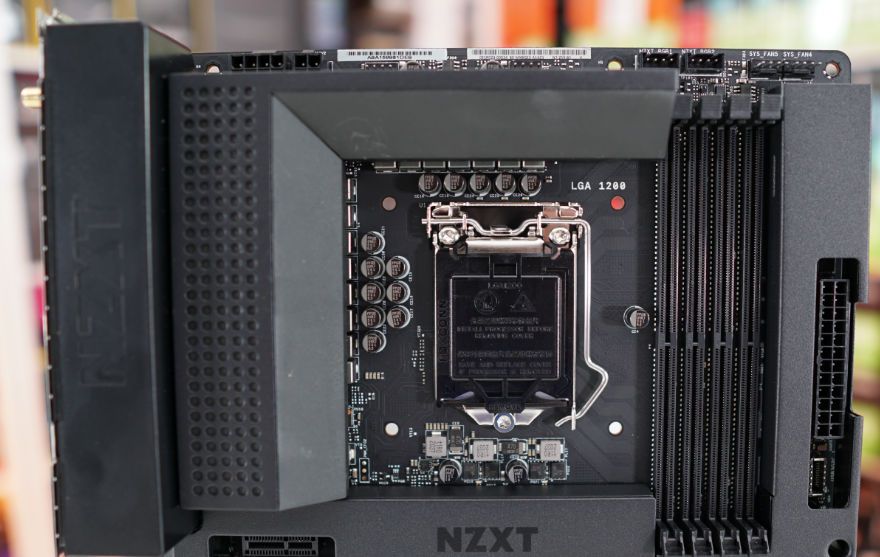 To the right of the RAM slots, we have our 24-pin power connector and a USB 3.2 Gen 2 header which will allow us to connect a front panel USB-C connector for extra speed!
Working our way down to the bottom half of the board and as you can see, the only things not covered are the PCIe slots. Yup, at first glance it almost looks like there are no M.2 slots, however, NZXT is up to their normal host of tricks here.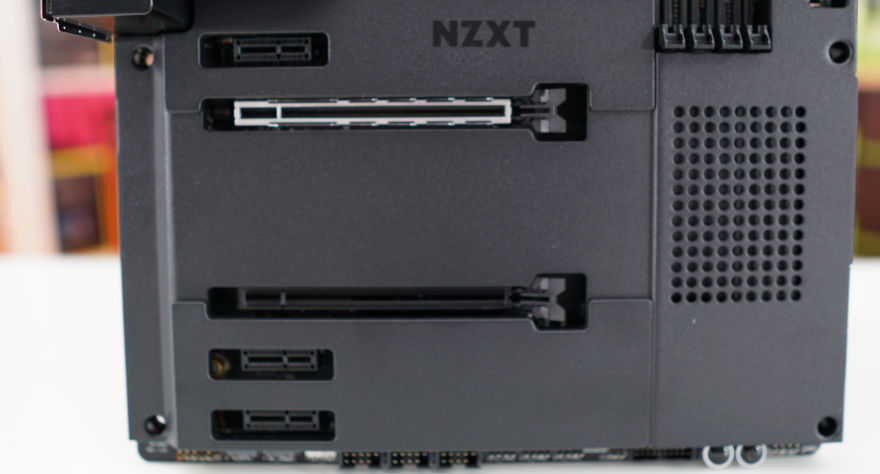 There are a pair of covers on the board that is easily removed that will reveal the M.2 slots. When you first receive the N7 Z590, there are actually stickers on them to let you know they are there.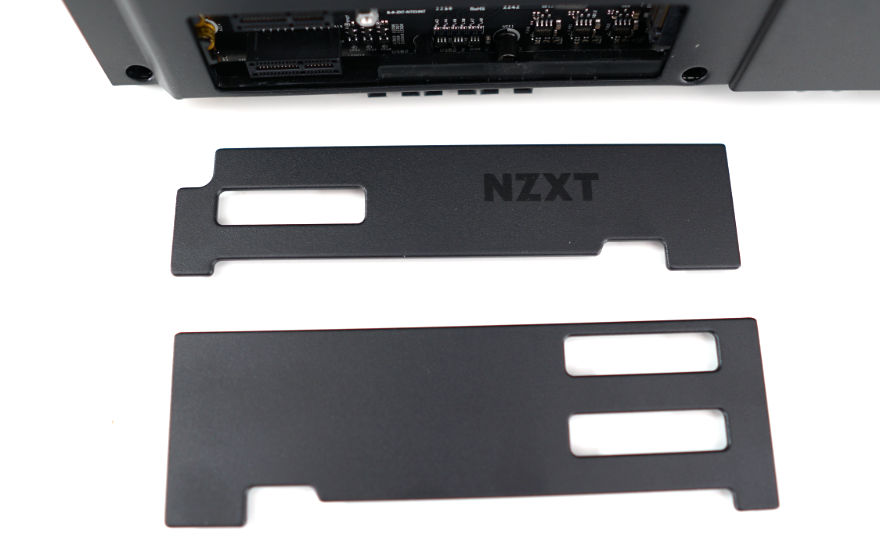 Once we remove each of the covers, we can now see the dual M.2 slots. The top slot is going to be our PCIe Gen4 slot while the bottom will run on normal Gen3 speeds. One thing I find a bit odd is that the M.2 covers are just that, covers. They are not meant to be used as heatsinks which is a bit of a shame. Most of the other Z590 boards have used this opportunity to double up the M.2 covers as actual heatsinks. It's odd to see NZXT not follow this pattern and it makes me wonder why. Maybe they didn't think of it? It's hard to say, but maybe we will have to ask them and see if we can get something implemented for their next board.
Most decent Gen4 M.2 drives will have their own heatsink, however, not all of them do! Now, in our testing, we generally leave this off anyways but some users may be inclined to put it back on as it offers a cleaner aesthetic. What I would say is that if you do decide to put the M.2 cover back on, just watch your temps and see if your drive throttles at all as there is not a lot of room around this area for any heat to dissipate.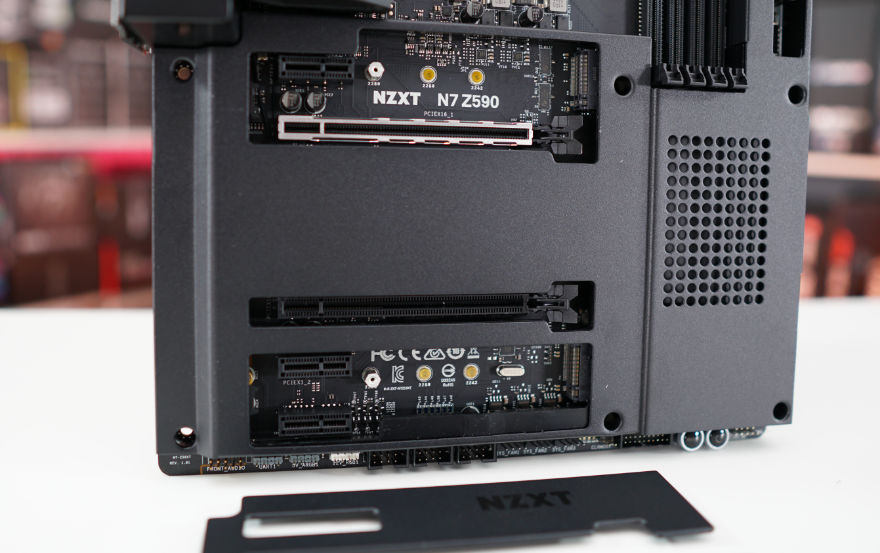 Across the bottom of the board we have our front panel audio header, a UART1 header and our 5v aRGB and 12v RGB connectors.

Moving along we then have three USB 2 headers, 2 system fan headers, clear CMOS jumper, USB 3 front panel header, power and reset buttons and our front panel connectors.

On to the backside and nothing out of the normal here. Everything seems nice and boring which in this case is great as gives us nothing to worry about.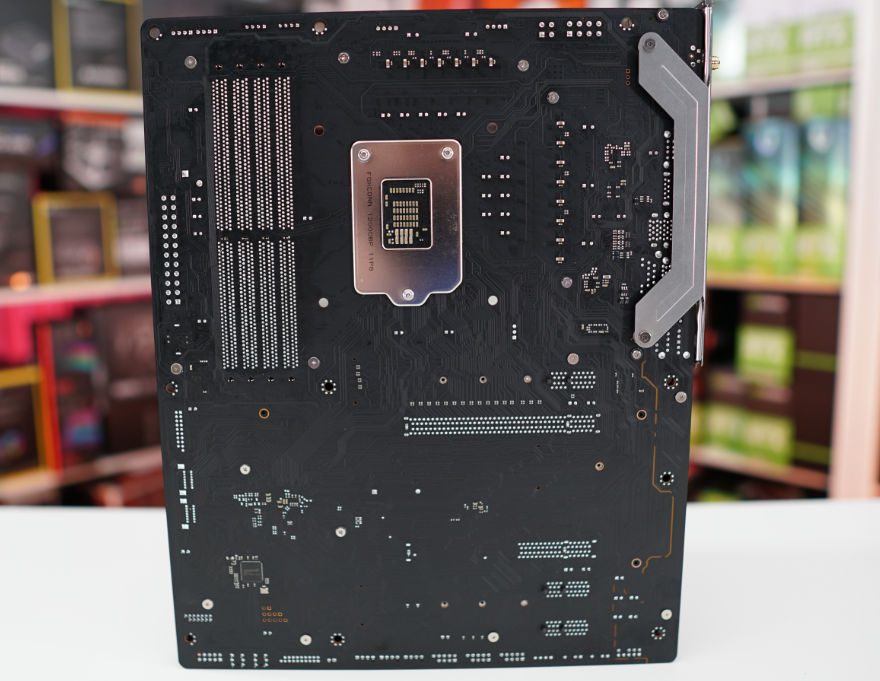 On to the rear IO, and we have the normal host of connections and a few different USB options. One thing I like to see is that while there was a Clear CMOS jumper on the motherboard, they have also included a Clear CMOS button on the rear IO for easy access. This will allow you to reset the CMOS with ease which will come in handy especially if you have installed the N7 Z590 into a case!
3 x USB 3.2 Gen 2 Ports
1 x USB 3.2 Gen 2×2 Type-C port
4 x USB 3.2 Gen 1 Ports
2 x USB 2.0 Ports
1 x HDMI 1.4b port
1 x 2×2 Wireless Antenna
1 x Clear CMOS Button
1 x LAN port
1 x Optical S/PDIF Port
1x 5.1-channel Audio Jacks