Oculus Rift Pre-Orders Now Available
---
---
---
John Williamson / 6 years ago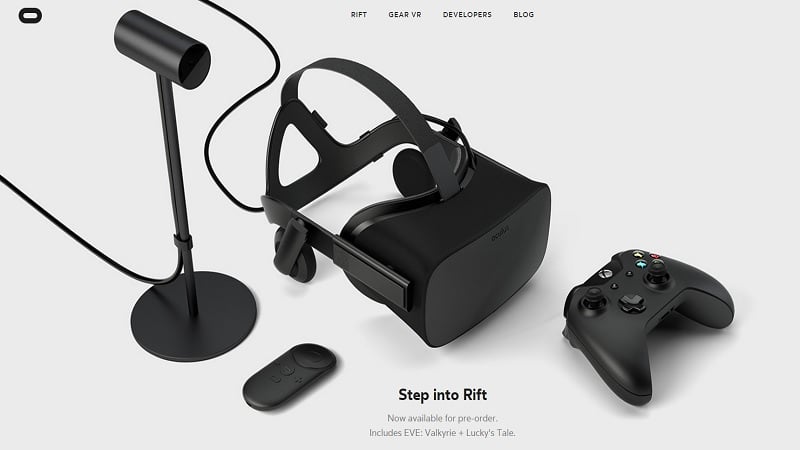 Virtual reality is often described as a revolution in entertainment and the Oculus Rift demonstrated how visually stunning VR experiences can be. This inspired other companies to enter the VR market and look beyond traditional gaming purposes. VR has potential in the medical professional and can also put sports fans into the action in a way never thought possible. After a lengthy development period, the Oculus Rift retail model is now available for purchase and comes with an Xbox One controller, Oculus remote and VR sensor. Additionally, the unit is packaged with EVE Valkyrie and A Lucky's Tale!
The Rift also utilizes integrated headphones designed for VR which creates a enthralling experience and expands the sense of depth during games. Of course, they can be removed and you can use the headphones of your choice.  The entire package will cost $599 plus sales tax and shipping which depends on your region. In the UK, expect a price of around £400. While this is a considered purchase, there is additional value with the includes extras and the Oculus Rift is a truly mind-blowing experience. This will be more than enough to encourage hardware enthusiasts to purchase. However, I doubt the mainstream customer will consider the Rift until there is a significant price cut or budget alternative. Please note, the Rift requires a high-end PC with the minimum specification listed below:
NVIDIA GTX 970 / AMD R9 290 equivalent or greater
Intel i5-4590 equivalent or greater

8GB+ RAM

Compatible HDMI 1.3 video output

3x USB 3.0 ports plus 1x USB 2.0 port

Windows 7 SP1 64 bit or newer
What do you think of the Oculus Rift's launch price?