Oddworld: Soulstorm Launches Tomorrow!
---
---
---
Peter Donnell / 2 years ago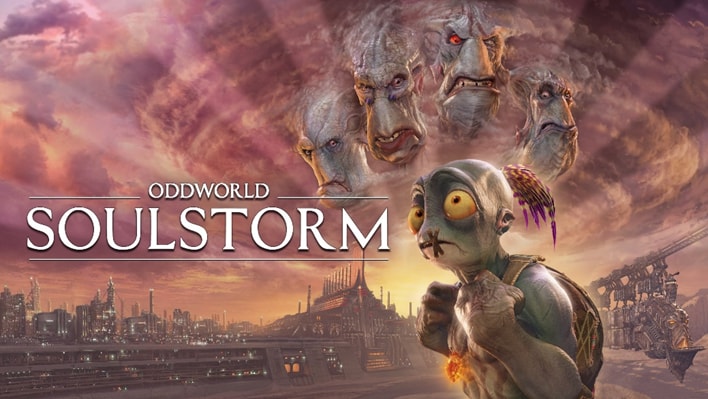 Oddworld: Soulstorm's is almost here! I remember playing the original Abe's Oddysee way back in my youth on the PlayStation 1. I also remember revisiting the remasters a few years back and suddenly remembering just how bloody hard they were. However, while Abe's Exoddus was the sequel, released back in 1998 it was not the game that Lorne and Sherry McKenna had envisioned to be the true sequel. Especially since it was pumped out in just 9 months!
Oddworld: Soulstorm
New 'n" Tasty released in 2014. And now, the second game in Abe's five-part quintology, Oddworld: Soulstorm will release April 6 on PlayStation 5, PlayStation 4, and Epic Games Store.
Free Path from PS4 to PS5
The digital version of the game releases on April 6th on PS5 and PS4. The PS5 digital version will be free for PS5 PS+ members during the month of April. If you purchase the PS4 version, they are offering a free path to the PS5 version. Because the game is free for PS5 PS+ owners in April. However, you won't get a free path going from PS5 down to PS4. The physical retail versions of the game will be in stores on July 6th. If you purchase the physical retail PS4 version, you will get the PS5 digital version at no cost.
On the PS5, Soulstorm players can get hints, tips, and walkthrough videos, without needing to leave the game. These hints can be accessed for the specific area of the game they are playing (using the PS5's Activity Cards), so they don't have to spend time searching the internet or risk seeing spoilers. *Active PS Plus membership required.
PC Version
This one will be available tomorrow too via the Epic Games Store for just £39.99.
PC Requirements

Minimum Requirements
Windows 7 64 Bit
Intel Quad-Core 1.7Ghz
Nvidia GTX 670 or equivalent
8GB RAM
Recommended requirements
Windows 10 64 Bit
Intel Quad-Core 2.3Ghz
Nvidia GTX 970 or equivalent
16GB RAM
About the Game
"Oddworld: Soulstorm is the bigger, badder, bolder action-adventure platforming sequel to the renowned video game series, and the explosive second installment in the quintology. You play as Abe, the reluctant Mudokon hero whose actions sparked an uprising and now must lead his fellow Mudokons in their fight for freedom against the Magog Cartel and the planet's ruling power.

Abe will struggle for survival against the planet's ruling and well-funded power. They are armed with all means of oppression, from propaganda to biological to ruthless deadly force.

Explore massive cinematic scale and 2.9D environments filled with breathtaking visuals. Scavenge for supplies, craft weapons, arm your followers, solve puzzles, and attempt to safely deliver all of Abe's 1,000+ followers to freedom."