Old and New Characters Revealed for Street Fighter V Season 3
---
---
---
Ron Perillo / 3 years ago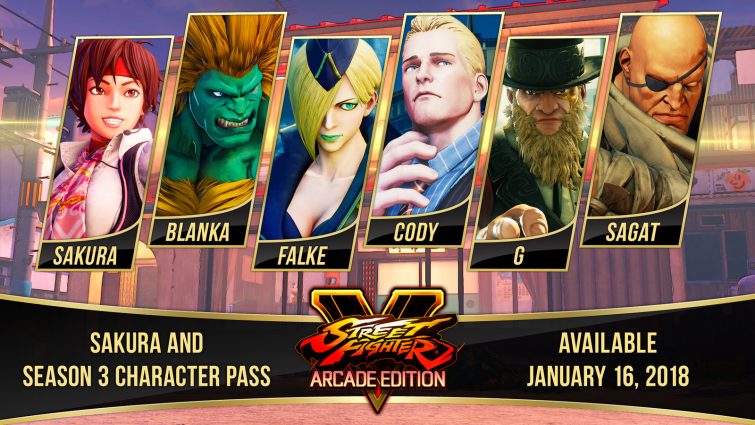 CAPCOM has their hands full when it comes to Street Figher lately. They recently announced the 30th Anniversary Collection featuring all pre-1999 games coming on May 2018. Now, they have also unveiled a new cinematic opening for Street Fighter V: Arcade Edition. While the animation is very impressive in itself, it also includes the new characters which will be joining the roster. The news arrives courtesy of the CAPCOM CUP Finals where RISE|MenaRD beat reigning EVO champion FOX|Tokido. While the championship match drew plenty of cheers from fans, the revelation of certain classic characters also left many excited.
Street Fighter Characters Old and New
Sagat and Blanka finally join the Street Fighter V lineup. They are the two most requested characters in the game, and their announcement comes as a big surprise. Moreover, Street Fighter Alpha characters Sakura and Cody return. However, they are sporting drastically different looks than before. Cody also ditches the striped prison garb for a slick pin-stripe suit and tie. Sakura of course is now college age and working part-time at an arcade. So her schoolgirl attire from the Alpha series gets a do-over. In fact, CAPCOM even dedicated a separate reveal trailer just for her:
Aside from classic characters returning, the SFV is also getting another Shadoloo agent name Falke wearing the same Britney Spears-style flight attendant outfit as Ed (*yawn*). There is also a new character called G, who looks oddly like the lovechild of Uncle Sam and an Amish. His name suggests that he might have a connection with the enigmatic "Q" from Street Fighter 3: Third Strike.