Online Trolls and Racists Being Targeted With Billboard Ads Near Their Homes
---
---
---
Bohs Hansen / 7 years ago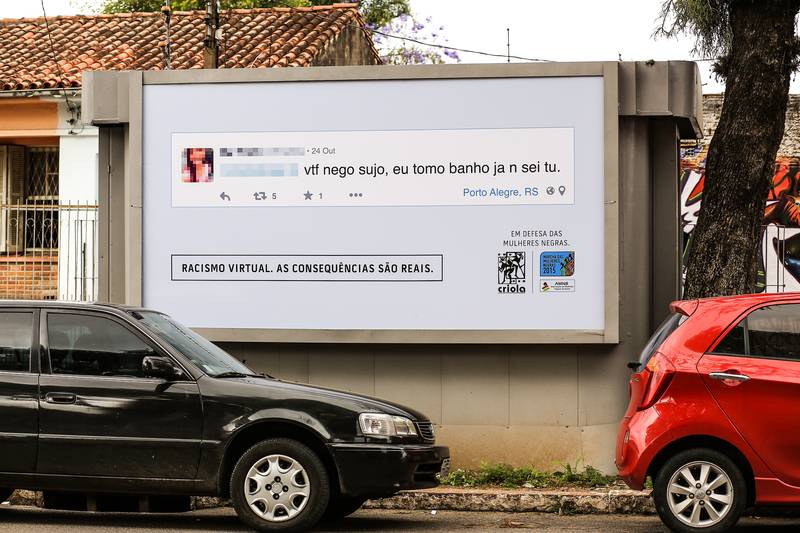 Online bullies, trolls and other people hiding behind the half-anonymity of the internet while insulting people have been a cancer on our society for quite some time and it probably won't be stopped anytime soon either. We got a lot of stupid people in this world and they don't seem like they're learning. In Brazil however, they now risk their comments to be blown up and shown on billboards near their homes for everyone to read.
The campaign is called Virtual racism, Real consequences and it is backed by the civil rights organisation Criola. The group collects comments from Facebook and Twitter and uses geolocation tools to find the location from where the racist comments were posted. The group then buys billboard space nearby and posts the comments in huge letters for everyone to see. The group does blur the photo and names out, but the message comes across.
"The campaign is intended to encourage people to speak out and report racism," said Criola's founder Jurema Werneck. "Those people [who post abuse online] think they can sit in the comfort of their homes and do whatever they want on the internet. We don't let that happen. They can't hide from us, we will find them,"
The campaign was launched in July when a prime-time weather presenters photo, who happens to be coloured, was posted on the channel's Facebook page and sparked a wide range of racists comments. Ironically, the same day was the Brazilian national day against racial discrimination. The billboard campaign has been running ever since and it has gotten mostly positive feedback since launch as well as launched a debate about the issue, which probably is the best effect they could have hoped for. Dialogue is the start of getting along.
Does a comment on the internet cause less damage than a direct offence? Maybe for those who make the comments, but those who suffer the abuse experience the same prejudice and effect. I personally think that it is very sad that a campaign like this is needed in our day and age. We as the human race should have evolved beyond such neanderthal-ish behaviour by now. We are all humans and we all share the same small planet, it is about time that we all finally get along.