OpenMediaVault Version 1 (Kralizec) Announced
---
---
---
Bohs Hansen / 8 years ago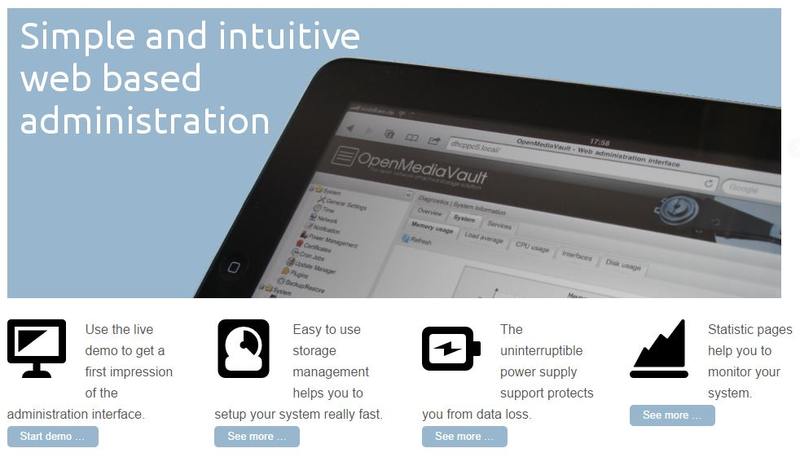 It's been about 5 years since Volker Theile started his work on OpenMediaVault (OMV), and now his work has reached the first large milestone. It can soon call itself Version 1. It isn't that there haven't been any updates, far from it actually as the system is updated very frequently with new features, bug fixes and security improvements, Volker just keeps the version numbers very realistic compared to others.
OMV recently achieved another milestone when it was picked as Source Forge's Community Choice for September. It looks like the users and fans like what Volker is creating and aren't holding back to show their support. Our recent article on how to set up a simple NAS with OMV was very well received as well.
Considering that Volker does almost all the work himself, this is all very impressive. All the base coding is done by him as well as the core concept, but there are other people contributing some codes here and there. There's also a big third party plugin system called OMV-Extras for almost anything that isn't included in the base system, and more plugins are released all the time.
I wanted to develop a software solution that allows me to easily set up a NAS in my home network. During my time as the project leader and main developer of the FreeNAS project, I realized that the code base couldn't fulfil the plans and vision I had for the software.
Volker originally started his work on homebrew NAS' systems with FreeNAS, the FreeBSD based NAS OS. But the direction the software took wasn't the vision Volker had for a home NAS for everyone, so after 3 years he split from the group in 2009 to create OMV himself.
The new version should be released on the 15th September and will bring a lot of fixes and improvements. Some of the main new features are the change to Debian 7 Wheezy, better support for low-powered units like the Raspberry Pi, Cubieboard or Cubox. Volker has also changed the use of Apache for the web-interface into Nginx and that should give a nice performance boost in that area. A Dashboard with widgets will be added and system can now be put into stand-by mode.
Excerpt from the changelog:

Debian 7 (Wheezy)
Improvements regarding performance on slower systems (Raspi, …).. Updates and Plugins are bsp. indexed, that is, the search for new updates or plugins will not be launched each time when the user invokes the WebGUI to.
File systems on non-rotating drives are with the mount option 'discard' hooked (ext3, ext4, btrfs, vfat, jfs, xfs).
Infrastructure improvements for plugins
Systems can be put into standby mode (hybrid suspend / STB, Suspend to disk / STD, Suspend to RAM / STR). There, the mode is automatically selected which is supported by the system. Priority is STB, STD, STR.
Many bug fixes
Dashboard with widgets
Small improvements in various services, bsp. SMB (bsp. Public shares)
The ClamAV plugin now supports a quarantine.
Use rrdcached to reduce disk I / O of collectd.
Add asynchronous I / O (AIO) support to SMB / CIFS.
Add ability to audit SMB / CIFS file operations per share.
Add button to manually empty the SMB / CIFS recycle bin.
Add feature to revert configuration changes.
Supporting stateless address autoconfiguration (SLAAC) for IPv6 network interfaces.
Supporting stateful address autoconfiguration for IPv6 network interfaces.
Add ability to customize look via WebGUI 'css / omv-custom.css' file.
Use php5-fpm FastCGI process manager.
Change webserver from Apache2 to nginx.
Add PFS (Perfect Forward Secrecy) support and other security improvements.
Improve PAM configuration. Block users for 180sec after 3 failed login attempts WebGUI. Check the pam_tally2 manual page for more information.
Thank you OMV for providing us with this information.
Image courtesy of OMV.