Overclocked Intel Core i7-7740X Breaks 5GHz Barrier
---
---
---
Ashley Allen / 6 years ago
A new benchmark suggests that Intel's forthcoming Core i7-7740X CPU could, overclocked, break the 5GHz barrier. The report comes courtesy of an X299 platform reviewers' guide, obtained by VideoCardz. In tests of 100 i7-7740X chips, 5.2GHz was the highest clock achieved. If true, this means the 7740X has a higher overclocking ceiling than the i9-7900X.
i7-7740X Overclocking
The following slides, showing Cinebench R15 benchmarks, demonstrate that the i7-7740X can be pushed up to 5.2GHz. In fact, the best of the chips tested could hit 5.0GHz with just a 1.205v core voltage: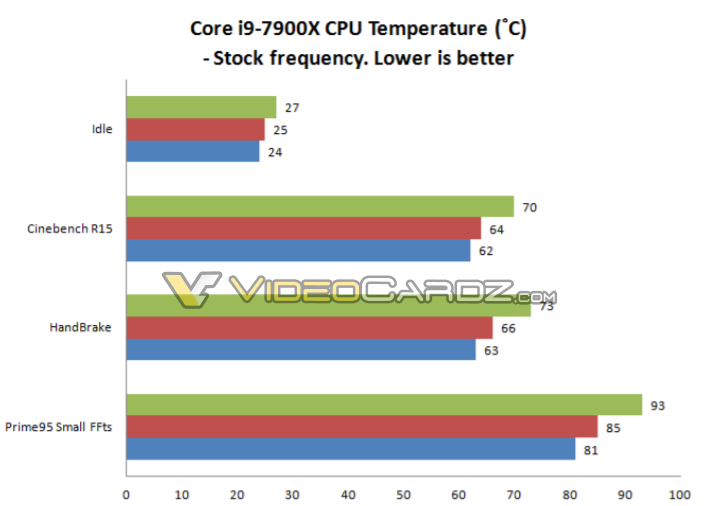 Intel Core i7-7740X – Accidental Over-Performance?
According to Intel executive Frank Soqui, Kaby Lake-X CPUs were not built with overclocking targets in mind. Soqui told PCGamesN:
"I don't know that there's more headroom. It's really process dependent and architecture dependent. We never spec a frequency for overclocking. There's enough variability in there that we cannot predict the max overclocking frequency."
Asked if Kaby Lake-X can deliver higher clocks, Soqui explained:
"I would say, in general, that would be a fair guess. There's no way for us to screen predictably in manufacturing to a specific frequency of overclocking. Even if we did those conditions would be different in a real motherboard situation."
Release and Availability
Intel's first Kaby Lake-X processors release this month. The Core i7 7740X, priced $339, is out on 26th June.