Overclockers UK Launches VR Racing Championship
---
---
---
Bohs Hansen / 7 years ago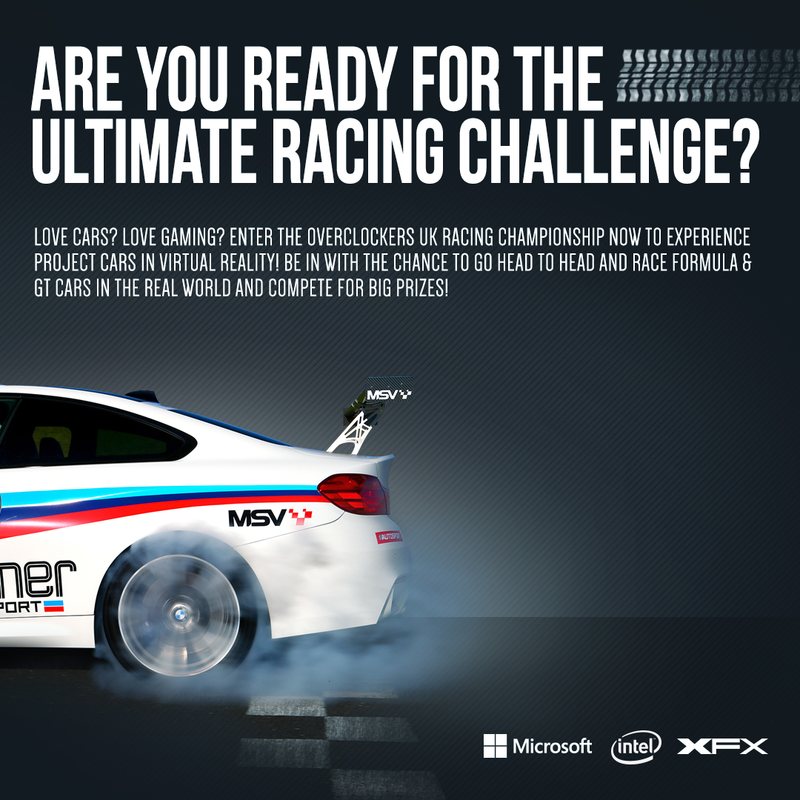 It is no secret that the people at Overclockers UK love the world of virtual reality, after all, they've equipped their shops with some great showrooms for just the same. But now they've taken the whole thing to a completely new level and together with PalmerSport Racing Series, Overclockers UK launched the Overclockers UK Racing Championship.
The competition will take place over the duration of a year, complete with qualifying rounds and multiple venues. Whether you're a racing enthusiast or a professionals gamer, it will give you the chance to rev the engines, shift your gears, and put all those skills to the test – both on the track and off the track as you're plugged into the virtual environment. Yes, you read that right. Winners of the first qualifying rounds will be provided with the opportunity to go head-to-head on the real-life race track at the Bedford Autodrome stadium.
They also partnered with Microsoft, Intel, and XFX to build some great gaming systems to power the whole thing while using the HTC Vive VR system. Along with motion-based platforms that reflect every skid, crash, swerve and drift ­­– the lines between real-world motorsports and virtual racing will forever be blurred.
The game that will be used is Project Cars which is one of the few games to fully offer everything for such an experience: Simulation-based physics, an authentic handling model, tweakable parameters correlating to the vehicle transmission, tyre pressure, and aerodynamics. At the same time, Project Cars also delivers the necessary level of graphical detail and highly-defined realism for an intense experience.
So if you're ready to put the pedal to the metal, then this is your chance. Competition entry will be completely free and qualifying rounds will be held at the Overclockers UK VR Showroom. Full details and conditions can be found on the official mini-site for the Championship.
Full Competition Schedule
Qualifying Period 1 / Real World Racing Round 1
Date: October – December
Venue: OcUK VR Showroom followed by Bedford Autodrome (PalmerSport)
Qualifying Period 2 / Real World Racing Round 2
Date: January – March
Venue: OcUK VR Showroom followed by Bedford Autodrome (PalmerSport)
Qualifying Period 3 / Real World Racing Round 3
Date: April – June
Venue: OcUK VR Showroom followed by Bedford Autodrome (PalmerSport)
OcUK Racing Championship – Grande Finale – Real World Racing
Date: July 2017
Venue: Bedford Autodrome (PalmerSport)