Overclockers UK Titan Bayonet GTX 1080 Gaming PC Review
---
---
---
John Williamson / 5 years ago
Introduction
---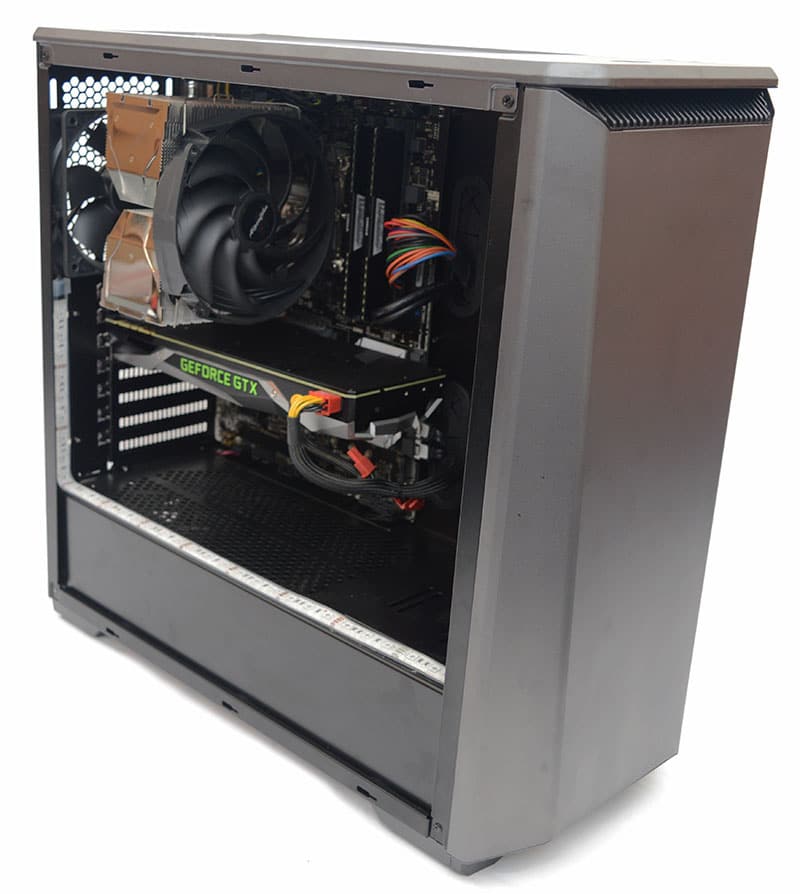 The GTX 1080 is already an extraordinary success and many high-end users are desperately trying to get their hands on NVIDIA's latest flagship product. It's not difficult to see why given the incredible performance per watt and AMD's current focus on the low to mid-range market. This huge influx of orders has caused major retailers including Newegg.com to struggle with the demand and it's quite common for re-stocks of the GTX 1080 to sell out in a matter of seconds. Thankfully for UK customers, Overclockers UK has immense buying power and they've secured a large quantity of stock. Not only that, the company offers a staggering 21 different models of the GTX 1080 so there's bound to be something which suits your build's colour scheme. Of course, this stock can be deployed in a wide range of pre-configured PCs which are a great option if you're concerned about a hardware bottleneck with your current configuration.
While GTX 1080 prices are all over the place due to low stock and the devaluation of Sterling, systems appear to be more stable. Given the fact that many UK retailers purchase stock in USD, prices are set to rise quite substantially if the current market trend continues. Therefore, now is the perfect time to invest in a brand new system and enjoy the best possible PC gaming experience. Today, we're taking a look at the Overclockers UK Titan Bayonet which utilises an Intel Core i7-6600K overclocked to a very respectable 4.4GHz, 16GB of Corsair Vengeance LPX 2400MHz memory and the Inno3D NVIDIA GTX 1080 Founders Edition. In terms of storage, Overclockers UK has opted for a highly acclaimed 250GB SSD boot drive and 1TB mechanical disk. The system is powered by a reputable power supply and comes with a really stylish yet efficient cooler. This entire specification is housed in the Phanteks Eclipse P400 and retails for £1349.90. Personally, I'm expecting the Overclockers UK Titan Bayonet to fare extremely well and it will be interesting to see if the i5 processor has an impact on the GTX 1080's performance.
Specifications
Name: Overclockers UK Titan Bayonet
Case: Phanteks Eclipse P400 Midi Tower
Motherboard: ASUS Z170-E
Processor: Intel Core i5-6600K Overclocked to 4.4GHz
Processor Cooler: Alpenfohn Brocken 2 120mm Tower
System Memory: 16GB (2x8GB) Corsair Vengeance LPX 2400MHz
Main Boot Drive: Samsung 250GB 850 EVO SSD
Additional Storage Drive(s): Seagate 1TB 7200RPM 64MB SATA
Graphics card: Inno3D NVIDIA GTX 1080 Founders Edition 8GB
Power Supply: SuperFlower Leadex 550W 80+ Gold
Peripherals: N/A
Monitor: N/A
Optical Drive: N/A
Wireless: N/A
OS: Windows 10 Home 64-Bit
Warranty: 3 Years (24 Months Collect and Return, 12 Months Labour)
Price: £1349.90
Packing and Accessories
The system's packaging consists of various cardboard sections held together with strong banding wires. This results in a fairly hefty box but the protection on offer is by far the best I've seen from any system integrator. More specifically, the thick cardboard and rugged materials make it very unlikely for damage to occur during transit. Also, the fragile notice instructs the courier to handle the item correctly.
Please note, the retail version is bundled with all the component boxes, documentation, and accessories. Overclockers UK doesn't supply these to the press because they are usually misplaced alongside various other boxes commonly found in a reviewer's home/office.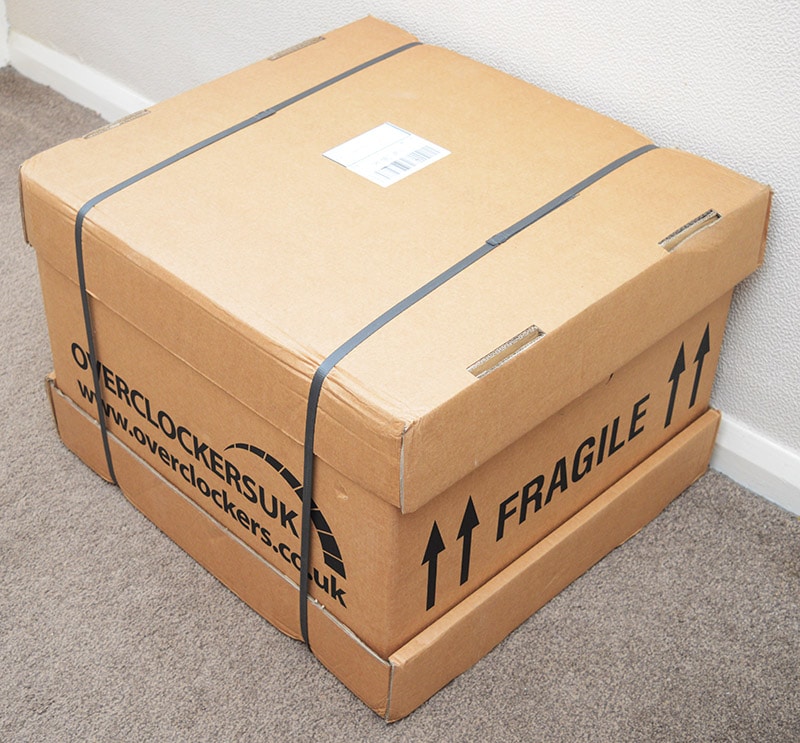 Here we can see the Phanteks Eclipse P400 box which contains a fairly basic snapshot of the chassis. Rather surprisingly, the box has an annoying dent in the packaging but luckily enough, this didn't cause any damage to the system.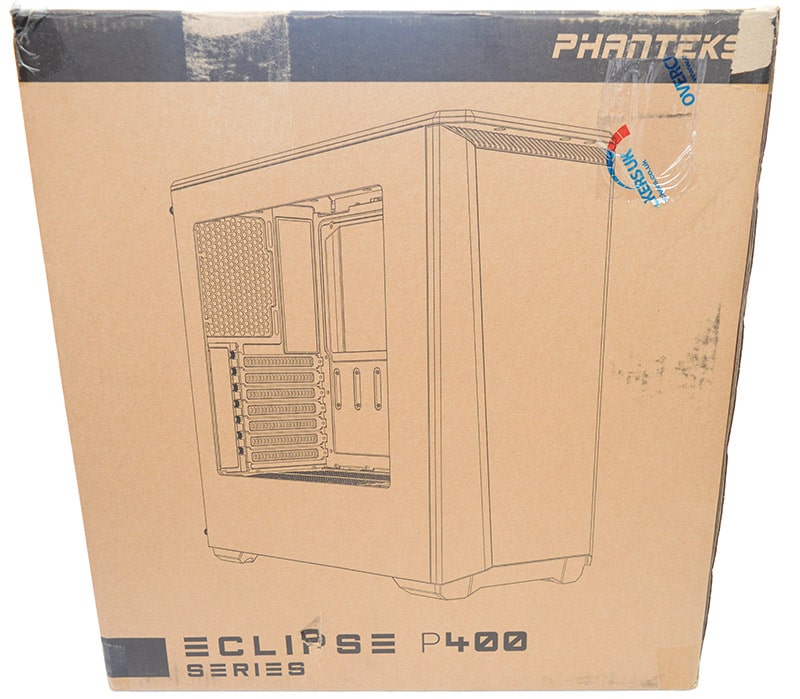 On the chassis packaging, there's a label telling the end-user to retain the main box for warranty purposes. This makes sense because it ensures the purchaser returns any damaged equipment in the correct manner with adequate protection.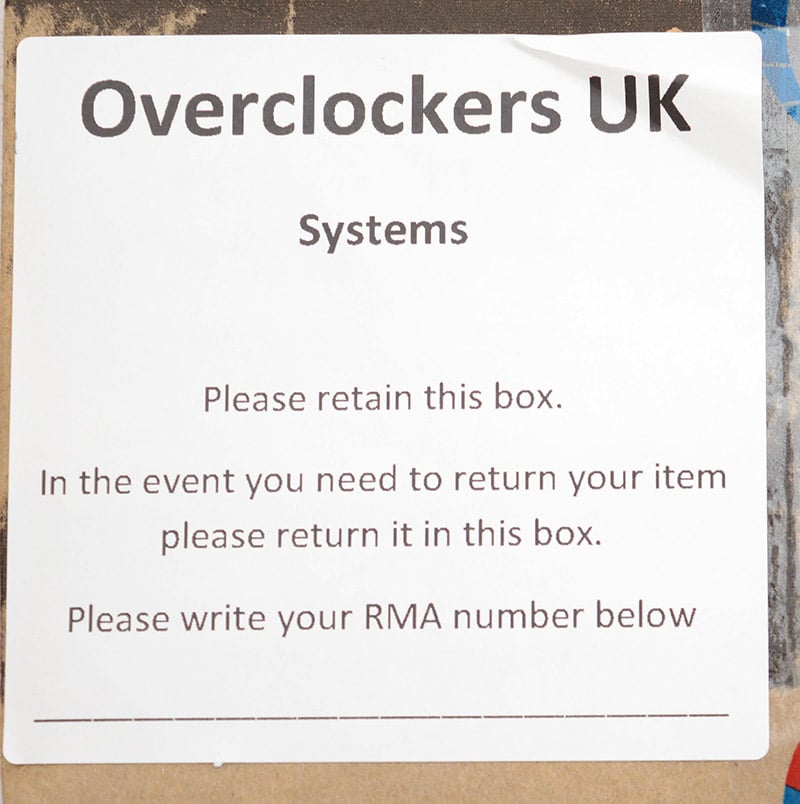 Overclockers UK also includes a notice informing you to remove any internal packaging before powering the system on.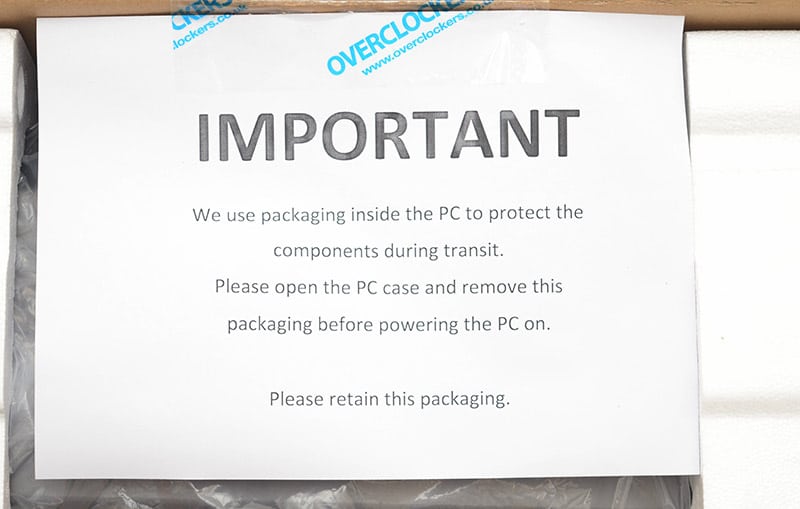 Annoyingly, one of the foam packs became dislodged during the unboxing process and no longer covers the CPU cooler. This isn't a major issue though and it stays in place rather well when being moved around. I'm a huge proponent of foam packs and strongly believe they're an essential addition which prevents components from being put under pressure. Honestly, I've never received a system with these packs arrive damaged.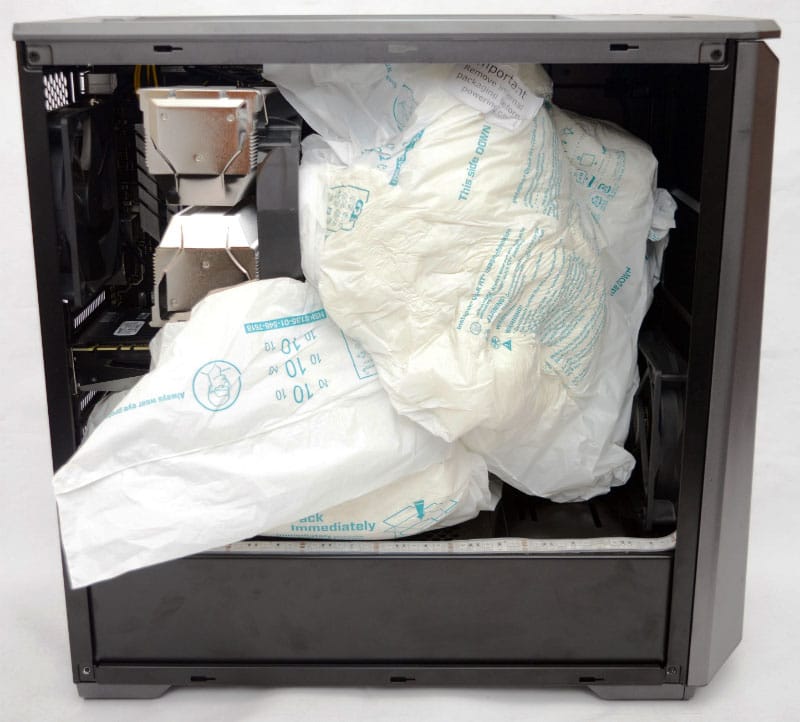 CPU-Z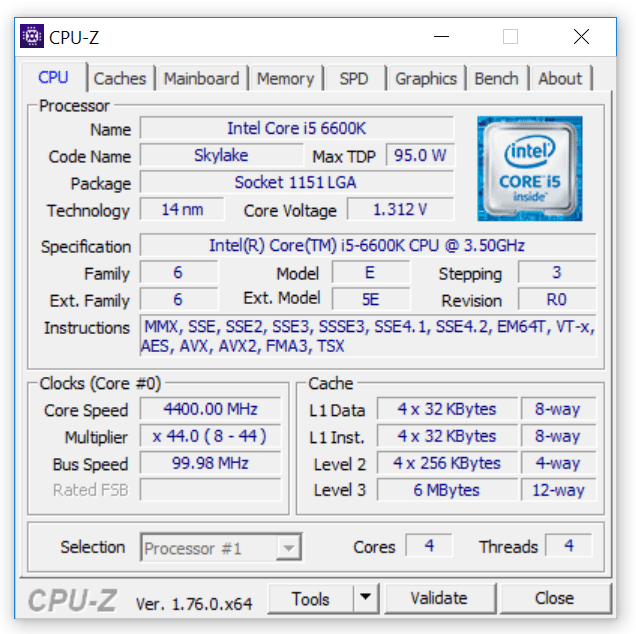 GPU-Z