OWC Drive Dock with Thunderbolt 2 & USB 3.1 Review
---
---
---
Bohs Hansen / 4 years ago
Introduction
---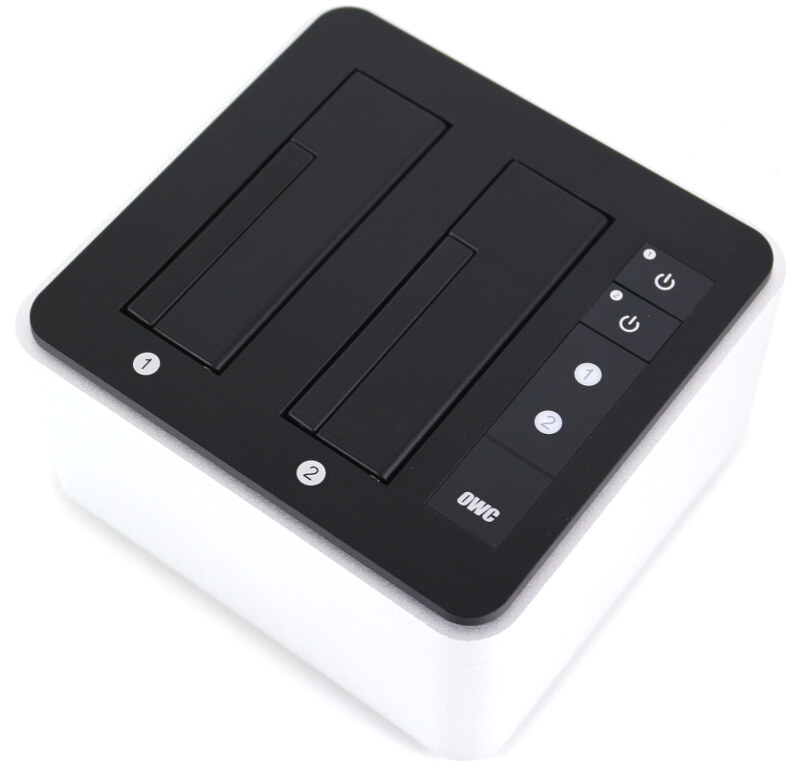 OWC's Drive Dock with Thunderbolt 2 and USB 3.1 isn't the cheapest docking solution on the market, but it does also bring more features than the average drive dock. We get a dual setup for SATA-based drives and a dual connectivity too.
Connection Options
With the USB 3.1 connector, you're able to connect the OWC Drive Dock to pretty much any system. The unit itself is using a Type-B connector, and the included cable has a Type-A connector for the system end. The USB protocol is only USB 3.1 Gen.1 so that you won't get more than 5Gbps max throughput here.
The second connection is what sets this unit apart from the rest. The Drive Dock also features a Thunderbolt 2 connector with a theoretical throughput of up to 20Gbps. This type of connector is more for the Mac OS users than Windows users, but not exclusively. Thunderbolt does bring other advantages over USB such as the ability to run a software RAID on a Windows-based system.
With USB, the Drive Dock can deliver up to 430MB/s, and with Thunderbolt it can deliver up to 520MB/s throughput.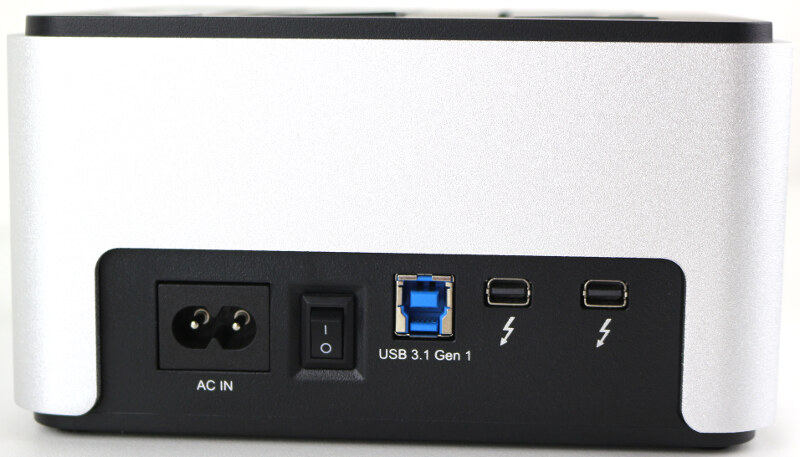 Drive Support
The OWC Drive Dock supports all types of SATA-based drives, well almost. You won't be able to plug in a micro SATA or module, but you're covered for the rest. Whether you want to use the Drive Dock for large capacity hard disk drives or speedy solid state drives, the Drive Dock will handle them.
Modern large-capacity drives with 10TB capacity isn't an issue for the Drive Dock. So you're covered in that regard. SSDs are also fully supported, but we do have the connection options speed limitations here. With the Thunderbolt connection, we also get close to the full speed of the SSD. But we'll take an in depth look at the performance itself on the following pages.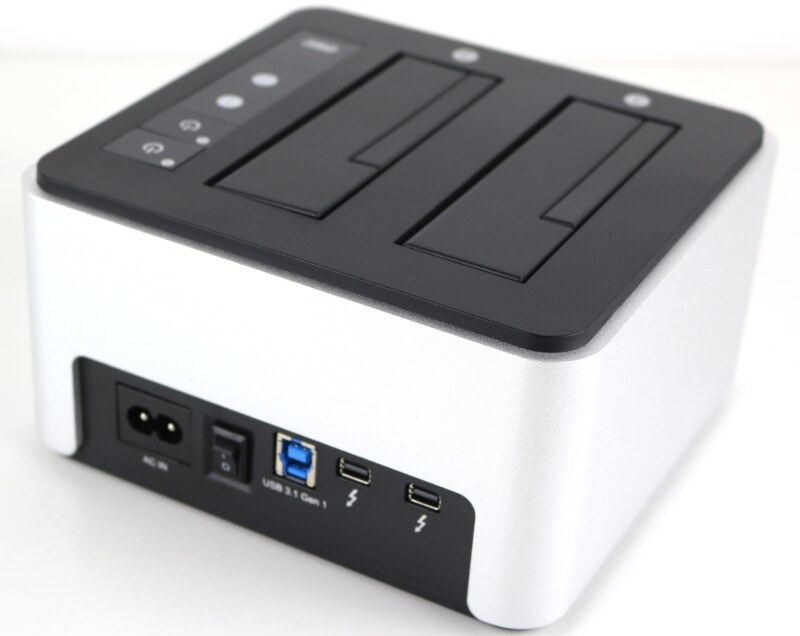 Supports RAID, but with limitations
As mentioned earlier, software RAID is an option for the OWC Drive Dock. Mac OS and Linux users won't have any issues at all, but Windows users will run into some limitations. The drives need to be converted to dynamic disks for software RAID and that most likely won't work under Windows, at least if you're using the USB connection. With Thunderbolt, Windows can handle software RAID with dynamic disks just fine.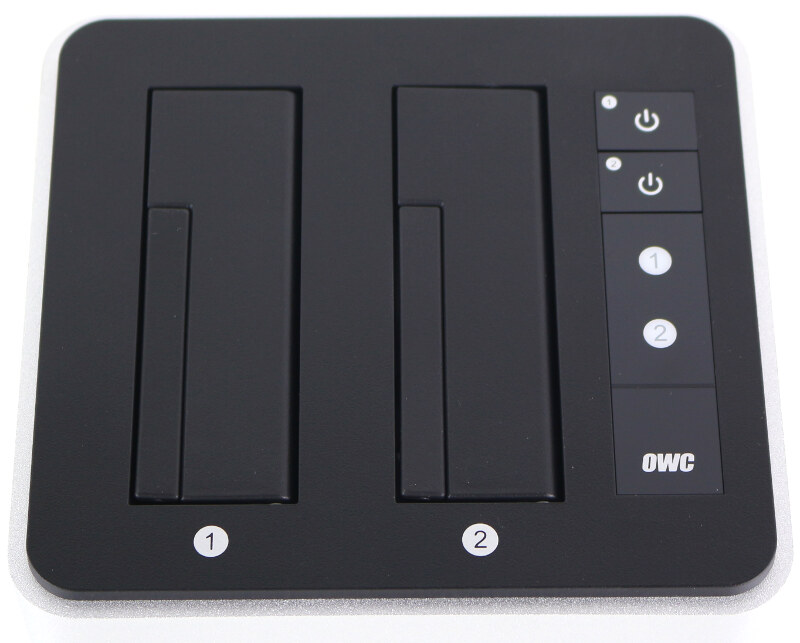 Feature Highlights
Thunderbolt 2 and USB 3.1 Gen.1
Supports two drives at once
Supports software RAID (with limitations)
Built-in power supply for a clean setup
Daisy Chaining of devices through Thunderbolt
Package and Accessories
The package is simple, but also good looking. The name and drive dock itself are pictured on most sides along with the main feature highlights.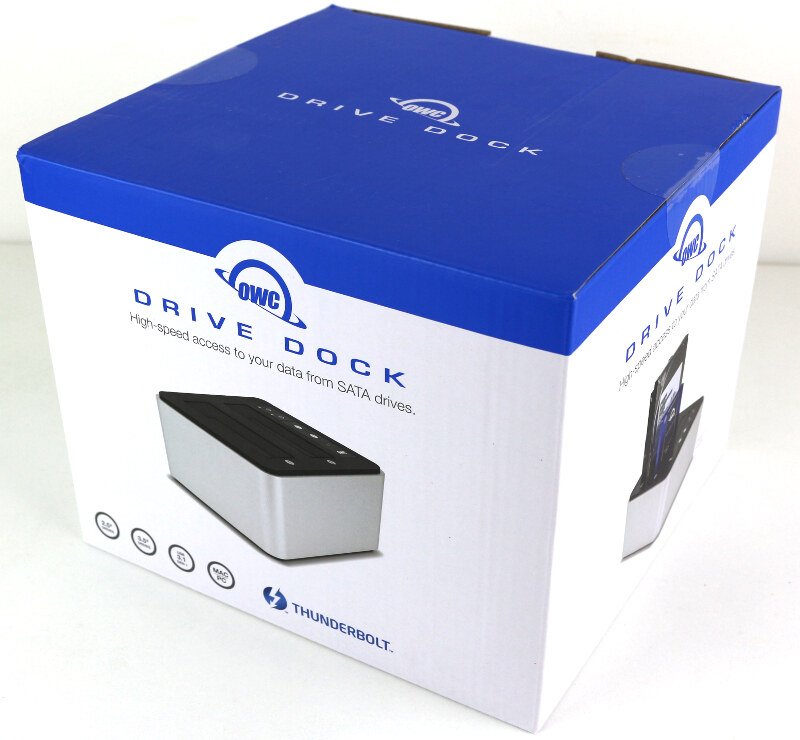 The rear side has a few more details, and it also shows the connection options of the Drive Dock.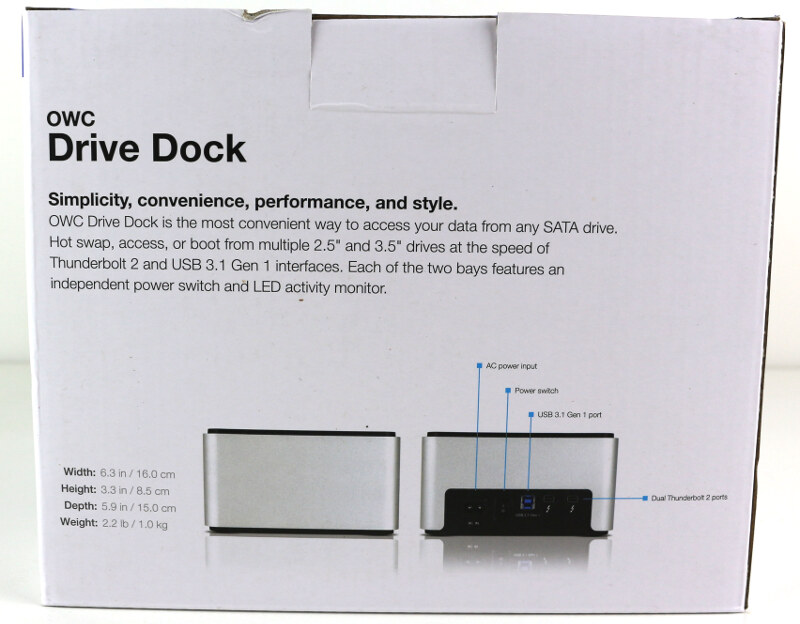 Included is a power cable for your region, in this case, an EU cable. There's also a USB and a Thunderbolt cable. Especially the included Thunderbolt cable is a nice addition as that isn't a given for all products. There's also a small quick start guide in case you need that.