OWC USB-C Dock Universal Docking Station Review
---
---
---
Bohs Hansen / 6 years ago
Introduction
---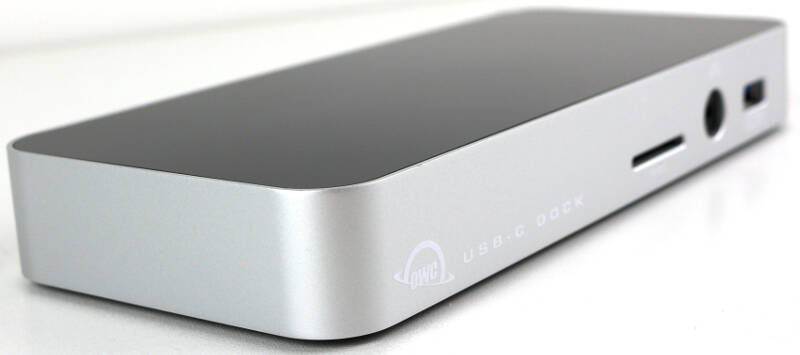 OWC's USB-C Dock is a universal docking station for your USB-C equipped notebook. While that sounds like a relatively simple device, and it is, it still brings great features and stylish design to the table.
Most notebook and laptop manufacturers have their docking station solution, but they are usually model limited and pricey. Universal docking stations are a better approach. They cost less, and they will work with any laptop model, which includes the next system you'll purchase after your current.
USB Type-C Host Connection
OWC's USB-C Dock connects to your system via a USB 3.1 Gen.1 Type-C port. That is the relatively new, tiny, and reversible one for those not familiar with the naming. The first generation does mean that we only have a total of 5 Gbps bandwidth at our disposal, but then again, it should be enough for most day-to-day usage.
The USB-C Dock doesn't just connect via the Type-C cable; it is also able to charge your system with up to 60W through the cable. A particularly useful feature for systems that feature a single connector for power and data.

USB Device Connections
You get a total of four USB 3.1 Type-A ports for general equipment such as input peripherals, printers, scanners, and audio devices as well as a Type-C port for modern equipment. All USB ports are Gen.1 which means that we're limited to 5Gbps as we are with the uplink speed.
One of the Type-A ports is located on the front of the Dock while the rest are on the back. One on each side also features quick charging for your mobile devices.

Monitor and Networking
It wouldn't be much of a docking station with just USB ports, and that's why we also get monitor and network connections through the OWC USB-C Dock. You can connect an HDMI monitor to the docking station and have that connect through your USB host port too. The docking station utilises an HDMI 1.4b port, and it supports resolutions up to 4K with 30Hz.
The networking capabilities are powered by a Realtek RTL8153 controller where you get up to Gigabit ethernet speeds. Wired networking is better that wireless in most instances, but ultrabooks often sacrifice the port due to its height.
Audio and Card Reader
In case that your portable system doesn't feature its card reader, the OWC USB-C Dock has one to solve that problem. The OWC card reader supports SD, SDHC, and SDXC with a capacity up to 2TB. The speed limit is rated at UHS-1 with 70MB/s.
Audio connections are also supported, albeit limited. There is a single 3.5mm audio port. It is a combo port so that it can be used as either a microphone or a headphone connection. You naturally still have the ability to connect a USB headset to the docking station.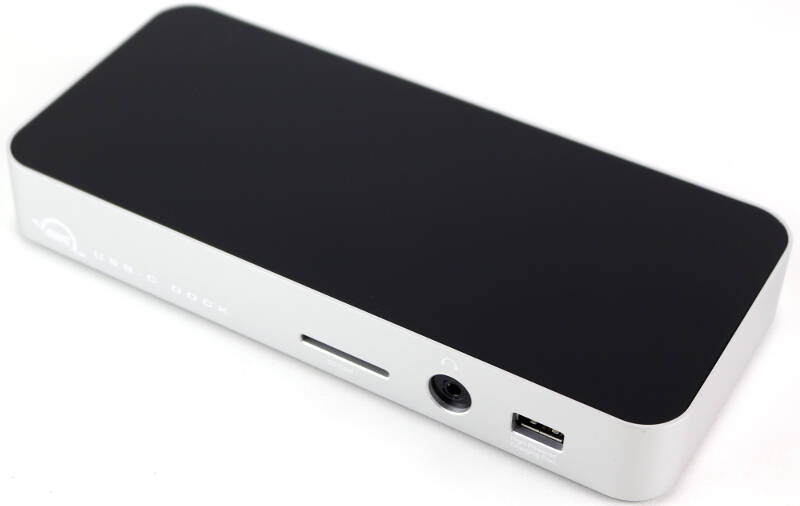 Design
OWC designed the USB-C dock to match your MacBook and other apple devices. It's simple but stylish. The docking station is also available in four different colours, not just the one I have in the office today. You have the choice of four colours: silver, gold, space grey, and rose gold.
The design isn't just for the look; the USB-C Dock is also built for durability. The chassis is made of aluminium which also makes it light when you want to take it on the road with you.

Alternate option
There is an alternate version of the USB-C Dock when comparing to the version that I'm testing today. I got the one with an HDMI connector in the office, but there's also a version with a mini DisplayPort. That is the only difference between the two versions of the docking station. Both offer a maximum resolution of 4K/30Hz.

Feature Highlights
10-port docking station with USB Type-C uplink
80W power delivery and 60W charging capability
Four USB 3.1 Type-A and One Type-C device ports
Gigabit Ethernet
4K monitor support
SD Card reader
Package and Accessories
The packaging is easily recognisable as an OWC product. The front features an image of the device along with the main feature highlights.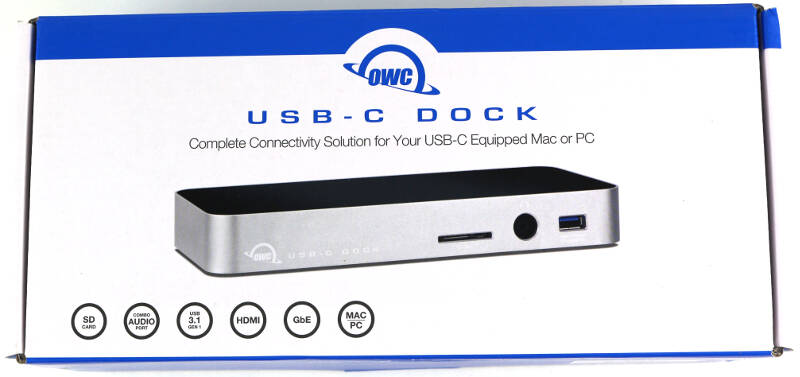 The rear side has details of the ten connection possibilities that the OWC USB-C Dock offers.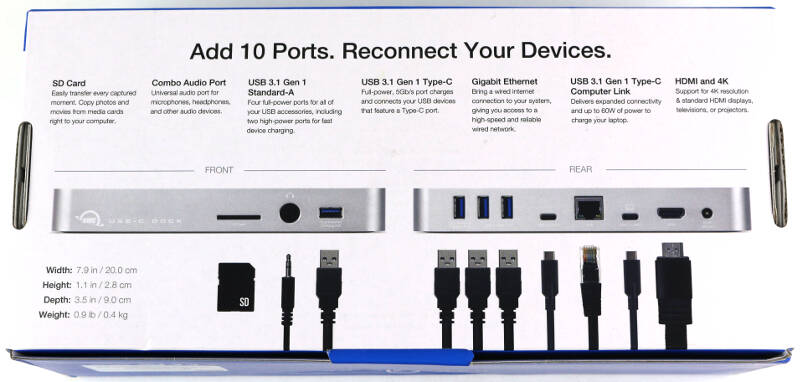 The specifications are further elaborated on the side of the package.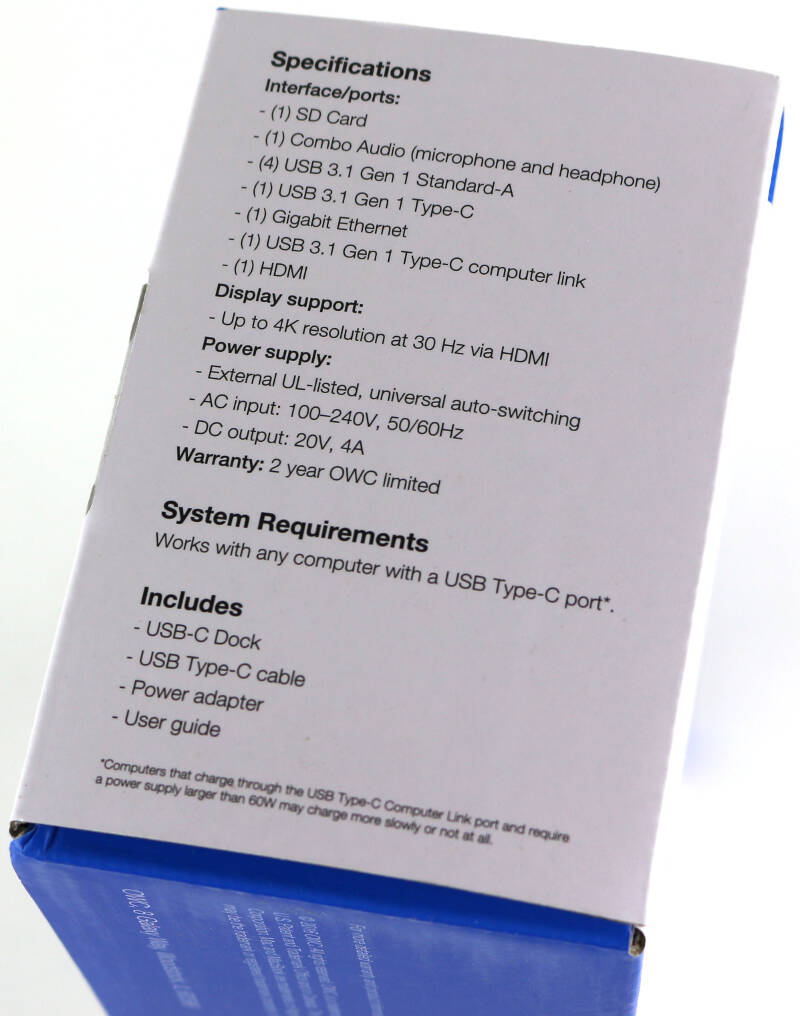 Inside is a power supply and a cable fitting your region, a USB Type-C to Type-C connector cable, and a quick start guide. The docking station itself is naturally also included.