Palit GameRock Premium GTX 1080 Graphics Card Review
---
---
---
John Williamson / 7 years ago
Introduction
---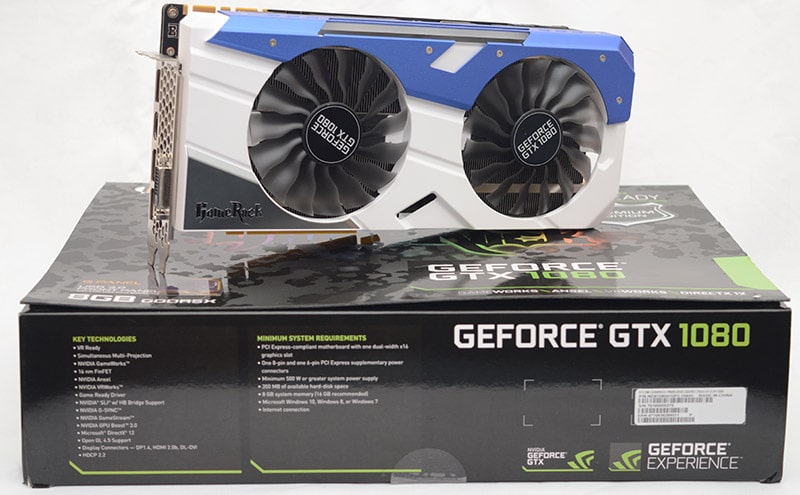 Not so long ago, we reviewed the Palit GameRock Premium GTX 1070  and applauded its astonishing factory overclock which resulted in marvellous performance numbers. The company's stringent selection of chips capable of running such a potent specification allowed the product to flourish and exhibited a noticeable frame-rate boost compared to the Founders Edition. Even more impressive, Palit's flagship version of the GTX 1070 defeated the ASUS STRIX GAMING GTX 1070 OC while being significantly cheaper. Honestly, the price point caused some bemusement given the advantage over premium GTX 1070 cards and reliable cooling solution.
After this strong showing, expectations are high for the Palit GameRock Premium GTX 1080 which features a 1746MHz base clock, 1885MHz boost and 10,500MHz memory speed thanks to the advent of GDDR5X. Additionally, the graphics card takes up 3 slots due to the gargantuan cooler so it's important to check your setup can accommodate it without any clearance issues. On another note, the product requires a 6-pin and 8-pin PCI-E connector. Overall, the Palit GameRock Premium GTX 1080 appears to be the complete package and retails for a pretty decent price of £629.99. While this is a serious investment, it's cheaper than I expected when you take into account the extraordinary factory overclock. Is this the best GTX 1080 model thus far or is the price too good to be true?
Specifications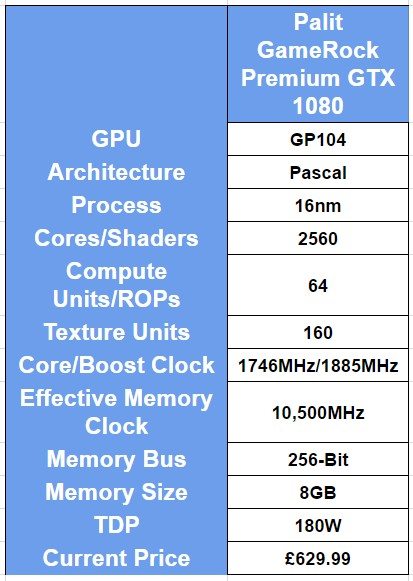 Packing and Accessories
The graphics card arrives in a really stylish box featuring the colourful GameRock logo which pays homage to the Guitar Hero series. Additionally, the background print reflects the light in an attractive manner and draws you into the product. The front also contains information about the included G Panel, memory frame-buffer and innovative Pascal features.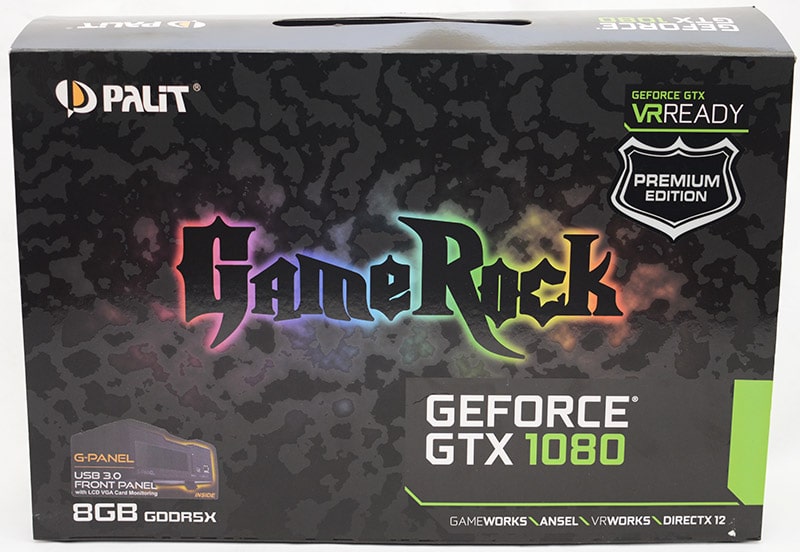 On the rear section, there's a detailed look at the GPU's VR capabilities as well as an explanation of NVIDIA's latest architecture.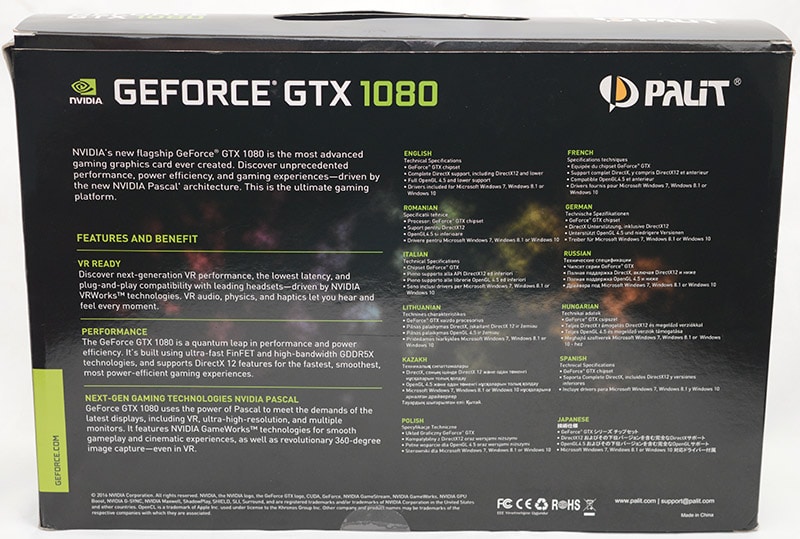 Once the box's flap has been removed, information regarding the cooling solution, power delivery and RGB lighting is displayed.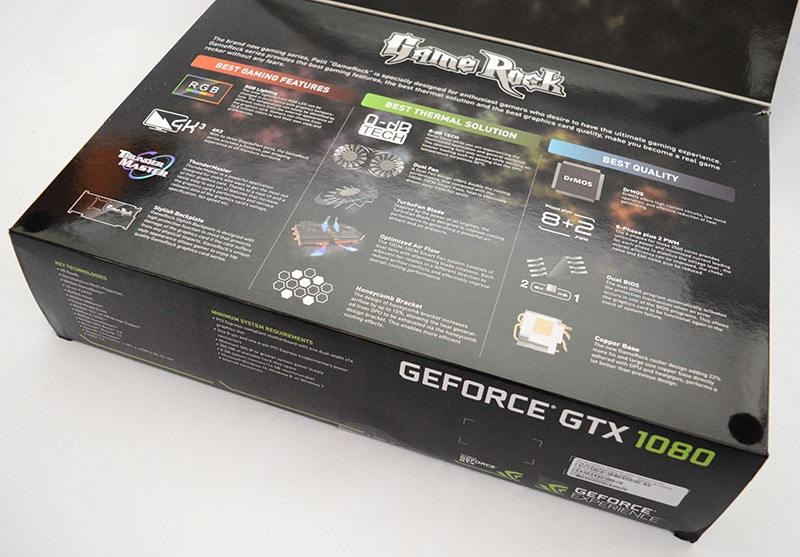 In terms of accessories, the graphics card is bundled with a quick installation guide, G Panel instructions, driver/software disk, PCI-E adapter, USB 3.0 header cable and G-Panel. The G-Panel can be installed in your chassis' front bay or positioned on a desk using the integrated plastic feet. This device provides real-time data on the graphics card's BIOS version, temperatures and much more. Please note, the G-Panel cannot work independently and still requires Palit's overclocking software to be installed.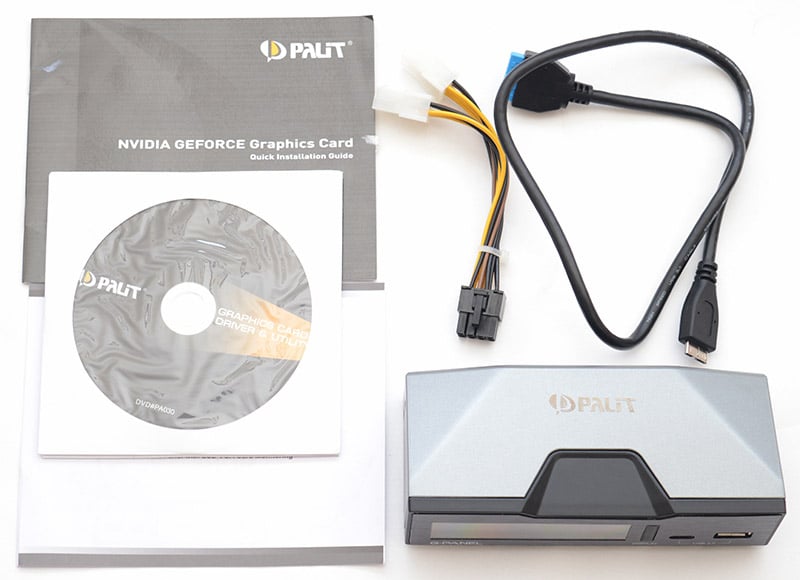 To configure the device, simply connect an SATA power cable and enable the G-Panel using the ThunderMaster software. If you wish to take advantage of the front USB 3.0 ports, attach the appropriate cable from the unit to your motherboard's header.