PALIT RTX 3070 TI GAMEROCK 8GB OC Review
---
---
---
Ben Enos / 1 week ago
A Closer Look
So here it is in all its glory, the PALIT RTX 3070 Ti GameRock edition GPU! As you can see, the crystal type area covers the whole fan shroud and as we will see in a bit, is fully RGB backlit as well. As mentioned, this is either going to be a love it or hate it type of design, but with some RGB thrown in, it gives you plenty of customization options to have it match the rest of your build!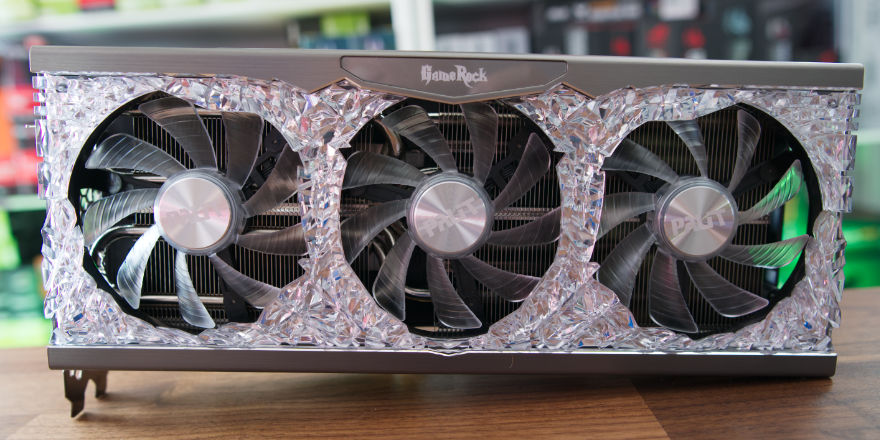 The RGB fun isn't over just yet! The GEFORCE RTX and GameRock logos are both lit with RGB LEDs when the card is powered on. We can see the heatsink from this side, which also means the heat will have more room to dissipate, hopefully keeping our card a bit cooler and allowing for maximum frames in our favourite games. This RTX 3070 Ti GameRock comes with two 8-pin power connectors, which are pretty much smack dab in the middle of the card. We have seen this on the previous 3080 model, but on the 3070 Ti, they have been moved slightly to the left. This could be a bit of a pain when it comes to cable management and is a bit of a weird one from Palit, but it is what it is.

The RTX 3070 Ti GameRock even has an almost hidden A-RGB header, allowing you to plug the GPU into the motherboards aRGB header and even daisy chain aRGB products together. This will allow you to more easily sync up all your aRGB goodness and make sure you are getting the effects and colours you want across all your components.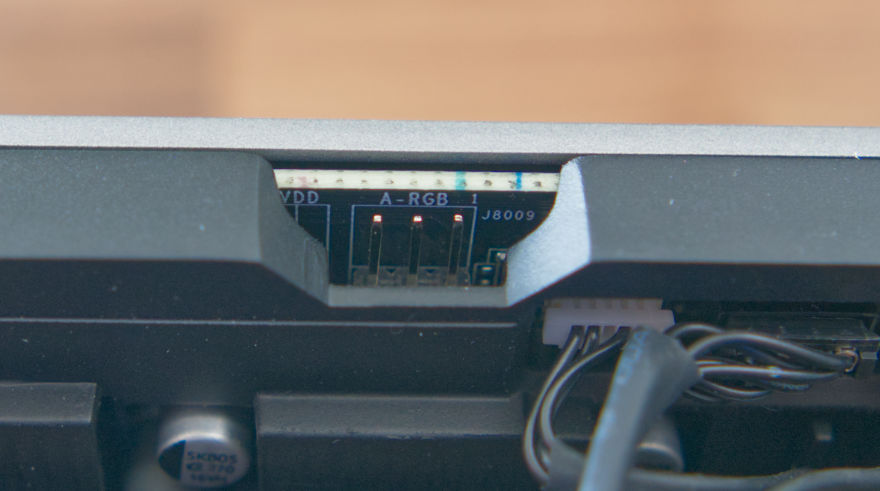 As mentioned the dual 8-pin power connectors are pretty much bang on in the middle of the GPU. This will likely frustrate some users when it comes time to manage their cables but there isn't a whole lot that can be done! Even on Palits 3080, the power connectors are more towards the middle of the card rather than the end.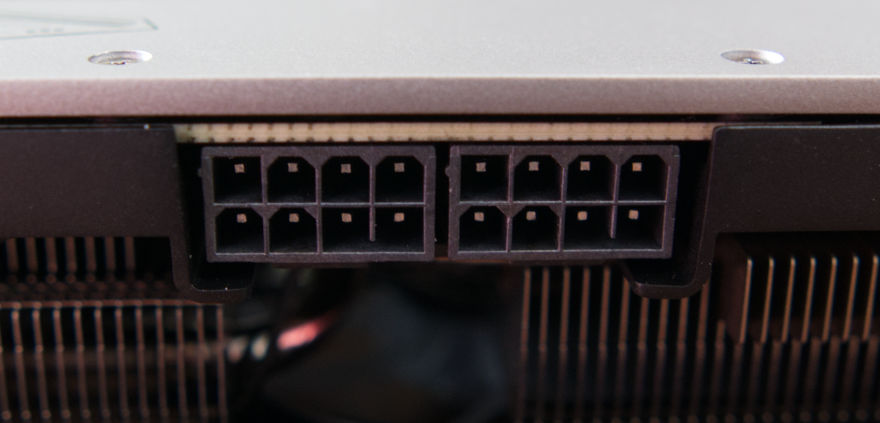 On the side that is going to face the motherboard, we have plenty more heatsink on show to make sure air is moving through this card as much as possible and dissipating the heat.

There is quite a bit going on with the backplate for the RTX 3070 Ti GameRock GPU. The thing I am most happy to see is the well-ventilated area towards the rear of the card. This funky kind of design is going to allow for more heat to dissipate through the card and not get stuck on the backplate. While some may argue that it doesn't look quite as nice as if the backplate was whole, it does give a small boost to cooling the GPU. Aside from this, we have a nice graphical image with the GameRock logo covering most of the rest of the backplate. I am not sure how I feel about the pair of stickers and FCC info that is printed on the backplate though. While I can appreciate a lot of this is a legal obligation to include, most other GPU manufacturers find a way to do it without including it on the backplate itself. I'm not going to be overly picky on it but it does kind of ruin things just a tad!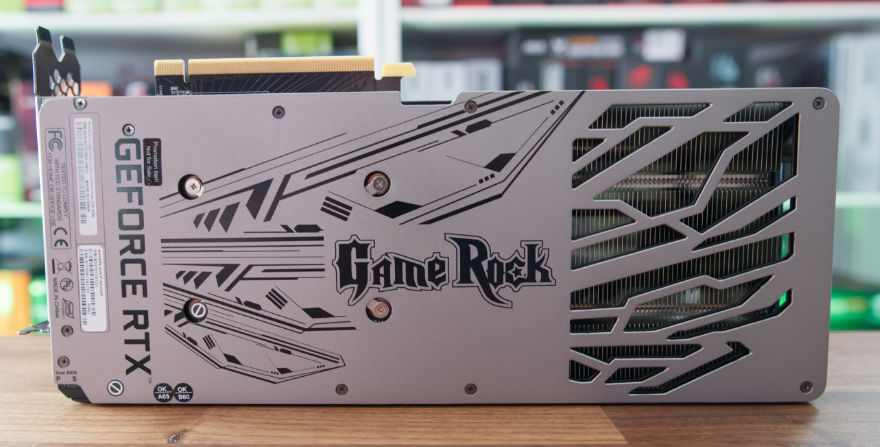 Performance of silence, what is your pleasure? Either way, Palit has you covered on their RTX 3070 Ti GameRock GPU. Simply switch between the (P)erformance and (S)ilence modes with a flip of a switch! They couldn't have made this any easier for the end-user.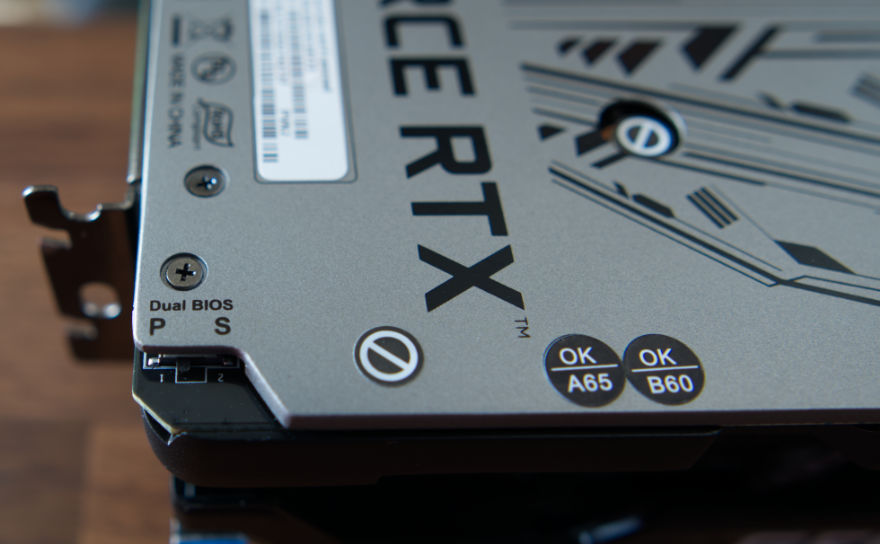 For display inputs, we have three DisplayPorts and a single HDMI port. This is going to be enough for most users and will allow you to run multiple monitors off of a single GPU. Yes, I know, nothing new there but still nice to see! However, sometimes it would be nice to see a pair of HDMI inputs instead of just the one for those who want to run dual HDMI monitors without having to get a DisplayPort adapter or cable.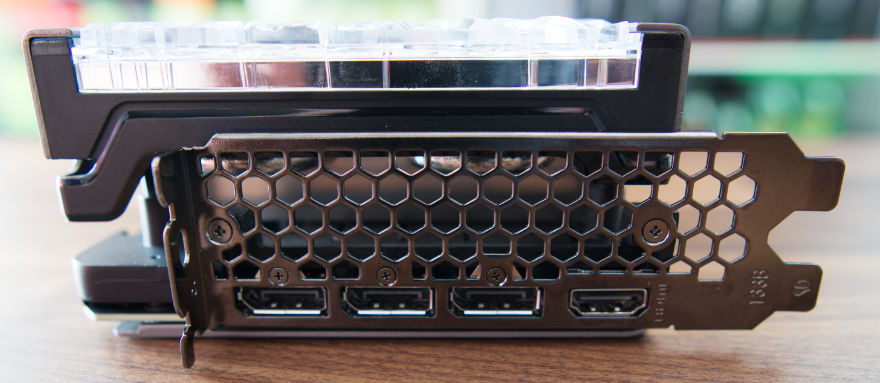 On the backside of the GPU and Palit has once again made sure that no hot air is going to get trapped inside this card. As you can see, the heatsink is quite visible and should allow for the heat to dissipate with the airflow inside your case. I know this may seem like a small and almost pointless detail, but when you add this with the ventilated backplate, it is sometimes multiple small things that add up to make a big difference. After all, we want to try and keep our GPUs as cool as possible so we can get the most performance from them!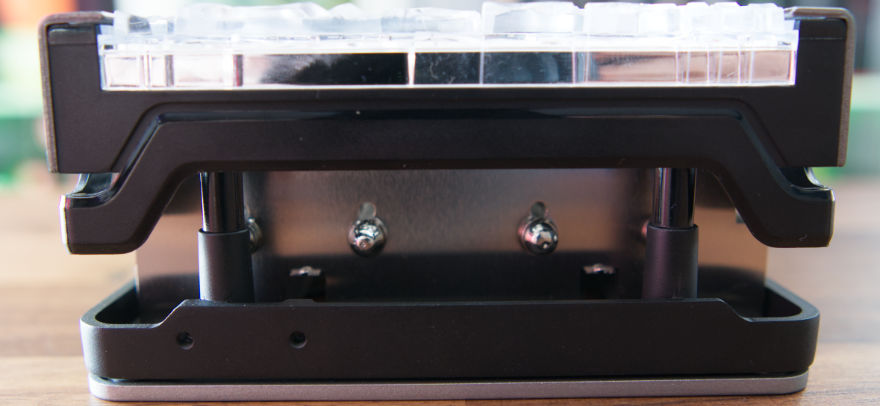 RGB
As mentioned, the RTX 3070 Ti GameRock has a massive amount of RGB on it and is probably one of the most RGB covered GPUs we have ever seen. While this won't be for everyone, there is no denying that it makes a statement and is rather unique in its own rights! I quite like it and would happily add one of these to the light show inside my PC without hesitation!