Patriot Fuel+ 9000mAh Mobile Rechargeable Battery Review
---
---
---
Robbie Khan / 10 years ago
Introduction
---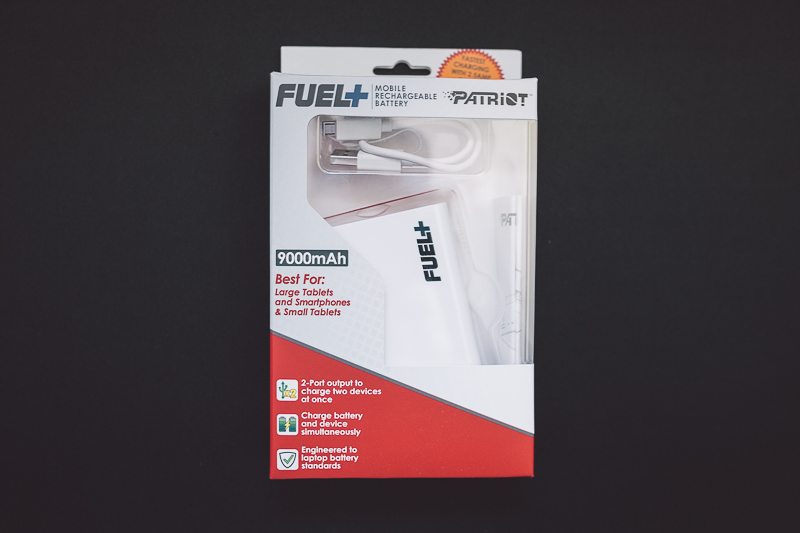 We find ourselves busy every moment of our lives. There's not enough time to do all the things we want or even need to do and charging our portable devices is one of those things as that leaves us with the inconvenience of being tethered by a cable and a power source. With smartphones getting faster and coming with bigger screens, the need for a larger battery is ever growing and while some manufacturers have started putting high capacity batteries in their devices, others have not in order to keep costs down. Either way, most of us are left reaching the end of the day with a phone or tablet that will not turn on.
Whatever the reason though, we have all no doubt found ourselves in need of just that extra bit of juice, and left without a power outlet near by to charge with. In comes the Patriot Fuel+ Rechargeable Battery, a battery pack with a USB port on it that can run and charge your devices on the go!
Patriot are famous for their memory and flash based products, but they also have a strong line of accessories like the Fuel+ and today we are going to be taking a look at the 9000mAh model. The Fuel+ is intended to be a simple and easy to use product, it's designed to do one thing and one thing well and that's to charge up to 2 devices at will.
So let's take a closer look and see if the Fuel+ can live up to the Patriot reputation.
Specs on the back of the box tell us that the Fuel+ contains a 9000mAh battery which is capable of charging a smartphone like the Samsung Galaxy Note 3 twice over with some capacity left for top up or another device, providing a 5v 2.5A port and a 5V 1A port, the first would be more suitable for tablets, the 1A more suitable for most smartphones.