PC Specialist Vortex 440 System Review
---
---
---
Ryan Martin / 9 years ago
Introduction
---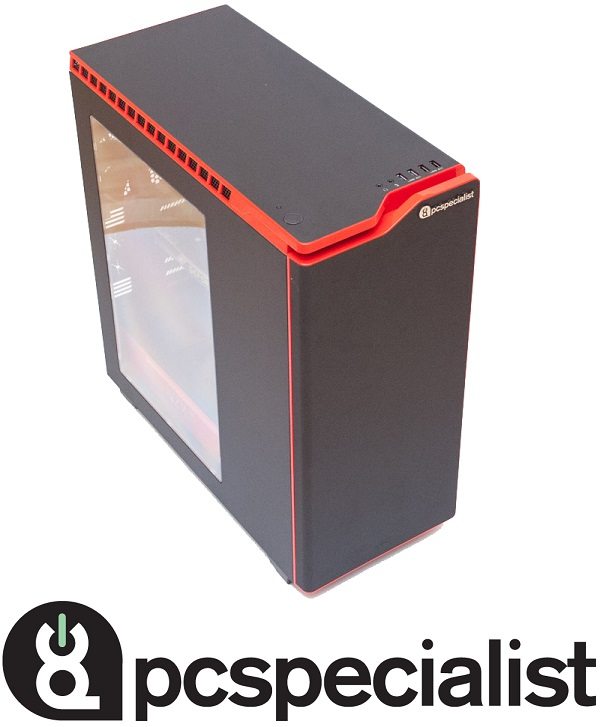 It has been an exciting few months for PC enthusiasts. We've seen the arrival of Intel's new flagship Haswell-E CPUs, high-performance DDR4 memory and Nvidia's Maxwell GTX 980. Those three things combined have the potential to produce one hell of a system and that's exactly what we have on our hands today with PC Specialist's Vortex 440. The basis for this custom PC is Intel's X99 platform paired up with some truly enthusiast-grade Kingston 3000MHz DDR4 memory, Intel's six-core i7 5820K with a hefty overclock and Nvidia's flagship GTX 980 graphics card. NZXT's H440, which gives this system part of its name, keeps everything looking sleek and tidy. Corsair are in charge of power delivery with their new RM series 850W power supply, and cooling, with their tried-and-trusted H100i liquid CPU cooler. To appeal to gamers and speed-demons alike an SSD and HDD combination provides a good balance between system responsiveness and storage for games and other media. As you might expect the price you have to pay for all that hardware is fairly steep, £1599 to be exact, but as we'll see later on this is surprisingly good value for money and gives you a lot of performance.
Specifications
Name: PC Specialist Vortex 440
Case: NZXT H440 Mid-Tower Black/Red
Motherboard: ASUS X99-S ATX
Processor: Intel "Haswell-E" Core i7 5820K @ 4.375GHz OC
Processor Cooler: Corsair H100i 240mm all-in-one liquid cooler
System Memory: 16GB Kingston Hyper X Predator DDR4-3000MHz Quad Channel (4 x 4GB)
Main Boot Drive: 240GB Kingston HyperX 3K SSD
Additional Storage Drive(s): Toshiba 2TB 7200RPM HDD
Graphics card: Nvidia "Maxwell" GTX 980 4GB Maxwell
Power Supply: Corsair RM850 80 Plus Gold
Optical Drive: Not included
Wireless: Not included
Monitor: Not included
Peripherals: Not included
OS: Windows 8.1 64 Bit
Warranty: 3 Year Labour, 1 Year Parts and 1 Month Collect & Return (upgrades available)
Price: £1599 as configured
Packaging & Accessories
Packaging may be an after-thought to many buyers but the packaging a system integrator chooses is crucial to the end user experience. Bad packaging equals a broken PC – not something you want to be faced with when buying a new PC. With that said I am pleased to report that PC Specialist's Vortex 440 comes excellently packaged with soft cell foam and an adequately sized box.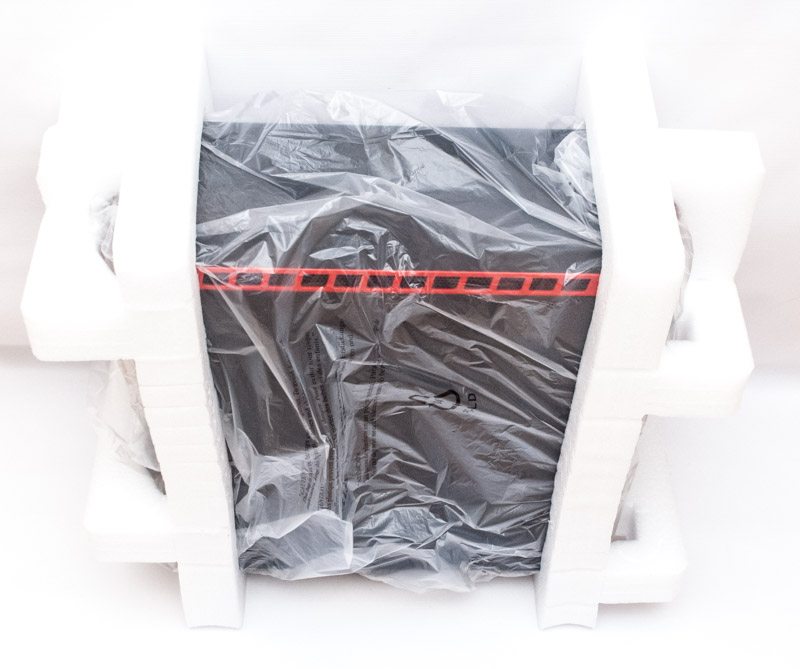 Inside the system expanding foam ensures that the internal components aren't dislodged during transit. In the past we have been sent a PC (from a system integrator I won't name) who learnt the hard way that internal expanding foam is essential. When the system arrived the graphics card had ripped the PCIe slot off the motherboard , killing both the motherboard and the graphics card in the process.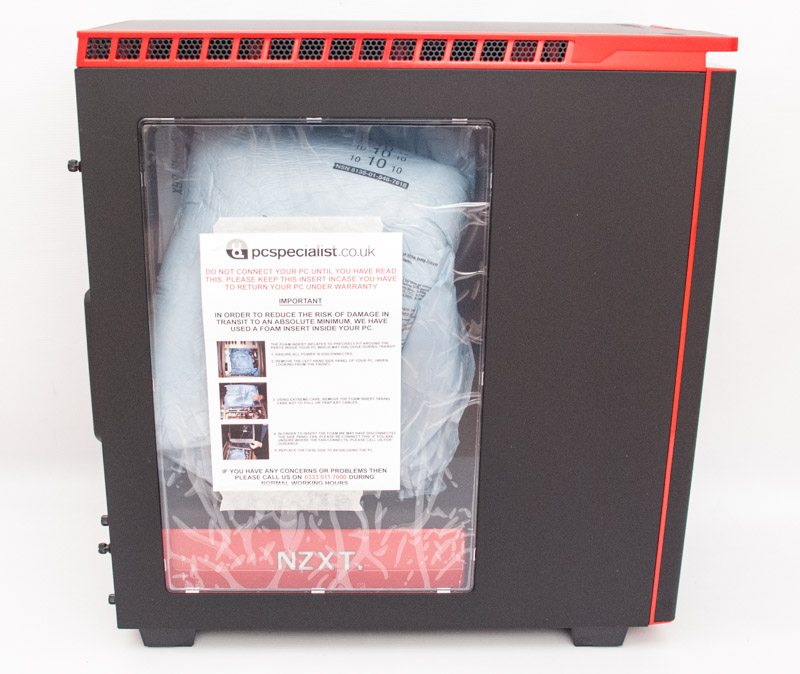 The accessory box includes all of the documentation and manuals for all of the system components as well as motherboard, graphics card and PSU accessories. To inform users about their purchase PC Specialist provide a guide with their systems.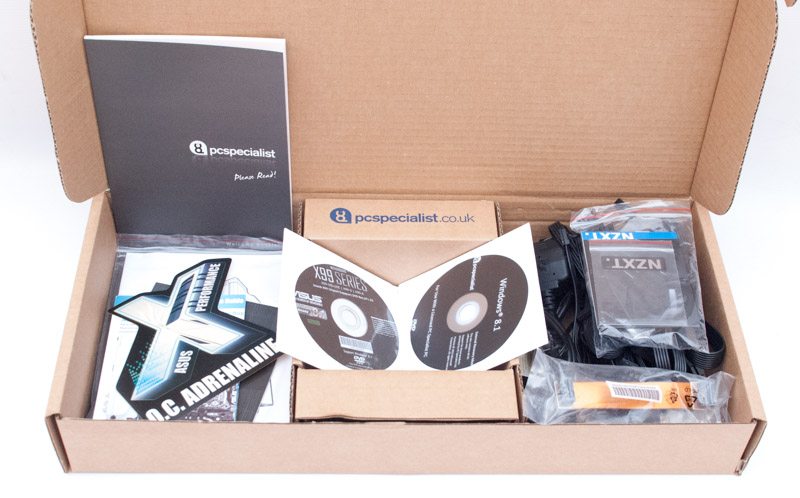 A Closer Look
The aesthetic characteristics of the Vortex 440 are dominated by the NZXT H440 which comes in red and black. PC Specialist put their own logo at the top of the front panel to give the case a bit of sneaky customisation.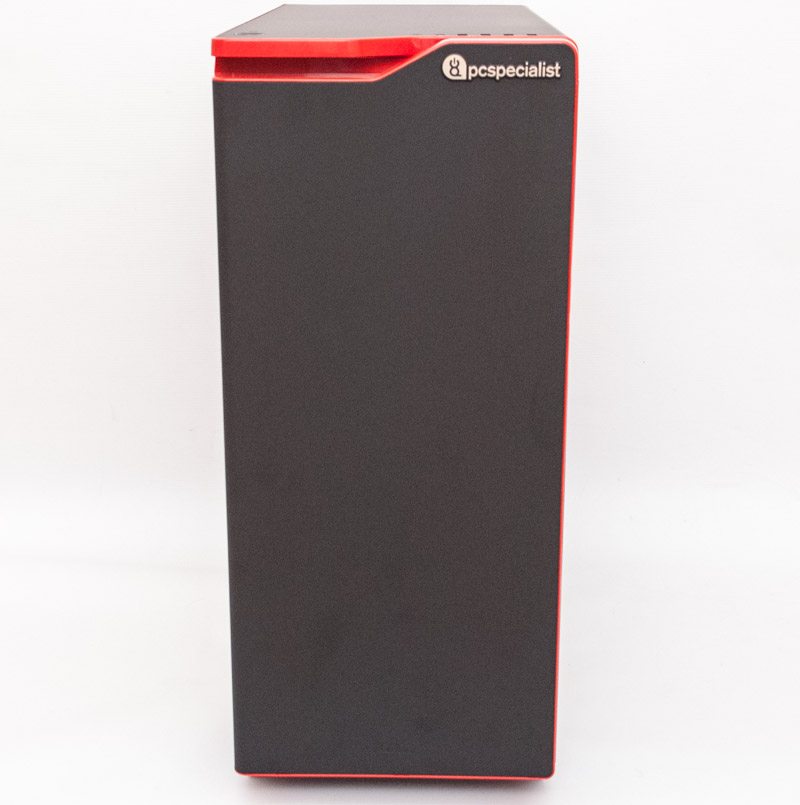 The entire case is coated in a soft-touch black, the top I/O offers dual USB 2.0 and 3.0, audio ports and power/reset buttons.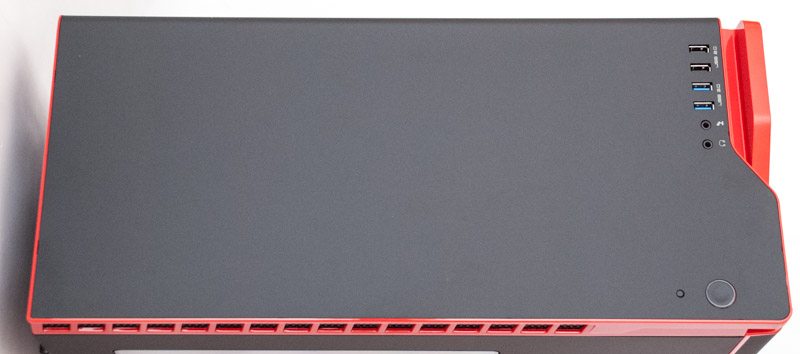 The side reveals a beautiful window showing off the internal components. One thing that I noticed was that PC Specialist use a white motherboard when the case is red and black – strange huh? Especially considering the default NZXT H440 comes in black and white – the same colour scheme as the ASUS X99-S motherboard used. Personally I would like to see PC Specialist ship the system with the white H440 or use a red motherboard instead.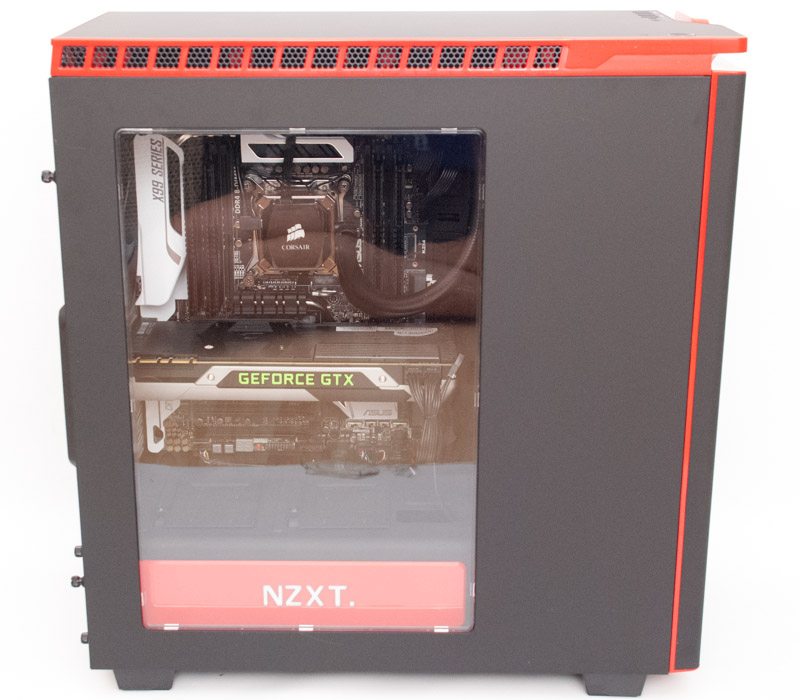 The back reveals the plentiful I/O of the ASUS X99-S and the Nvidia GTX 980. The rather large blank space on the rear I/O derives from the fact the ASUS X99-S is a cut-down version of the ASUS X99-A which has a WiFi antennae at that particular location.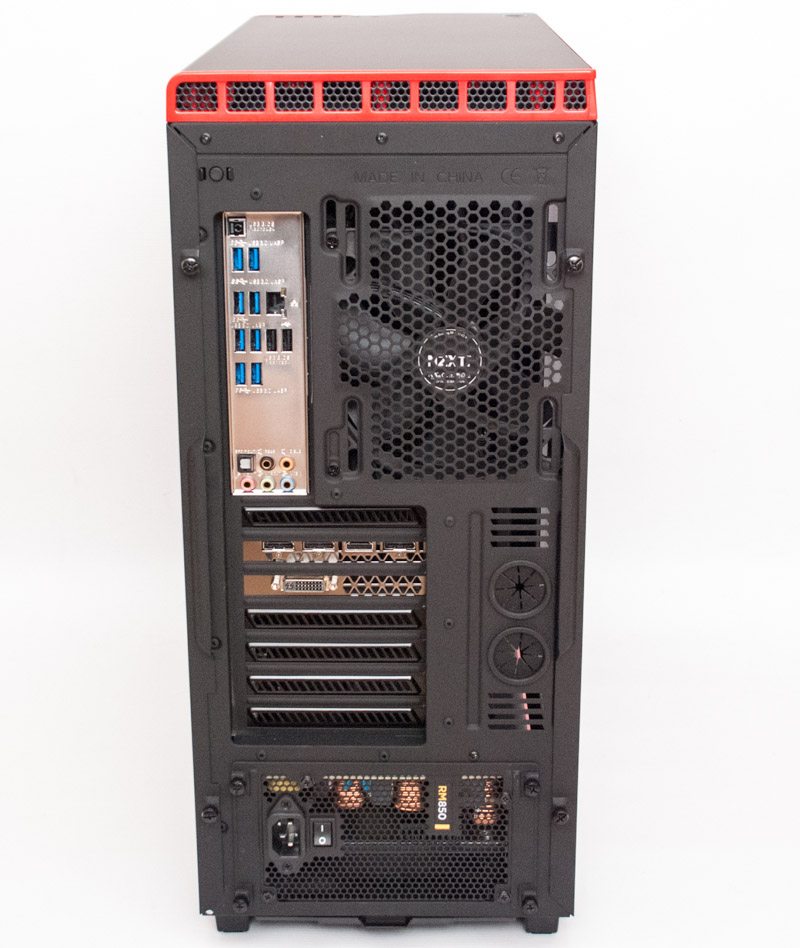 The obverse side of the case is plain black lined with the red trim and some ventilation for the front fans.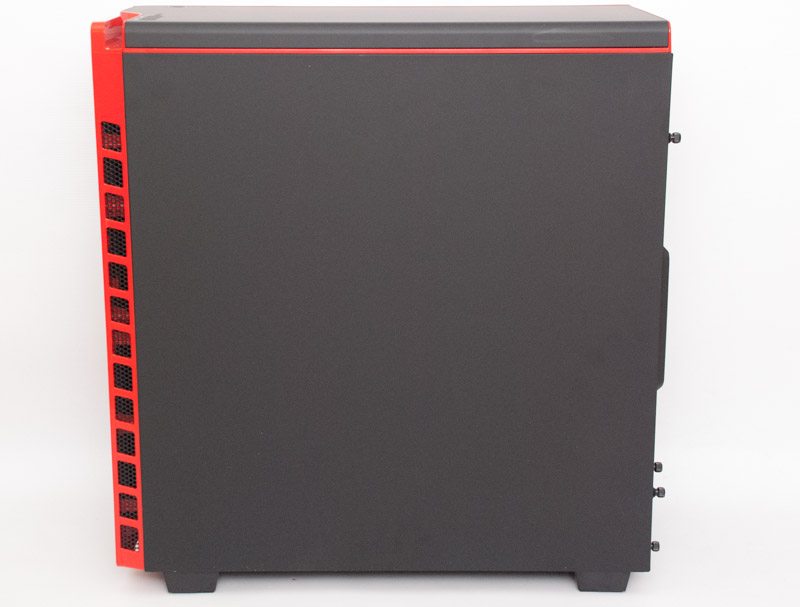 The bottom of the case helpfully uses four non-slip rubber feet and a removable dust filter for easy system maintenance. Despite being one of the cheapest parts of the build, the case is probably the most important for determining the user-experience.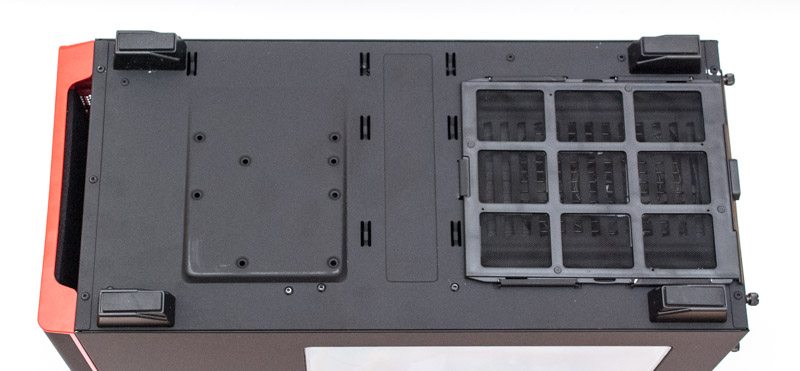 NZXT's H440 was praised for its ability to make tidy builds thanks to the bottom PSU shroud and the PC Specialist Vortex 440 makes great use of this. Corsair's RM850, which has all-black cables, and PC Specialist's exemplary cable-management job results in a tidy build.