World Exclusive! – PCIe Gen5 Graphics Card Power Connector Pictured!
---
---
---
Mike Sanders / 2 years ago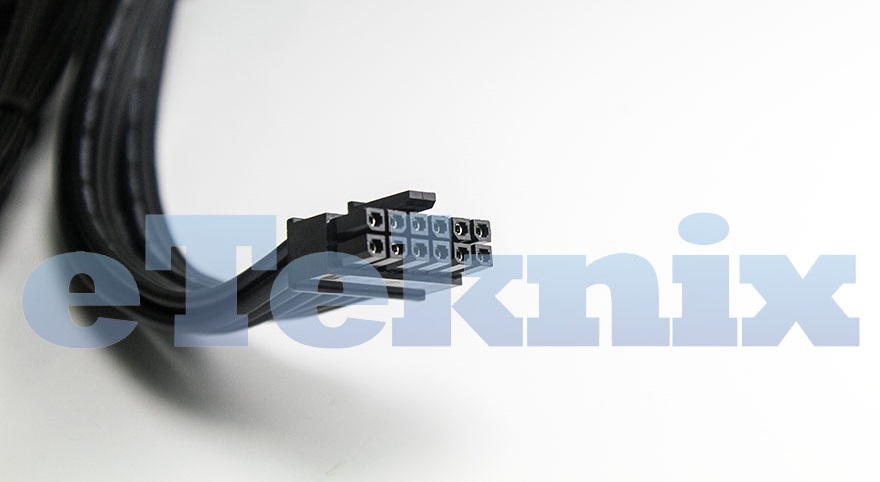 Editors Note
We are aware that there has been some confusion regarding this post and the possibility that the cable itself is an Nvidia Founders Edition cable (such as the one used on the 3080). Having spoken with ASUS, however, they seem to still confirm that this is a Gen5 PCIe cable. We are currently pending a few responses to queries raised by both ourselves and our community and will update this article accordingly.
The original article continues below.

Earlier this year it was confirmed that plans were in motion to see a brand new power connection cable introduced for the next generation of PCIe 5 graphics card releases. The key concept of it was to allow for a greater amount of power delivery while retaining a simpler and more compact interface. – Well, following the launch of the ASUS ROG THOR Platinum II series of power supplies, we have something very interesting here at eTeknix. Yes, in what may well represent a world exclusive, we've got this new 12-pin PCIe Gen5 power connector physically in our hands.
With this in mind, therefore, we simply couldn't resist sharing some pictures with you!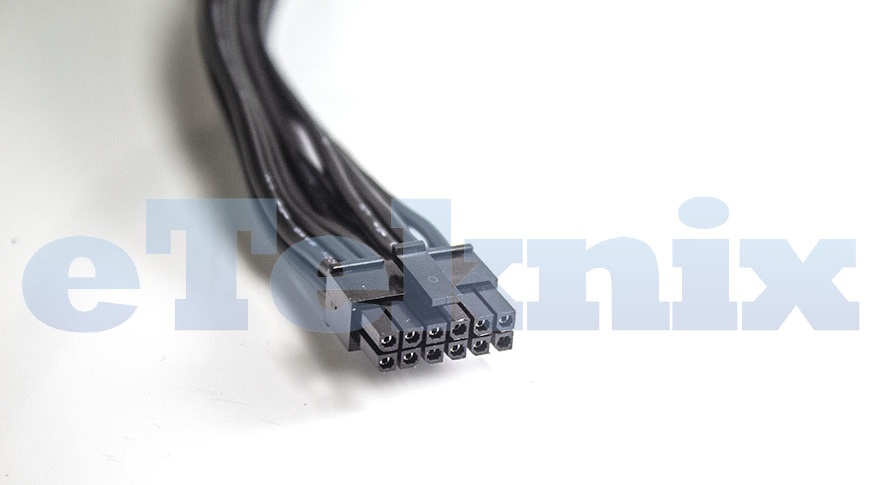 PCIe Gen5 Graphics Card Power Connector
We encountered this power connector while conducting our testing of the recently launched ASUS ROG THOR Platinum II (official website here). Although the written review for that power supply will be published in the next couple of days, we noted something more than a little unusual within the cabling. Something that, quite honestly, we didn't recognise at first. – Put simply, this would appear to be the first power supply that will actually provide consumers with the new next-gen PCIe Gen5 graphics card power adaptor straight out of the box!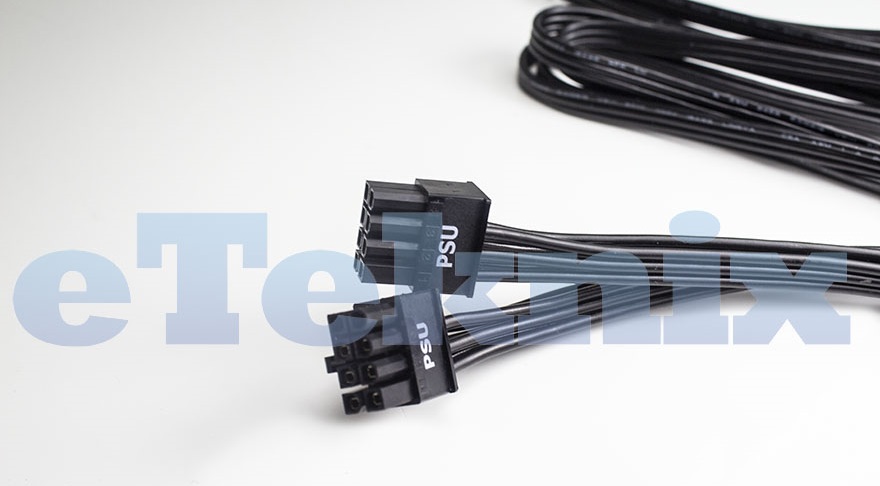 Allowing for power deliveries of potentially up to 660 watts (significantly higher than seen off the current standard 6+2 cable) the connector compensates for this by having two inputs that attach to the PSU. So, in other words, rather than the current situation where 1 power connector from the power supply may provide you with two PCIe connectors, this new system looks to provide you with the opposite. In a nutshell, this offers more power while keeping the cabling significantly simpler (and tidier too might we add).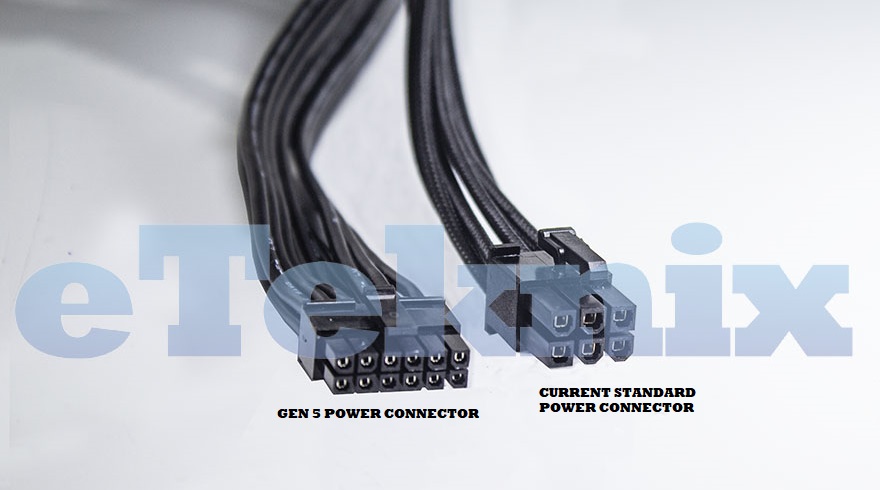 Surprisingly Small
One of the more interesting theories surrounding this new PCIe Gen5 cabling was that it was going to be notably smaller than the current power delivery cables. A design that would, by proxy, possibly allow for more efficient (and smaller) graphics card PCBs. We, therefore, took the picture above to try and emphasise that this is no longer a rumour, it's a categorical fact.
The new PCIe Gen5 cable is significantly thinner than what we currently have. – While the overall width will still be around the same (presuming you have a PSU that currently has 2 PCIe input cables), the height is, roughly speaking, about half of what we're used to.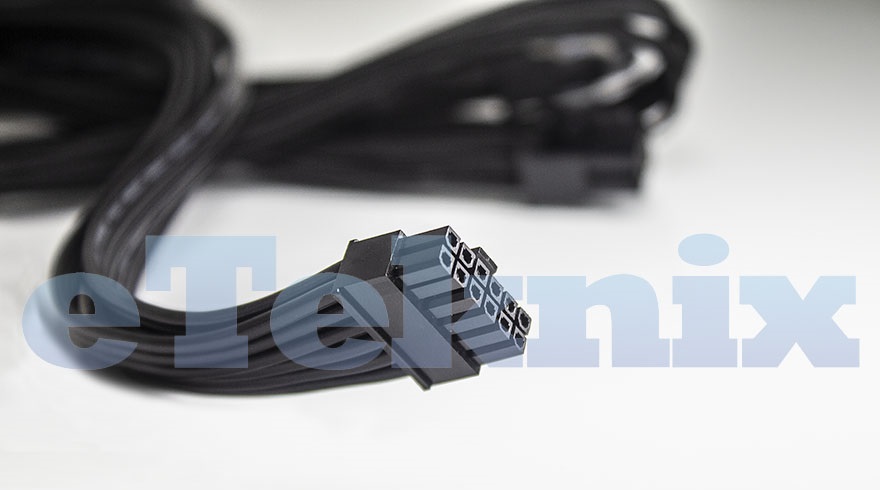 When Will This First Be Used?
Given that this power connector has been included in the ASUS ROG THOR Platinum II, one can fairly safely assume that there are plans in the very near future to introduce the first graphics card that will be looking to transition itself to this new cabling system. Of these, the most likely candidate is the Nvidia GeForce RTX 3090 Ti which is expected to be announced this January. With Nvidia possibly planning an entire refresh of its existing 30XX line-up, upping the VRAM capacity of all models, however, this might be the 'new standard' for pretty much all of their current-gen GPUs in the very near future!
On the whole, however, having now physically seen and held this new and upcoming PCIe Gen5 standard in GPU power cabling, it looks to be a huge improvement on what we've been used to over the last near 20 years. Yes, it may have taken a while, but this definitely looks to be both a solid evolutionary and revolutionary step forward!
What do you think? – Let us know in the comments!