Philips 436M6VBPAB 43″ HDR1000 Adaptive Sync Review
---
---
---
Peter Donnell / 5 years ago
---
Philips 436M6VBPAB
I've reviewed a lot of truly incredible monitors over the years here at eTeknix. However, it always seems to be Philips who crop up with some of the truly best examples in this market. I recently tested the exceptionally good 328P6 QHD HDR monitor, and that was swiftly followed by the even better 349X7 Ultrawide QHD Curved FreeSync. Of course, they say good things come in threes, so today we have the absolutely freaking massive 43″ model and it's got more features than you can shake a stick at.
43-Inch Monitor?
Let's not beat around the bush here, this is definitely into TV territory at this size. That's no accident either, as it's tuned to perform just as well with modern games consoles as it is with modern desktop gaming PCs. You definitely could place this in your living room as a TV, albeit it has no tuner, but with smart devices like FireTV, Shield, and Xbox, etc. Who needs a tuner these days anyway? Not me!
Features and Specifications
The extensive features and specifications are best left off this page for readability. However, you can check them out at the official Philips product page here.
What Philips Had to Say
"Quantum Dot Technology is an innovative semiconductor nanocrystal technology that precisely emits light to produce bluer blues, greener greens and redder reds. LCD monitors with Quantum Dot colour produce a more dynamic range of colours and show the true natural palette of colours in the picture. The result – vibrant, dynamic, see-it-to-believe-it colour." – Philips
All of the Buzzwords
When it comes to a new TV or monitor, there are several things I look for these days, and the 436M6 has every single one of them. I am, of course, talking about things like 4K resolution (2160 x 3840), HDR, FreeSync, 10-bit colour, low response time, and good contrast ratios. Unless you bought a high-end TV in the last 12 months, it's likely this monitor out spec's what's in your living room.
HDR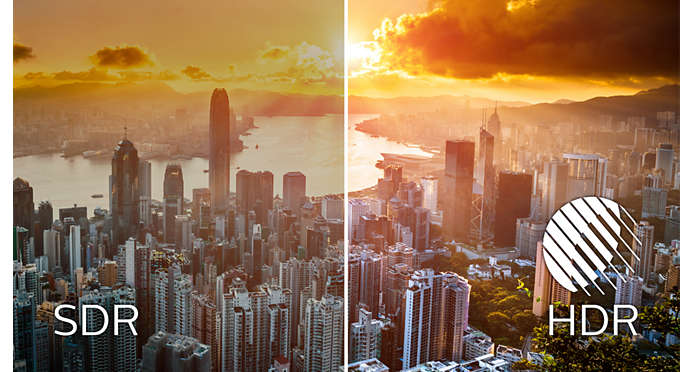 There are multiple HDR formats out there, but there's a key one that really stands out. It's the HDR Premium certification (UHDA). This is awarded to screens that can deliver 1000 nits of brightness, while still maintaining low black levels in any part of the screen. For sake of numbers being numbers, 1000 nits are pretty freaking bright. Your average SDR TV of the last decade would likely be around 200 nits. That means your HDR games and movies are going to look phenomenal on this monitor.
Colour or Color My American Readers
Again, no mucking about here, as the panel will run BT. 709 Coverage: 100%, DCI-P3 Coverage: 97.6%, NTSC 119% and sRGB 145%. That's a lot of colour, but with 1.07 colours on its 10-bit panel, that's hardly a shocker.
FreeSync / Adaptive Sync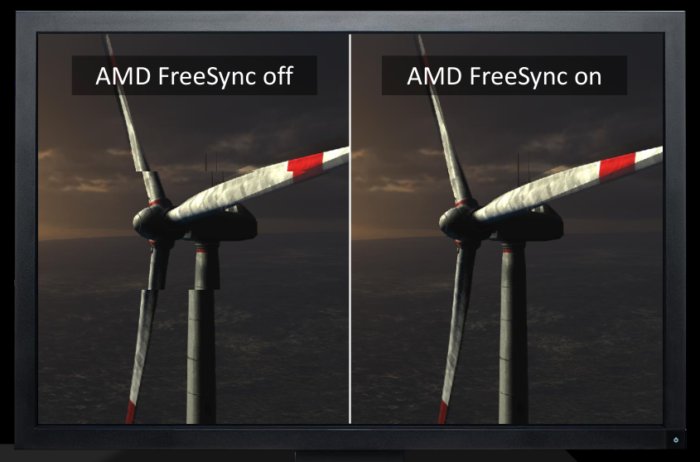 If you're running an AMD GPU, then you'll be able to reap this benefit. Sorry Nvidia folks, this isn't their proprietory G-Sync. The benefits here are two-fold though, as Xbox supports FreeSync and that means games like Halo and Forza will no longer have that dreaded screen tearing, woo-hoo!
Ambiglow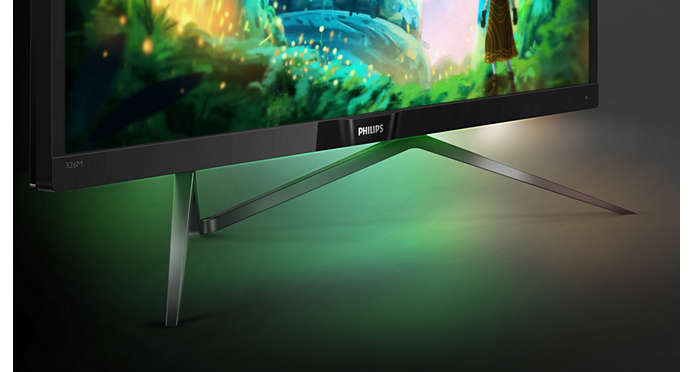 Philips are big on their smart lighting, so it's no shocker that their Ambiglow tech is included. The TV has underlighting that analyses the image on the screen, giving you an ambient lighting effect that expands the viewing experience.
What's in the Box
Everything you need is included, such as an HDMI cable, USB cable, DP, and power. However, there's also a USB Type-C to Type-C for using the display over Thunderbolt3, which is handy.