Philips Hue GU10 Starter Kit and B22 Colour Review
---
---
---
Peter Donnell / 5 years ago
Introduction
---

We've been having a lot of fun at eTeknix HQ over the last few weeks toying around with the world of IoT devices. We've played with smart plugs, home AI assistants, sensors and so much more! However, one of our favourite product ranges has been lighting, and we're ready to tackle the biggest name in the smart lighting market, Philips.
"Your personal wireless lighting that lets you easily control your light from your device and create the right ambience for your every moments. Meet the world's most connected light. It will change the way you use light."
In the office today we have their lovely Hue GU10 Starter Kit, which comes with the Philips Hue Hub, as well as 3 x GU10 RGBW spotlights. We also have 2 x B22 (Bayonet fitting) Hue bulbs which also offer RGBW lighting. With these we can create quite a lot of different lighting schemes throughout a single room, or even throughout the house.
There's a lot of products available in the range for those who want to expand their lighting setup too, from what we already have here, to light strips, lamps, sensors and more! Of course, Philips being such a huge company, they offer support for Alexa, Home, Apple HomeKit, IFTTT, Yonomi, Harmony and more straight out of the box.
Both units use a very small amount of power, especially when compared to traditional GU10 halogen bulbs! The GU10 starter kit is great, but keep in mind you can get Edison and Bayonet fitting kits if they're better suited to your needs. The GU10 offer dimming, a range of whites up to 6500K and 16 million colours RGB.
The larger B22 and E27 comes with the same specifications, and nibble away at just 9W of power, while also offering the 16 million colours, 25,000 Hrs lamp life, and more that we've come to expect from the Hue range, very impressive.
Packaging and Accessories
The Hue Starter Kit comes in a compact box, showing off details like the box contents and the RGB and white lighting capabilities with those colour slider illustrations on the front. The Hue B22 bulbs offer similar details, as well as icons showing that they can be paired with other apps for music and movies features, timers, and much more.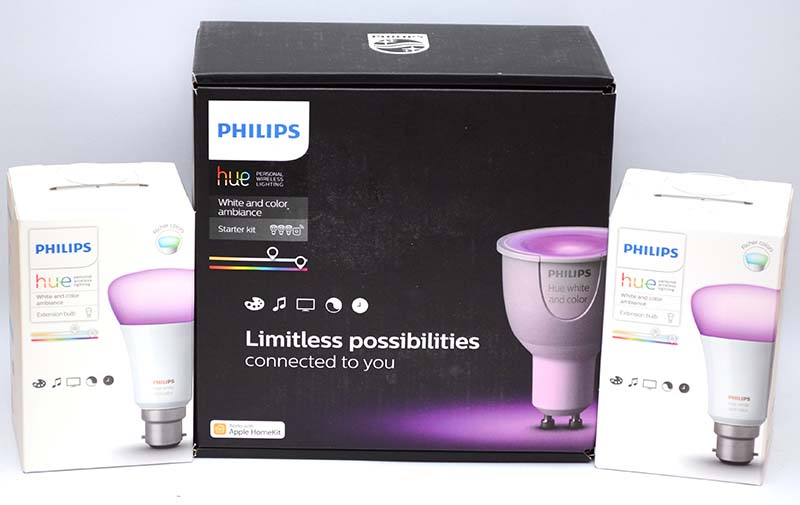 Around the back, a few lovely illustrations showing the kind of colour ranges on offer, as well as a few demo scenarios of the kinds of places these bulbs can be placed and how they can enhance a living space.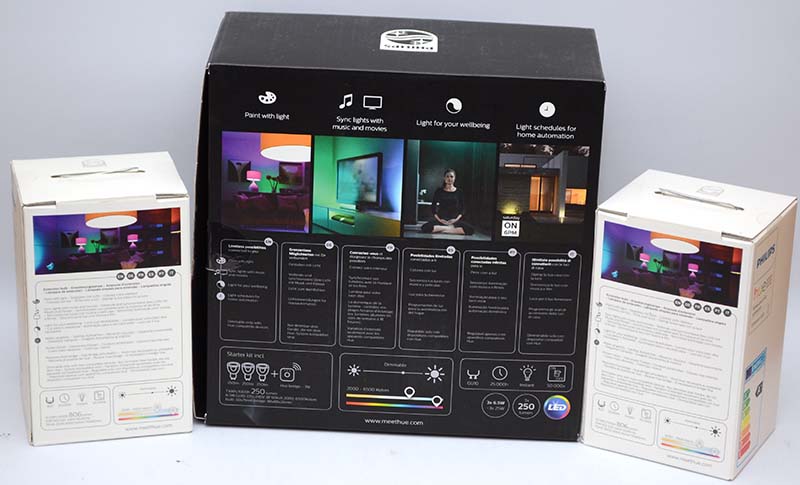 Inside the Starter Pack, you'll find the hub and three GU10 bulbs neatly boxed away in protective packaging, with the cables tucked away underneath.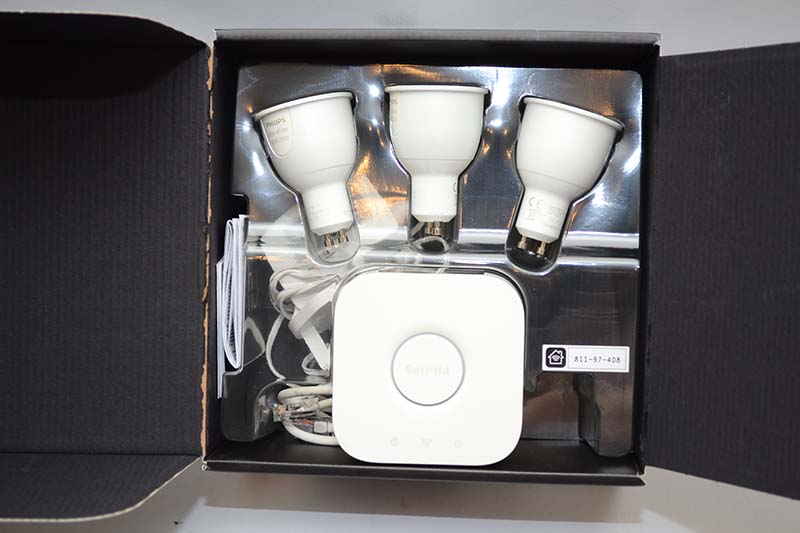 There's a mains power adaptor and a short RJ45 networking cable, as the hub does need to be wired into your home network to operate.