Phison Readies High-Performance E12 Controller
---
---
---
Bohs Hansen / 6 years ago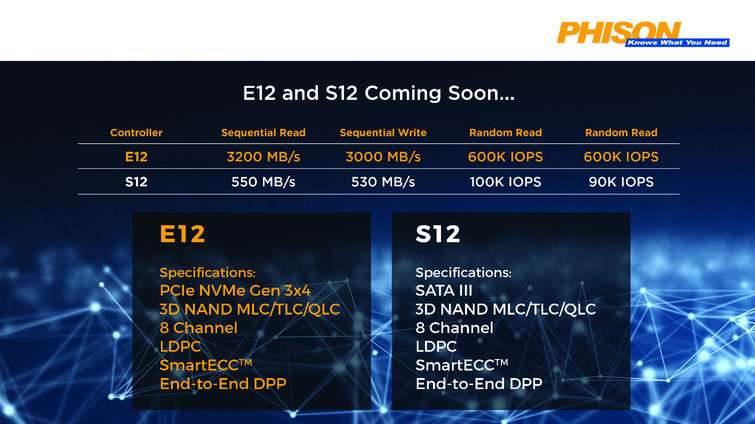 Phison is also readying a high-performance E12 controller besides the entry-level E8 controller of which we posted earlier today. The new Phison E12 is targeted at enthusiasts with performance capabilities up to 3200MB/s and 600K IOPS.
E12, A New Flagship NVMe Controller
The E12 NVMe controller will definitely become Phison's new flagship controller. It will allow SSD manufacturers to create drives with up to 3200MB/s sequential read performance and 3000MB/s write performance. Both the random read and write operations can go as high as 600K IOPS. That's impressive and I'm sure those are figures that our readers like to see. To achieve those speeds, the controller utilises the full NVMe PCIe x4 interface.
While those speeds are mouth watering, we need to keep in mind that those are the controller's capabilities. It will still depend on the implementation, the choice of NAND, and the custom firmware.
Legacy S12 SATA3 Controller
NVMe drives are amazing, but they aren't the go-to drive for everyone. For once, they are more expensive than traditional 2.5-inch SATA3 SSDs. SATA3 drives also have a larger compatibility with legacy systems that don't feature PCIe M.2 slots yet. Phison has a new controller for this market too, the S12. As such, there isn't a lot to say about it, as it is what it is: a SATA3 controller. We get 550/530MB/s throughput with support for 3D MLC/TLC/QLC NAND.
Availability
There has not been an official statement towards the release of the controller nor drives built with it. My guess would be that we see the first presentations at CES 2018 and release dates shortly after.