Pioneer Unveils the BDR-211UBK Blu-ray XL Writer
---
---
---
Bohs Hansen / 6 years ago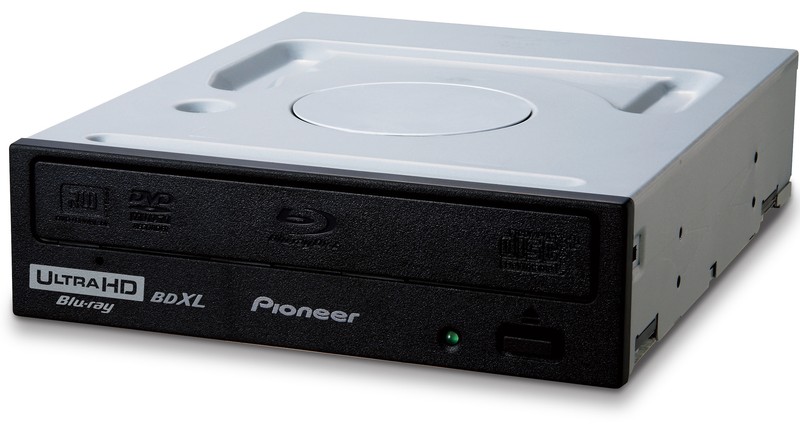 Pioneer unveiled its new internal UHD Blu-ray drive which comes withUltra HD Blu-ray playback support as well as BD/DVD/CD writing. While most people don't bother with an optical drive in their systems these days, being able to play and burn all sort of Blu-ray drives might change that. The BDR-21UBK also comes with a very reasonable price of just $129.99.
The new BDR-211UBK supports Ultra HD Blu-ray playback using the bundled CyberLink PowerDVD14 software, but there's a little catch. For the DRM to work, the OS has to be Windows 10 and it also looks like it requires a Kaby Lake CPU.
Supported burning speeds are up to 16x for BD-R single-layer discs, 14x for dual-layer discs, and 8x for triple-layer discs. The drive also supports quadruple layer (QL) discs with up to 128GB capacity, but the company didn't disclose the performance of those discs. Region codes are still a thing for optical mediums, and the BDR-211UBK allows users to change the region of the drive up to five times.
There is a list of further features that should aid with smoother playback, even on dirty or damaged discs, as well as decreased noise levels during playback.
QuickPlay – BD-ROM and DVD-ROM discs are ready quickly after insertion.
PowerRead – Through its PowerRead feature, the BDR-211UBK provides smoother movie playback when a disc is marked with fingerprints or has minor surface scratches. When the drive is not able to read through these obstructed areas of a disc, it will quickly move forward to the next available data point, resulting in smoother Blu-ray and DVD movie playback.
Auto Quiet Mode – The drive monitors how it is being used and will adjust its disc rotation speed automatically, using a quieter mode (slower speed) when watching Blu-ray and DVD titles or listening to conventional audio CDs.
PureRead3 – Clicking or popping sounds that might normally occur due to minor scratches and fingerprints on CDs can be prevented on some discs with the drive's PureRead3 technology, which allows the drive to adjust its optical playback settings dynamically through the use of a unique algorithm.5
Peak power Reducer – This power saving mode enables the drive to suppress power consumption at peak operation. It keeps a stable operation in case of a drop in the power supply.