Plextor EX1 128GB Portable USB-C SSD Review
---
---
---
Bohs Hansen / 5 years ago
Introduction
---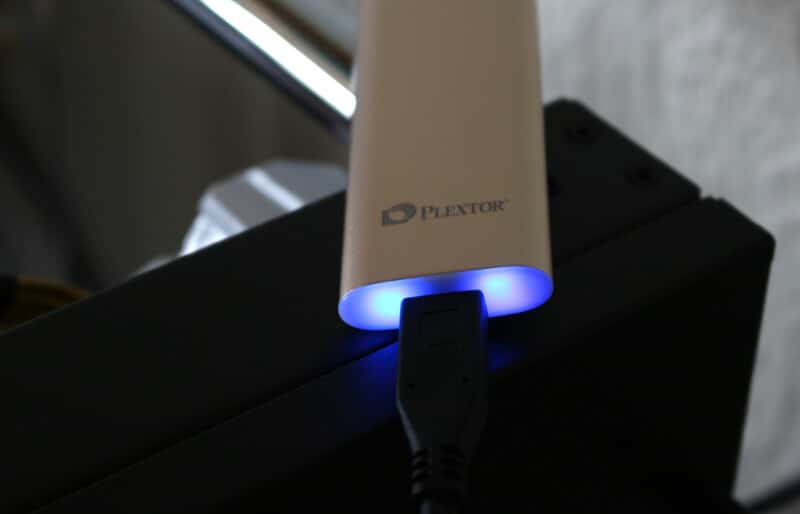 Plextor hasn't just embraced the new generation of storage drives when it comes to internal drives, they have equally embraced the latest generation of external drives with their new EX1 portable SSD. The Plextor EX1 portable SSD utilizes USB Type-C Gen.2 which is capable of up to 10 Gbps transfer speeds and today I'm taking a closer look at the 128GB version of this drive.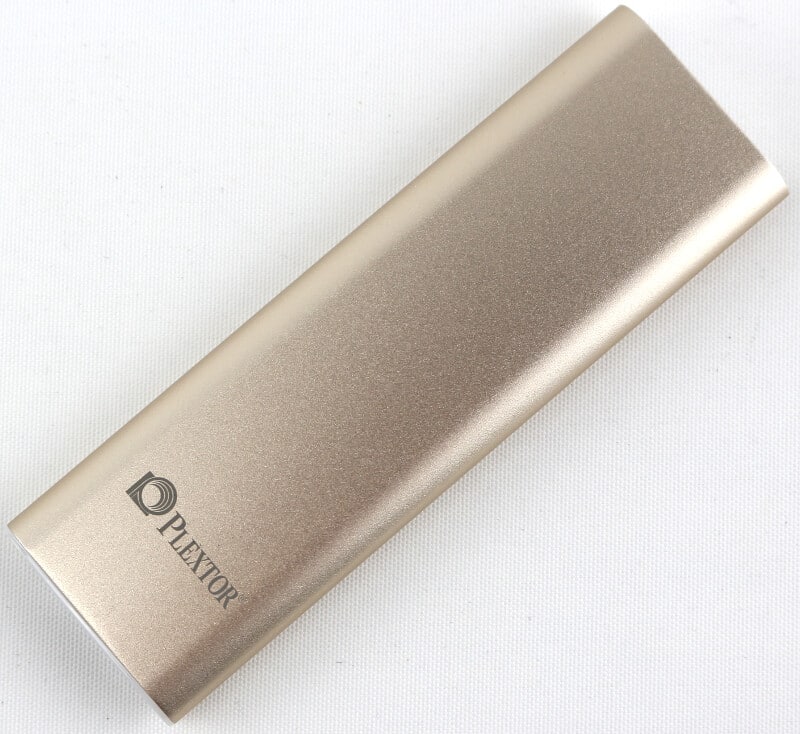 We already had a brief look at this amazing little drive during our visit to Computex earlier this year where the drive was running live benchmarks, and we liked what we saw. I already expressed my excitement back then and today I finally get to take this drive for a test spin of my own. Besides the 128GB model that I'm taking a closer look at today, the Plextor EX1 portable SSD is also available in a 256GB and a 512GB version.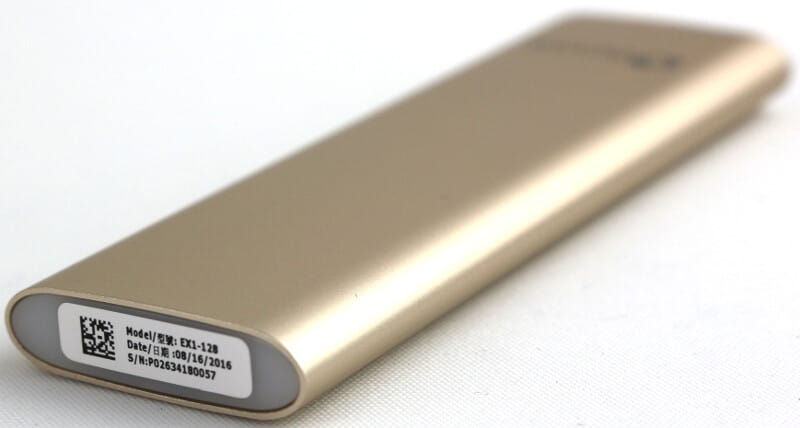 This tiny and portable SSD drive isn't much bigger than a lighter and only weighs 30grams. That truly isn't a lot and the dimensions of just 101.2 x 31.6 x 8.7 mm are just as impressive as the weight. While it uses the latest generation of USB connection that is capable of up to 10 Gbps throughput, the drive itself isn't that fast. But still, with its rating of up to 550MB/s at read operations and 500MB/s write operations, it easily rivals internal drives in the sequential performance and beats quite a few of them too. And it does that with its small size which makes it even more impressive.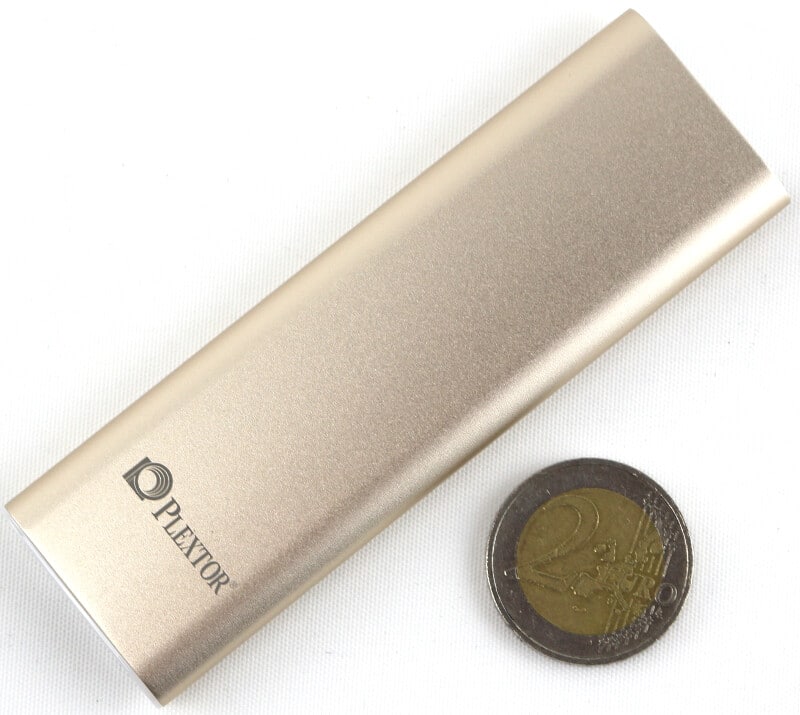 On the outside it uses the USB Type-C Gen.2 connection and comes with a type-C to type-A connector cable, internally it uses a VIA VL716 bridge controller to transform the connection from SATA to USB. You can naturally also get yourself a type-C to Type-C connector cable and use this drive on devices with that kind of port, such as modern mobile phones, laptops, and tablets.
On the inside, it is actually one of Plextor's other drives, the M7VG SSD which features the Marvell Dean Controller and Toshiba 15nm TLC NAND. Thanks to the VIA bridge controller, that drive is now one of the most impressive external USB drives that I've seen to date.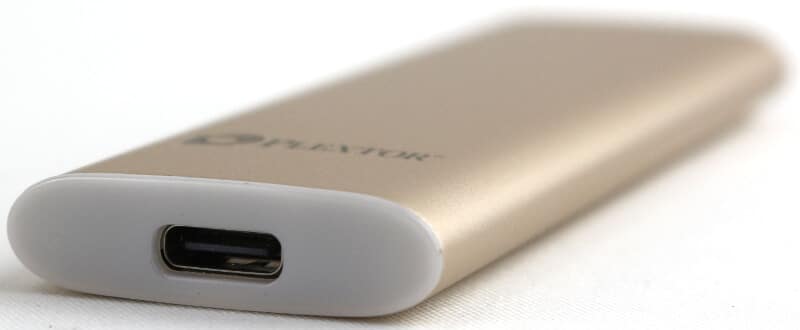 The drive is compatible with Windows OS, Linux OS, Mac OS, and Android-based systems which makes it compatible with pretty much everything. This is one of the great things about USB and its natural plug-and-play capabilities. Plextor backs the drive with a 5-year warranty which on its own is impressive, but even more so for an external drive. More often than not, we see lower warranties on external than internal drives, which just goes to show how much faith the company has in this drive.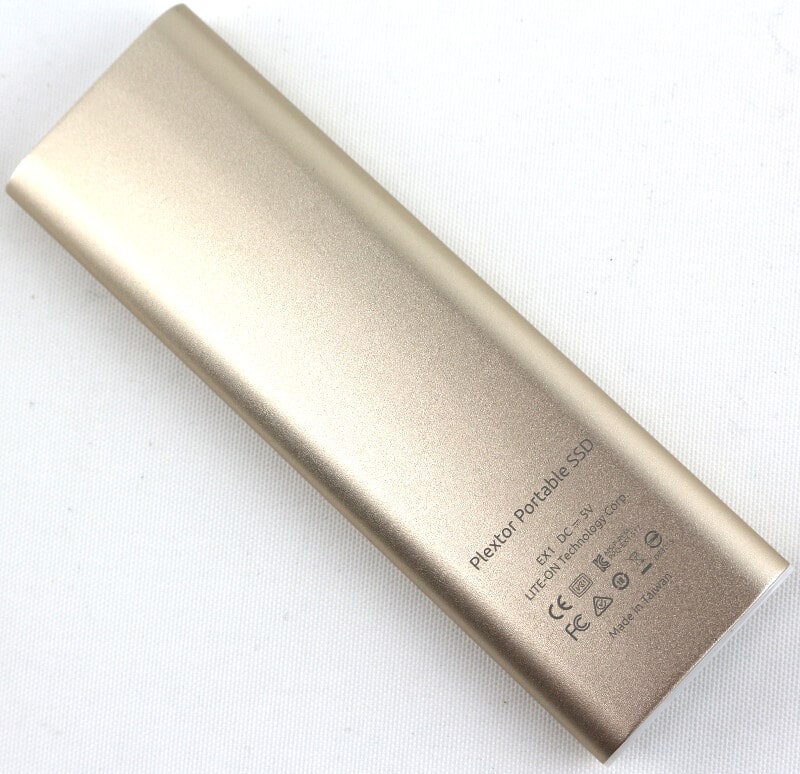 Plextor drives generally undergo hardcore testing and it is no different for the EX1 portable SSD. It has been tested for quality following 1008 hour zero-failure zero-error test standards and is rated for a mean time before failure of 240 million hours. On top of that, it also looks really stylish and awesome, and it is available in both a golden and a silver design.
This is truly a portable SSD that lives up to both parts of the description. Performance all the way and small enough to take anywhere – and with up to 512GB capacity, you don't have to be picky with what files you want to bring along on your trips away from home.
Feature Highlights
Premium quality design with a stylish look
Tuned to deliver a maximum professional performance under USB 3.1 interface
Tested for quality following 1008 hour Zero-Failure Zero-Error test standard
Extreme reliability of MTBBF 240 million hours
5-Year warranty
Package and Accessories
Plextor packed the EX1 portable SSD in a simple white box that displays the drive itself through the transparent middle while providing compatibility and connection specifications on the bottom.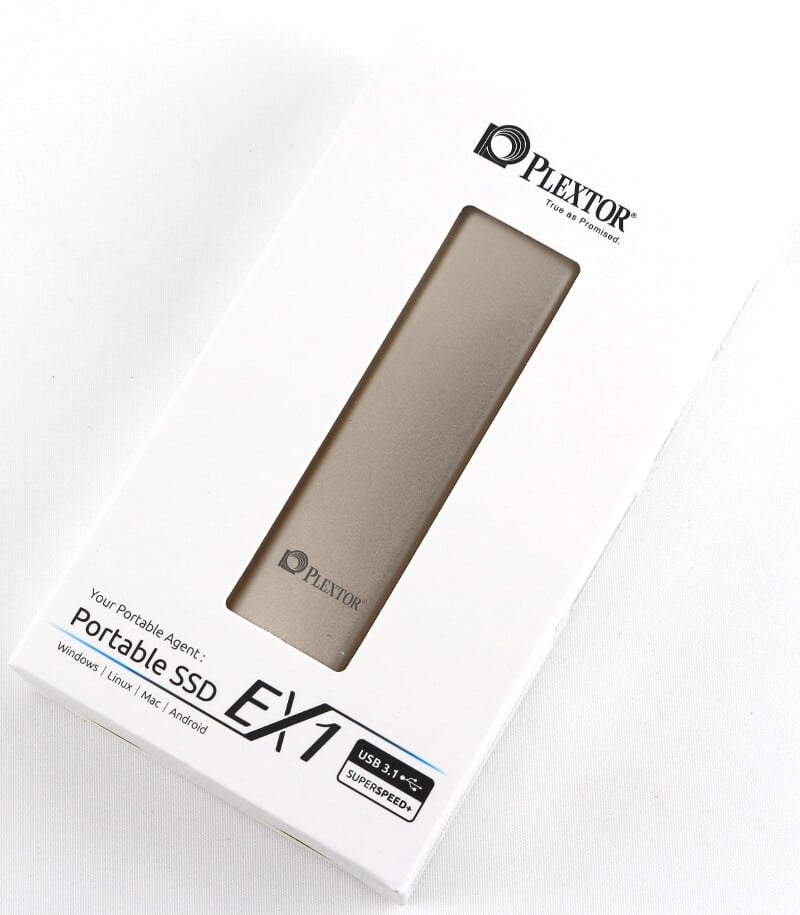 On the rear of the box are more details such as the rated performance, included accessories, dimensions and weight.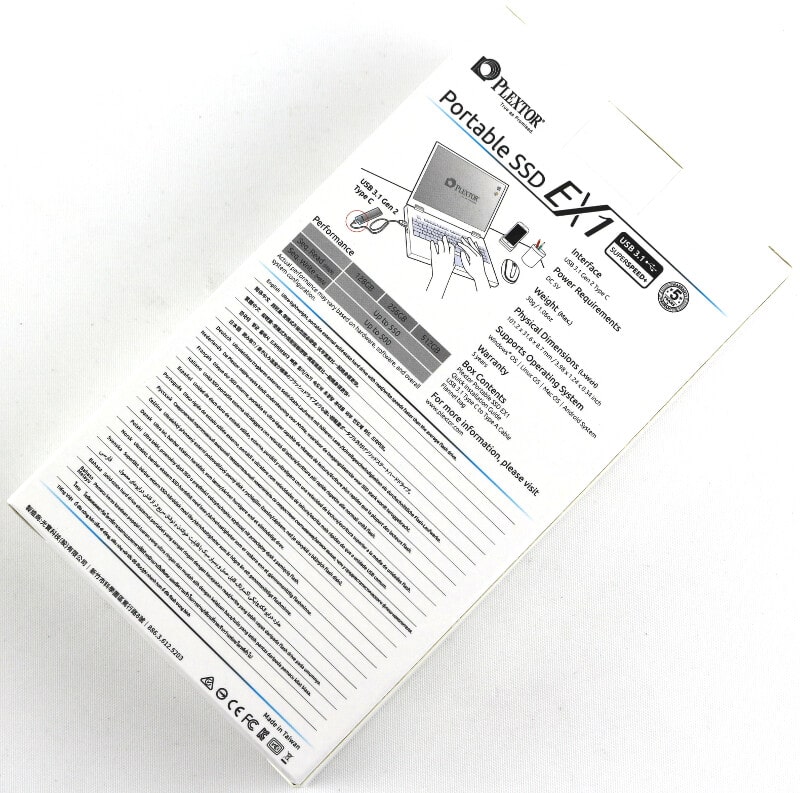 Inside the box, you'll find the USB-C to USB-A connector cable, a quick start guide, and the practical carry bag for the drive and cable.