Plextor M8PeY 512GB PCIe NVMe SSD Review
---
---
---
Bohs Hansen / 6 years ago
Final Thoughts
---
Pricing
The Plextor M8PeY 512GB NVMe PCIe SSD that I tested today can still be a bit tricky to find as it only just was released, but it is out there and the availability should rise as more shops get them listed to their stock. At the time of writing, I found the drive at Amazon for $273.49 and at LambdaTek for £257.44.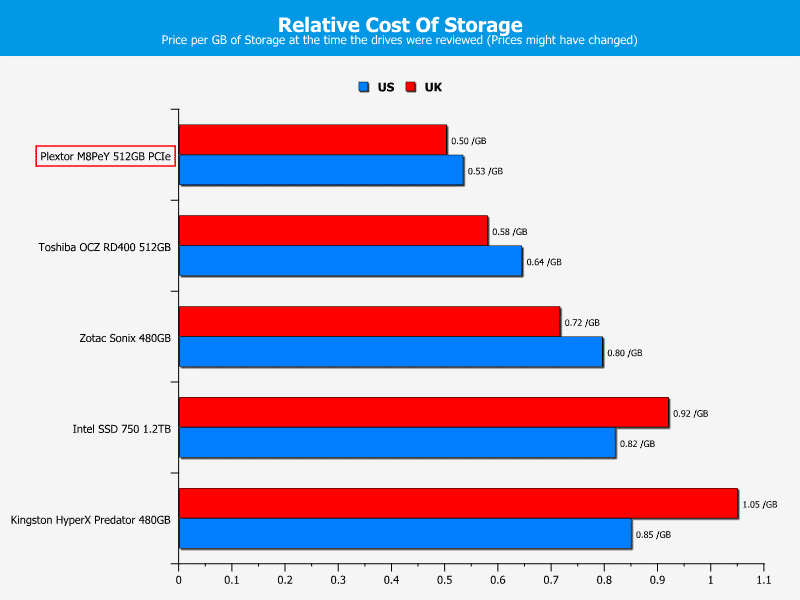 Conclusion
We never did see the Plextor M7P drive and while I was saddened by that, there was a reason for it. Plextor/Lite-On weren't satisfied with the drive at the time and instead of releasing a possibly inferior product, they scraped it and went back to the drawing board. A bold move. Other manufacturers might just have released it and taken the bad with the good, but Plextor has always been about quality and after all, it's their name and reputation. They redesigned the drive and worked on it for another year and in today's review we saw the result – and it paid off for them. The Plextor M8Pe Series SSD 512GB HHHL Add-in Card PCIe Gen 3×4 NVMe, or M8PeY for short, is a pretty impressive drive.
The Plextor M8PeY doesn't just perform great, it also looks great. At least in my personal opinion. Taste is always debatable, but I really like what I see. The add-in card with its black PCB and bracket looks great and will match most gaming systems perfectly. The large heatsink on top of the drive gives it a sleek and modern look while it also keeps the drive cool in hot-running systems and tight spaces. Gaming systems often run with a high load for long periods of times and a PCIe SSD will most likely sit right next to, or between, your hot graphics card. Such a placement requires more from a drive and the M8PeY is up to that task. It features two sets of LEDs, one on the top for power and one on the side for activity. While this adds to the overall design of the drive, it might be one of the things that some people don't like while others will love it. Again, design is really a personal thing. I quite like it and I think that Plextor did a great job on this.
The performance in my tests was great and while it didn't take the top spot in the charts, it still did very well and it isn't anything to be ashamed of. The drive will give your system a big boost over traditional SATA3 drives and shows what's possible with the NVMe protocol that's purely designed for flash-based drives. Both the sequential and the random performance showed us what's possible and it will seriously boost your performance. Load your games (and apps) faster and get into the matches faster without risking any buffer times. That's something that easily can give you an edge over the competition and make the difference between winning and losing a match.It will give you
Durability is a vital factor for drives and one that quite a few people are worried about when they first purchase an SSD, but it isn't something you should be worried about as modern drives and operating systems are built for this purpose. Even those drives that I use for heavy benchmarking of other products again and again still haven't failed on me and Plextor still puts extra effort into this area. The drives are tested and built for endurance and you'll replace the drive for something newer long before it will fail due to natural reasons. The high quality-control and high-end hardware that Plextor use makes sure of that.
Pros
Good performance
Great price
Beautiful design
Latest generation NVMe and PCIe interface
Cons
Not the fastest NVMe tested, but still very impressive
Neutral
"Plextor's M8PeY PCIe NVMe SSD will not only give your system a great performance boost, it will also give it a great look thanks to the design. Simply a beautiful drive from start to end."
Thank You, Plextor for providing us with this sample.