Plextor S3G 256GB M.2 SATA3 Solid State Drive Review
---
---
---
Bohs Hansen / 3 years ago
Introduction
---
Today we're looking at Plextor's S3G which is the M.2 version of the new S3 drive series. While it is an M.2 module, it is SATA-based and not an NVMe drive. That does make it a little slower in comparison, but it also makes it more affordable. There's also the fact that it isn't everyone who needs the performance which an NVMe drive brings along.
Design
There isn't a whole lot to say to the drive design. The S3G is a bare M.2 module which leaves little open to the imagination. It is a 2280 form factor which should make it compatible with most systems. Some compact system only allow for 2242 and 2260 sized modules, so make sure you check your system's specifications before you purchase your drive. That's a great idea at any time and on any hardware part. Check the compatibility first.
Capacity and Model Options
Besides the M.2 model, the S3 series also features a 2.5-inch version. We've previously had a look at them. The S3G M.2 drive comes in two capacity options, 128GB and 256GB. Being a bare M.2 drive, it is well suited for netbook and similar systems. Those kinds of systems don't need a lot of local storage and rely a lot on remote file access and cloud storage. With that in mind, the capacity options are right on the spot. There's still plenty of space for the operating system as well as for documents and files that need to be local.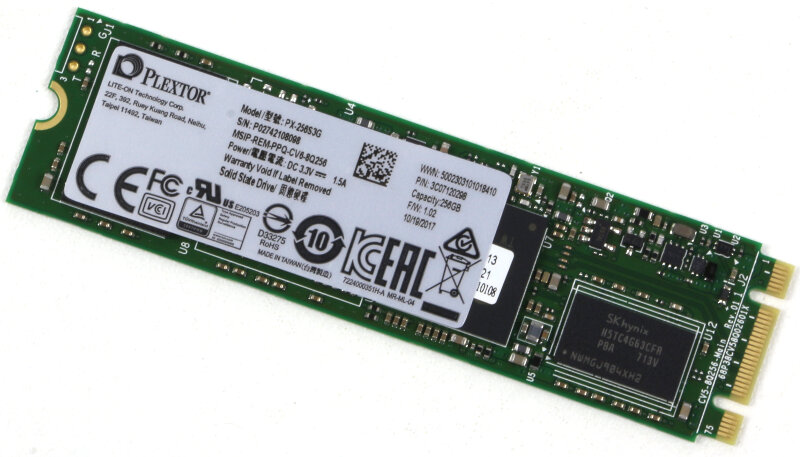 Performance and Endurance
With a SATA3 drive, we have some natural limitations such as the 6Gbps interface. That doesn't mean that we should forget about it, it's still a great choice. The 256GB model of the Plextor S3G offers up to 550MB/s when reading and up to 510MB/s when writing. The random performance is rated at 90K IOPS reading and 71K IOPS writing.
The performance somewhat depends on the capacity of the drive. The smaller 128GB version is rated at 550MB/s reading and 500MB/s writing. The random performance is rated at 72K and 57K IOPS reading and writing.
Plextor rates the S3 endurance with 50TB per 128GB capacity. That means the 256GB model I'm testing today has a 100TB TBW rating. The MTBF is rated at 1.5 million hours while Plextor backs the drive with a 3-year warranty.

Controller, NAND, and Features
Plextor's S3G utilises a Silicon Motion (SMI) SM2254 controller and SK Hynix 14nm TLC NAND. The 128GB version features 256MB DDR3 cache while the larger version has 512MB DDR3 cache. The amount of cache is the same as the previous S2 series, but the rest of the S3 is different. We get a different controller as well as advancements in NAND fabrication from 16nm to 14nm.
Feature-wise, you'll find everything you need from basics such as Trim, S.M.A.R.T., and NCQ. The S3 series also features LDPC error correction technology for data accuracy and drive reliability.
One of the obvious advantages of Plextor drives over many competitors is the full availability of capacity. You get the full 128GB instead of 120 and 256GB instead of 240GB. Effectively, that means more capacity for same-priced items. The reason is that other companies often use over-provisioning to compensate for limitations, but Plextor's technology doesn't need that.

Plextor Features
PlexNitro is the caching technology that is responsible for you getting the full NAND capacity. It is developed especially for TLC SSDs to improve both read and write speeds.
PlexVault is a piece of bonus software, allowing the creation of secured and protected storage space. It creates an encrypted portion, allowing you to keep your private files private. This is particularly useful if you share the system with others and don't want them snooping through your personal files.
Plexcompressor is another piece of software you get along with this drive. It utilises a custom smart-compression technology to offer more storage capacity with a minimal performance impact.
The last piece of software is the PlexTurbo. By using part of your system memory as cache, you're able to boost the performance to impressive levels. There is a bonus effect to this, being a longer lifetime of your SSD. By using the cache to write to first, the drive has to perform fewer write operations. Write operations are what degrade NAND storage, making the advantage clear. Less writes to your drive, such as temporary data, means more endurance.
Packaging and Accessories
An M.2 module doesn't need a whole lot of packaging which is no exception for the Plextor S3G. It comes in a simple blister package with all the vital information on the front label.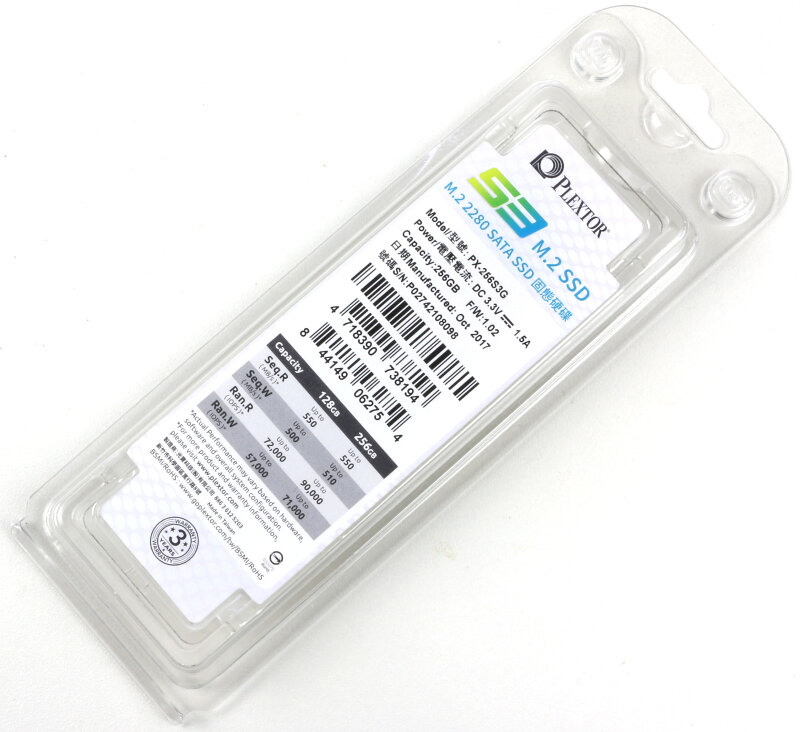 Besides the drive itself, you also get a replacement screw for your M.2 slot, just in case you misplaced the original one.