PNY announce GT 640 Verto graphics card
---
---
---
Ryan Martin / 11 years ago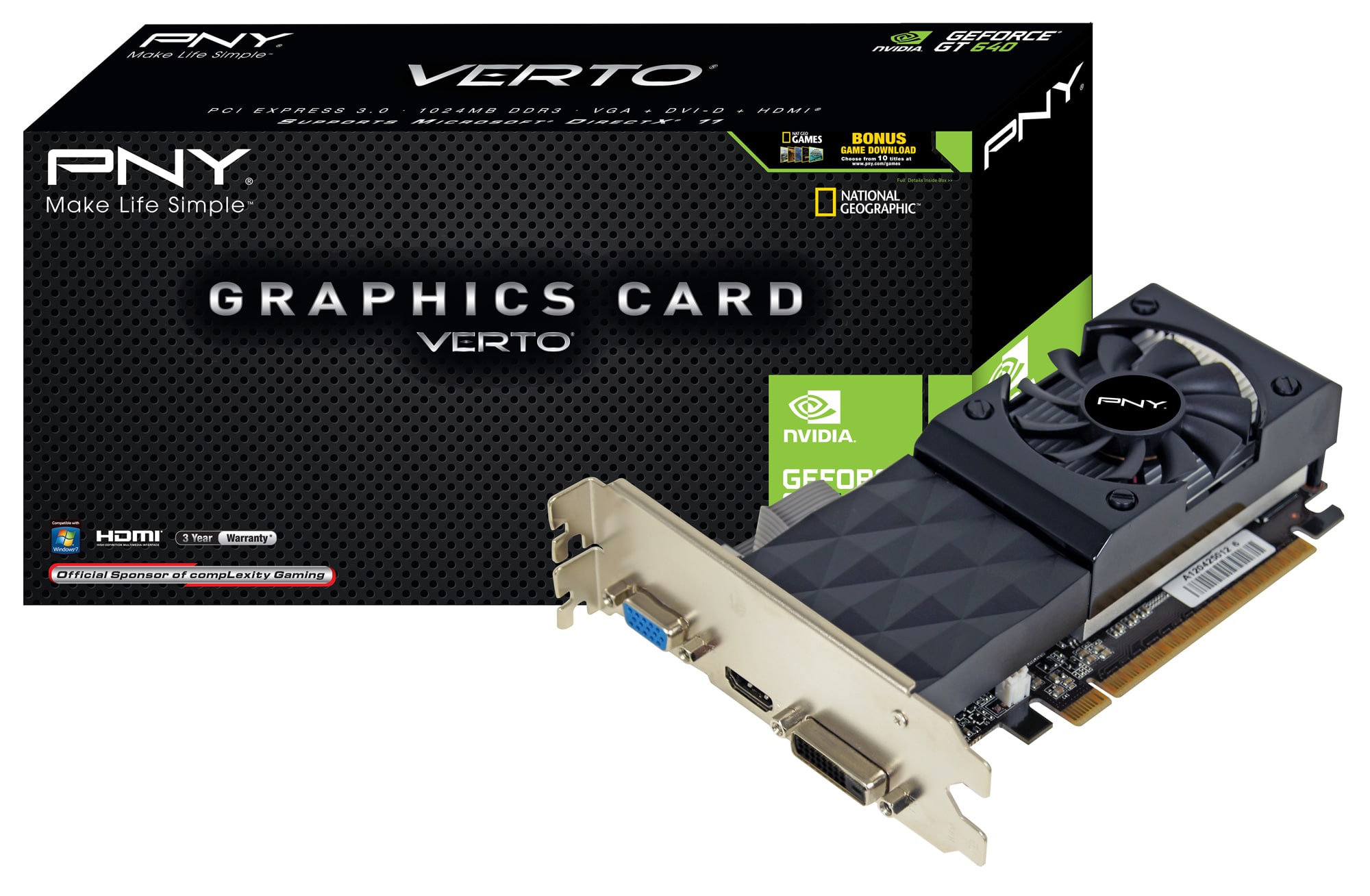 PNY today announced the release of the Verto GeForce GT 640 1024MB DDR3 graphics card. This new entry-level NVIDIA 28nm Kepler card features dedicated graphics performance from this powerful next-generation GeForce architecture.
The GT 640 delivers premium multimedia performance and reliable entry-level gaming, for a faster, more immersive experience. Harnessing PhysX technology, bring your HD videos, photos, web, and games to life; edit your photos and videos; or play the latest DirectX 11 games with GPU-accelerated tessellation. Accelerate your desktop's performance with cutting-edge features, such as CUDA technology to handle the most demanding system tasks — such as photo editing — and delivering incredible performance improvements over traditional CPUs. Adding to the incredible performance and power efficiency of the GT 640 is the new — built from the ground up — SMX unit, available only on Kepler. The revolutionary Kepler GPU has taken graphics to the next level and allows the GT 640 to simultaneously run up to three monitors with NVIDIA Surround technology — expanding your viewing perspective and increasing productivity.
Specifications
BUS Technology: PCI Express 3.0
CUDA Cores: 384
Core Clock (MHz): 900 MHz
Memory Amount: 1024MB DDR3
Memory Interface: 128-bit
Memory Frequency (effective): 1782 MHz
Power and Thermal: 65W-Active
Outputs: DVI-D + VGA + HDMI
MSRP: $109.99
Key Features
SMX
NVIDIA  Surround  Technology
NVIDIA PureVideoHD Technology
Blu-ray 3D Support
TrueHD and DTS-HD Audio Bitstreaming Support
Microsoft DirectX 11 support
NVIDIA PhysX Technology
NVIDIA CUDA Technology
NVIDIA FXAA Technology
NVIDIA Adaptive Vertical Sync
HDMI
PCI Express 3.0
OpenGL 4.2 support
Additionally, consumers who purchase the new PNY GT 640 will receive one bonus game download from National Geographic. Users simply enter the voucher code found in-box atwww.pny.com/games and choose from 10 game titles.
PNY offers a 3-Year Warranty for the GeForce GT 600 Series. Users have a standard 1-year out of box warranty, extended an additional 2-years upon completion of product registration at PNY.com within 90 days of purchase. PNY also offers free 24-hour technical support.The PNY GT 640 will be available for purchase at select e-tailers, retailers, and PNY.com.
Source: PR