PowerColor Red Devil RX 470 Graphics Card Review
---
---
---
John Williamson / 6 years ago
Introduction
---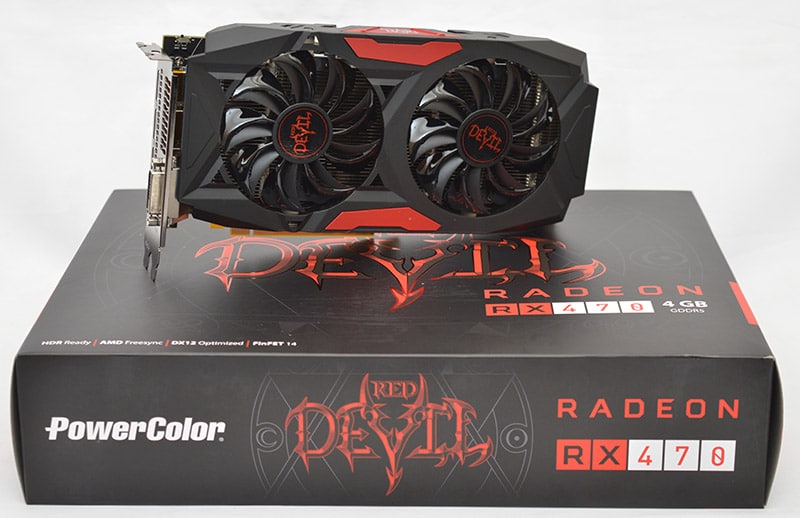 PowerColor's Red Devil series has quickly gained a reputation for being some of the fastest factory overclocked versions of popular AMD graphics products like the R9 390. The company's latest endeavour is no different and utilises the highest boost clock I've encountered on an RX 470 aftermarket solution. Of course, it's still early days and other partners could reach a higher figure but the likelihood of this occurring is quite slim. The PowerColor Red Devil RX 470 features two BIOS modes which you can cycle between using a manual switch. The more conservative profile opts for a 1220MHz boost while the ultimate overclock mode races ahead to 1270MHz. To put this into perspective, the 1270MHz boost is 10MHz faster out-of-the-box than the highly-acclaimed Sapphire Nitro+ RX 470 OC. Clearly, PowerColor's stringent selection of Polaris 10 chips is paying dividends and allowing them to include the samples with superior overclocking headroom.
Even though the RX 480 is an affordable proposition, a large number of consumers have a tight budget and cannot justify spending the extra on a graphics card. I've always advised consumers to purchase the best graphics card with a particular budget until the price to performance ratio plummets, and the RX 470's appeal, especially when it comes to high-end versions will greatly depend on the launch price. At the time of writing, I've not received official confirmation of the PowerColor Red Devil RX 470's price but it's probably going to remain fairly close to the RX 480. If this is the case, I hope the RX 470 is able to keep up with its bigger brother and try to warrant the minor price difference. Putting that concern aside, I've always enjoyed PowerColor's Red Devil brand and expect their premium variant of the RX 470 to outperform cheaper models by a decent margin.
Specifications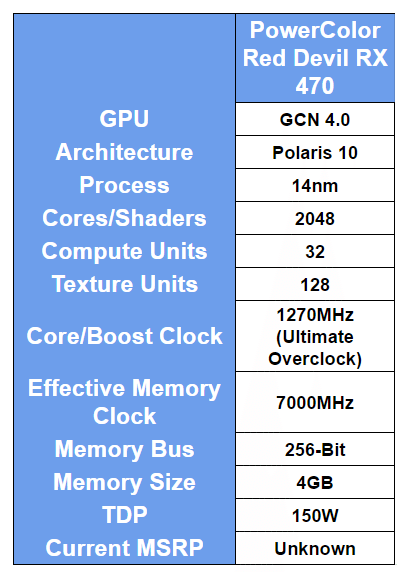 Packing and Accessories
PowerColor has employed a really colourful box design based on their quintessential red and black colour scheme. The unusual background decal contrasts in a seamless manner with the Red Devil logo and looks fantastic.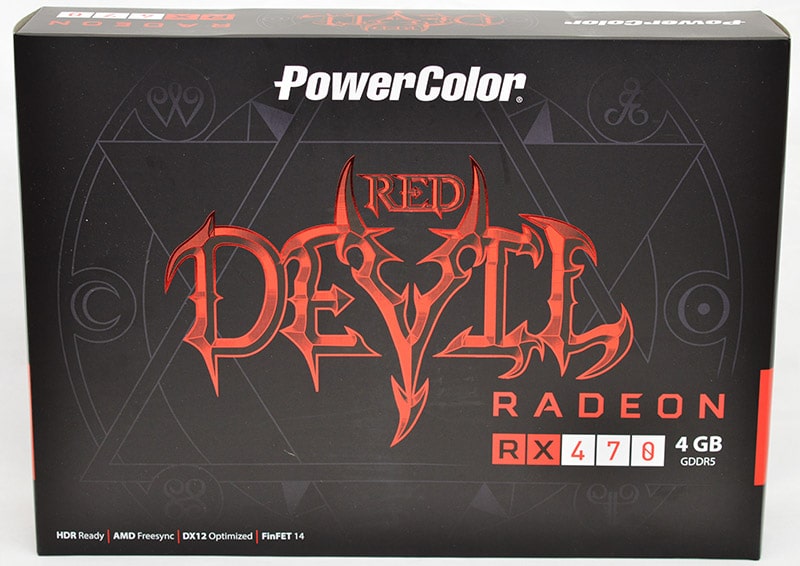 On the opposite side, information is displayed about the graphics card's cooling hardware including the Double Blade III fans and two ball bearing construction. On another note, this section explains the advanced power delivery which improves reliability and longevity when applying a hefty overclock.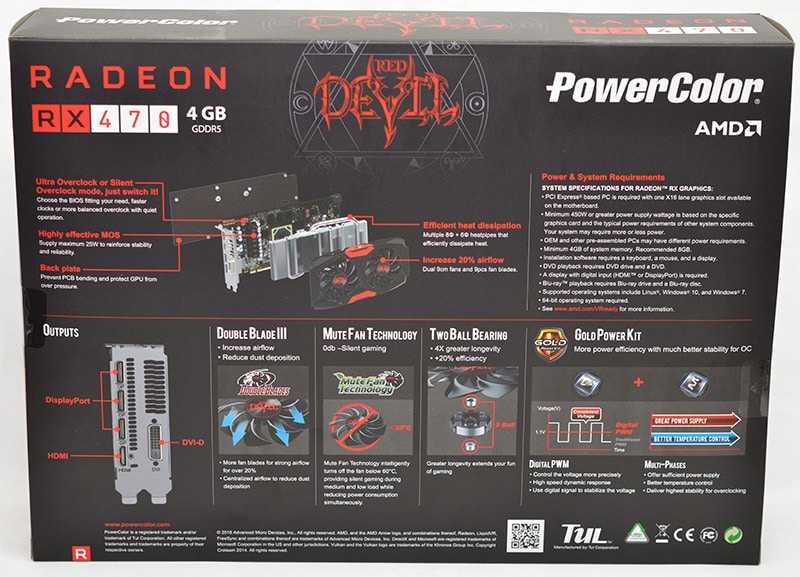 In terms of accessories, the graphics card comes with a quick installation guide and driver disk.